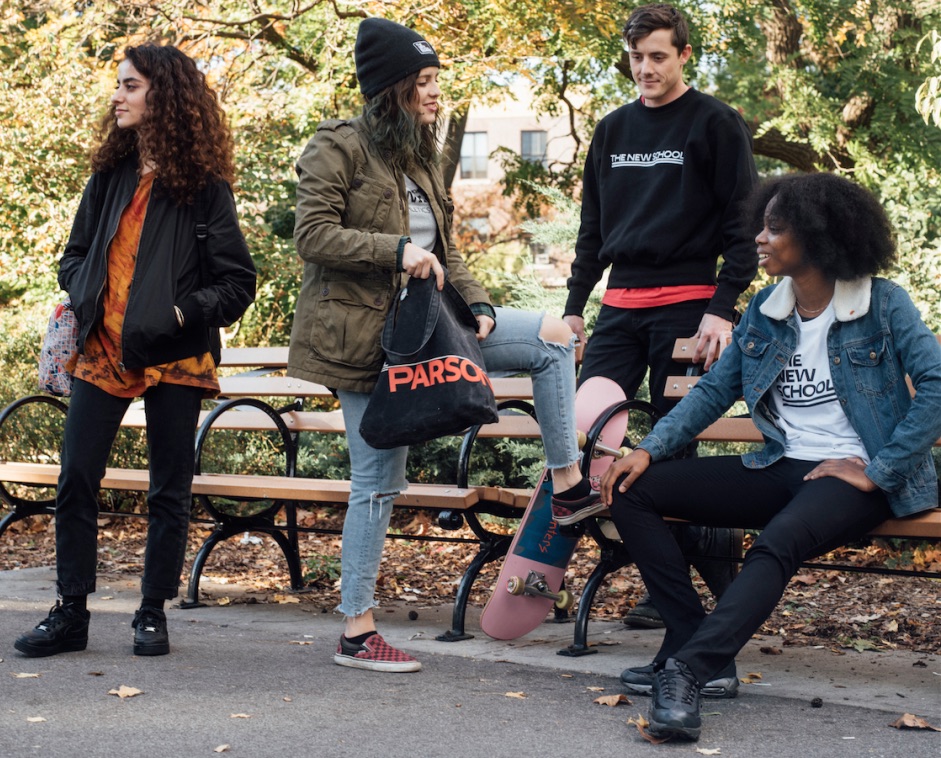 Making the Most Out of Your New School Experience
If you're reading this, chances are you're either moving back to campus or moving away from home for the first time. Either way, you'll be living in one of the most amazing college campuses in one of the most amazing cities in the world: The New School in New York City. To get the most out of your experience here, absorb all that our urban campus has to offer, from places to eat and shop to venues to see live music and movies.
Places to Eat
First, and most importantly, is where to eat. People come from far and wide to dine in New York City, a veritable smorgasbord of top-notch international cuisine. Pick your lunch spot before you get hangry; once you do, the options will be more of a burden than a blessing.
Want to stick close to campus? Start with the Dining Commons. Located in the University Center (13th St. and Fifth Ave.), the Commons is more than your typical college mess hall, offering a varied and international menu and using food as an entry point for discussions on social justice and sustainability. If you can't tear yourself away from work, and you happen to be in the Albert and Vera List Academic Center, head to O Café. The tiny eatery on the eighth floor has everything you need for your writing/study session (i.e. coffee!).
If you want to eat off campus but want to save cash (New York City isn't cheap!), present your New Card for discounts at The Bean (Broadway & E. 12th St), Glaze Teriyaki Grill (Fourth Ave. between E. 13th and E. 14th streets), Le Café Coffe (E. 14th St. between Fifth Ave. and University Place), and Breads Bakery (16th St. and Union Square West).
Finally, you have to taste two New York City staples: bagels and pizza. For the former, head to Murray's (Sixth Ave. between W. 13th and W. 12th Streets), an area institution that makes some of the best bagels in the city. For the latter, check out Joe's Pizza (E. 14th St. between Fourth Ave. and Irving Place), a Greenwich Village icon that sells by the slice, and Two Boots (W. 11th St. and Greenwich Ave.), which boasts a creative menu with vegan options. If you prefer to sit down and stay a while, go to The Grey Dog (University Place between 11th and 12th Streets and W. 16th between Seventh and Eighth Avenues), which has free Wi-Fi, as well as breakfast, lunch, and dinner.
Places to Shop
The New School campus happens to be smack in the middle of one of the world's major shopping hubs. J. Crew, Club Monaco, and Madewell on Fifth Avenue all offer student discounts. If you want to unearth some second-hand gems, go deeper into Greenwich Village and sift through the racks at Cure Thrift Store (E. 12th St. and Fourth Ave.) and Beacon's Closet (W. 13th St. and Fifth Ave.).
If you're looking for some new reading material, or need to pickup the required texts for your classes, survey the shelves at Barnes & Noble (17th Street at Union Square) and show your Newcard for a discount. The world-famous Strand (Broadway and E. 12th St.,) is a must — just make sure you give yourself ample time for browsing.
Finally, don't forget to rep your university with some impact-conscious swag from the The New Store. Located next to the elevators on the first floor of the University Center, it features university-branded T-shirts, tanks, beanies, and hoodies (regular and zip-up), as well as more avant-garde items such as sustainable, slim-line water bottles, natural wool pennants, magnetic poetry kits, and backpack-hoodies. The majority of the products are designed by Made in USA companies, which follow clean manufacturing processes and fair labor standards.
Things to do
If you have a few hours to kill in between classes, why not take a stroll through your new neighborhood? Greenwich Village is a living history lesson. Head to the Washington Mews (Fifth Ave. and Washington Mews) to view 18th century stables that were converted to artist residences in the 1900s; The Stonewall Inn, the location of the Stonewall riots in 1969 that gave birth to the annual Pride Parade; and the historic Washington Square Park, site of the Washington arch, for some good old-fashioned people watching.
Or, take in a movie. For indie films and cult classics, visit IFC Center (Sixth Ave. at W. 3rd St.) or Quad Cinema (13th St. between Fifth and Sixth avenues). To catch the latest big studio blockbuster, purchase discounted tickets from Regal Cinema or AMC Theaters from Student Development and head to one of the many locations in the area.
For live music, pay a visit to the storied jazz joint Blue Note (W. 3rd St. between MacDougal Street and Sixth Ave.) or the venerable rock club The Bitter End (Bleecker St. between Thompson St. and LaGuardia Pl.). And for a few laughs, check out the comedy shows at the Greenwich Village Comedy Club (Bleecker and MacDougal Streets) and the nearby Comedy Cellar.
Hanging out on campus
The New School is itself a Greenwich Village landmark made up of historic buildings that are great for either studying or seeing a thought-provoking lecture.
Alvin Johnson/J.M. Kaplan Hall (W. 12th St. and Sixth Ave.) is one of the earliest examples of modern architecture; it is home to The Auditorium, a beautiful 468-seat venue with a proscenium-style stage that was named one of the world's most powerful rooms by ABC News in 2014 (Martin Luther King, Jr. spoke there!).
There's also the Sheila C. Johnson Design Center (13th Street and Fifth Avenue), which features curated exhibitions; the Making Center, a state-of-the-art facility featuring an array of design tools; and the University Center (13th Street and Fifth Avenue), The New School's striking flagship building. While making the rounds of the university's impressive architecture, make sure to admire the University Art Collection, including work by José Clemente Orozco, Sol LeWitt, Dave Muller, Kara Walker, Glenn Ligon, and more.
We know you'll be busy with classes and coursework, but you should absolutely make time The Nth Degree. The curated series of events features thinkers, visionaries, and creators who are creating positive change in the world and redefining the cutting edge. Upcoming events include:
Of course, there will be many times when you just need a quiet space to hide out and study.
Before you get too wrapped up in coursework, stop by the 21st Annual Block Party on Thursday, Aug. 31, 4:30-7:30 p.m. on East 13th St. between University Place and Fifth Ave. The Block Party is a great opportunity to meet new people, learn more about schools resources and student organizations, and sample free food from local businesses.
Finally check out these other resources for valuable campus information: