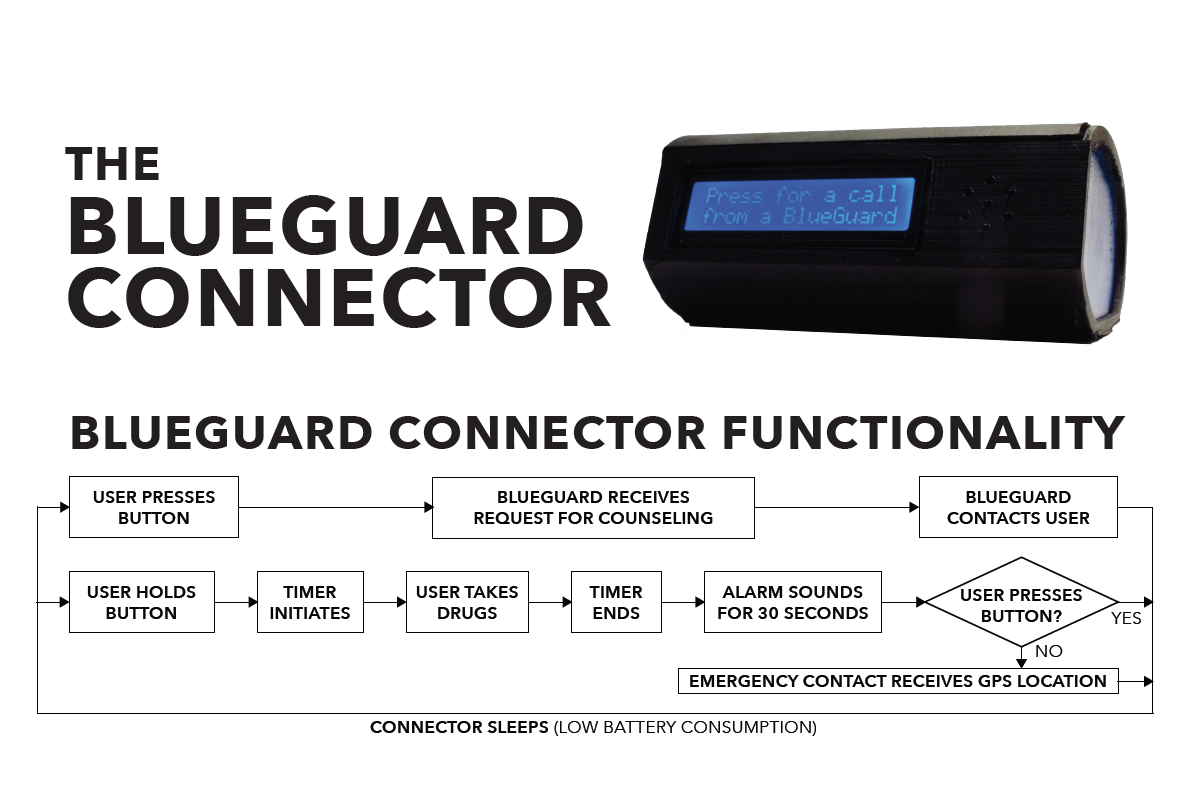 Parsons and NSSR Alums Team Up to Design Device to Reduce Overdose Deaths
In August, the Trump administration officially declared the opioid crisis a national emergency — a recognition of the tragic rise in overdose deaths tied to opioid usage. Government and law enforcement officials, academics, and activists are undertaking efforts on the local, state, and national levels to address the crisis. Meanwhile, two New School alumni are tackling this "wicked problem" in true New School fashion: through design.
Noah Litvin, MFA Transdisciplinary Design '17, and Quentin Northcross, MA Psychology '17, created BlueGuard, a product-service designed to prevent overdose deaths. It gives the drug user two minutes from the time he or she uses to activate a device indicating that he or she is not overdosing; if the user fails to do so, an emergency contact is alerted to the user's GPS location and can offer assistance. The device can also be used to request a phone call with mental health and substance abuse counselors who can provide support to the user.
A reflection of Parsons' commitment to using design for social good, BlueGuard treats overdoses as a health issue rather than a criminal one.
"The Transdisciplinary Design program is largely about applying systems thinking and design approaches to the intractable problems facing society," says Litvin. "We can't just arrest our way out of the opioid overdose crisis."
Nor, as Northcross and Litvin discovered, can we cling to zero tolerance approaches to treatment. BlueGuard makes no mention of the word "counselor," as this often implies an abstinence-focused approach to which many users are averse. Rather, BlueGuard emphasizes harm reduction, which is more practical and less threatening.
"Harm reduction is about caring for opiate users, even if they do not cease use," says Northcross. "People are now overdosing with 'test shots' because of the deadly fentanyl now used in heroin, which makes using alone incredibly problematic."
In deciding to pursue a systems approach to addressing overdoses, Northcross cited a study that found a decrease in alcoholism among homeless people when they were given access to housing. Addiction is based on a variety of factors; rather than addressing drug use exclusively, Litvin and Northcross designed BlueGuard to connect users with counselors who can help them confront challenges in their lives that may be fueling their drug addiction.
"BlueGuard could create a network of people who can help reduce harm," says Northcross. "Even if you can't control someone else's addiction, you can help them manage it."
To research this issue, Northcross and Litvin interviewed people at the frontline of the opioid crisis. The duo spoke with experts in the field, ranging from an underground syringe exchange volunteer to leaders at the National Harm Reduction Coalition, as well as communities of users, who shared their stories. After distributing a survey to users and gathering feedback, they decided to design a harm reduction device that would provide a solution for drug users in need of help.
"We found many opportunities where design could help opioid users be safer," says Litvin. "We found that design could address this crisis through traditional design practices, such as redesigning the packaging of naloxone, or, on a larger scale, by envisioning new services models for providing care to drug users."
The project is a reflection of The New School's collaborative, cross-disciplinary approach. Northcross, a graduate student in the Psychology program at The New School for Social Research, lent his experience as a substance abuse counselor and syringe exchange manager to the project, while Litvin, a graduate student in the Transdisciplinary Design program at Parsons School of Design, applied his expertise in service design. Litvin was also directly inspired to create a harm reduction product owing to a deep interest in needle exchange programs.
The alumni join a long list of New School graduates and students who are creating social change through design. They include students in Open Style Lab, who design garments for people of all abilities, and Myles Loftin, BFA Photography '20, who is challenging racist stereotypes with his photographs.