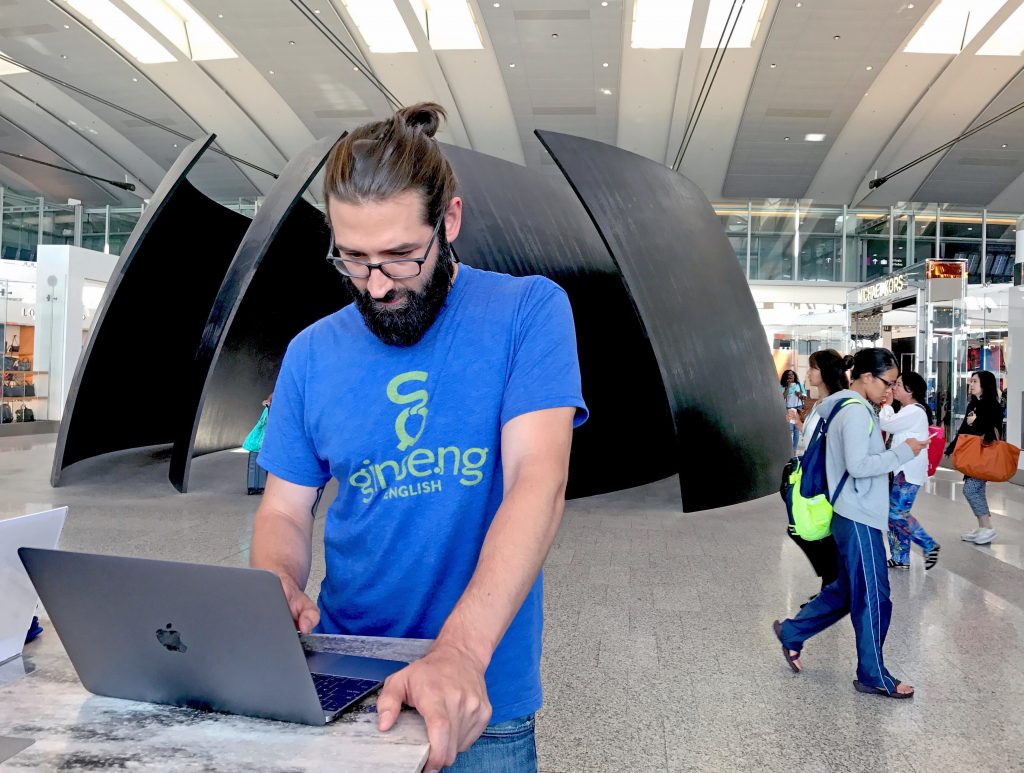 Rob Sheppard, MA TESOL '14, is Turning ESL Instruction Into a Social Enterprise
When Rob Sheppard was a teacher at a for-profit English language school, he taught classes with as few as two or three students. That amounted to a lot of empty seats.
It's not that demand was low: The issue is that many people simply can't afford the full price of tuition at a for-profit school.
At nonprofit community services organizations across the country — including Massachusetts-based Quincy Asian Resources, where Sheppard teaches now — there are long waiting lists for free and subsidized classes.
"A lot of people come in to check on their place on the list, and I have to tell them that their name still hasn't come up," Sheppard, MA TESOL '14, says. "Seeing an empty classroom was always a frustrating image."
Frustrating, Sheppard says, because he wants to be able to teach as many people as he can.
To address this issue, the New School alum launched Ginseng, an online English language school that charges market-rate tuition to students who can afford it and subsidizes class slots for others who can't.
Sheppard has observed that many for-profit companies in other fields have transformed themselves into social enterprises; it only makes sense that "an industry like English language teaching, which is filled with so many people who care about helping others, would take the lead on social justice issues."
"If there's a need and you can so easily meet it," he adds, "then why not do it?"
As a social entrepreneur, Sheppard doesn't just help people afford classes, he makes sure they have the support they need to succeed. He notes that many students on scholarships face "challenges to persistence" — family and work issues that can keep them from making it to class. To confront this problem, Sheppard partners with community organizations that are "embedded in underserved communities as they are deeply familiar with the needs of their respective communities and can best offer support."
Ginseng is also unique in the way it delivers English language instruction. Taking a cue from The New School's online degree programs, Sheppard hosts Ginseng's classes in the digital sphere, allowing him to save on costs and teach more students. Currently, in the ESL industry, "the online model is set up so that one student pays for one teacher," Sheppard says. "But if you have ten students paying for the same hour, your profit margin goes through the roof. That makes it scalable. Then adding additional students cost nothing."
What's more, Sheppard employs "cutting-edge technology that provides for a highly interactive learning experience in a group context."
In creating Ginseng, Sheppard was inspired, in part, by his experience at The New School. His peers in the nonprofit industry made him reconsider the for-profit model of English language education.
"Being at The New School exposed me to people teaching in a different setting from my own," Sheppard says. "I loved my job at the for-profit, but at some point, I realized that whenever education is turned into a commodity, there's potential to be pulled in different directions. The most profitable thing isn't always the best pedagogical thing."
With Ginseng, Sheppard has created a model for English language education that is both profitable and socially engaged. Now he only needs more students to sign up.