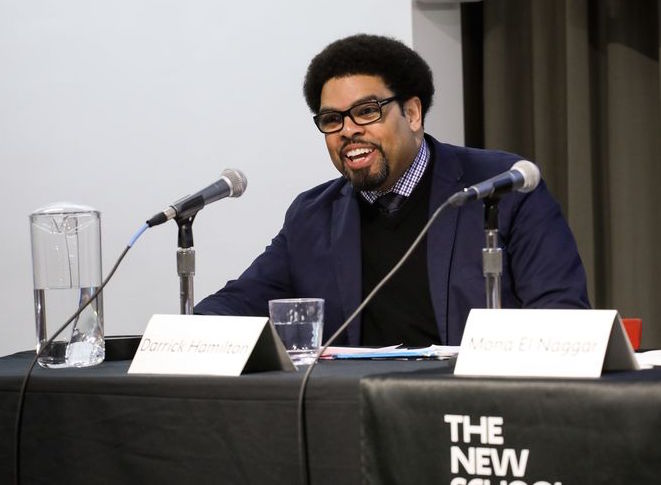 Milano Faculty Member Darrick Hamilton Lands on Politico's '50 Ideas' List
For more than a decade, Darrick Hamilton has advocated for a radical but sensible proposal: guaranteed employment. If the private sector doesn't give you a job, he contends, then the government should.
The idea, which the Milano School faculty member has argued for in research papers and in the media, is gaining traction, as wage stagnation and automation continue to hold back American workers.
Hamilton and his colleague, Duke University professor and economist William Darity Jr., were recently recognized for their work to end unemployment, landing on Politico's prestigious annual The POLITICO 50: The ideas blowing up American politics — and the people behind them. Hamilton and Darity are listed alongside a range of influential academics, politicians, thinkers, and even actors, including Steve Bannon, Neil Gorsuch, Angela Merkel, and Melissa McCarthy.
"In a country facing the unsettling prospect of automation taking more jobs, one of the sexiest ideas is the universal basic income, a favorite of Silicon Valley venture capitalists," writes Danny Vinik. "So far, the idea of guaranteed minimum payments to all Americans doesn't have much political traction. But a similar idea that does — thanks in part to the work of William Darity Jr. and Darrick Hamilton — is the job guarantee."
An accomplished academic and economist, Hamilton is a faculty research fellow at the Schwartz Center for Economic Policy Analysis at The New School, the president-elect of the National Economic Association, and an associate director of the Diversity Initiative for Tenure in Economics Program. Currently, he teaches Race in the USA, a course that brings together prominent scholars, experts, thought leaders, and activists to examine such issues as racial stratification, implicit bias, and the complex, intersectional relationships between race, gender, and class.
Hamilton is the director of the doctoral program in Public and Urban Policy, and jointly appointed as an associate professor of economics and urban policy at the Milano School and the Department of Economics at The New School for Social Research.