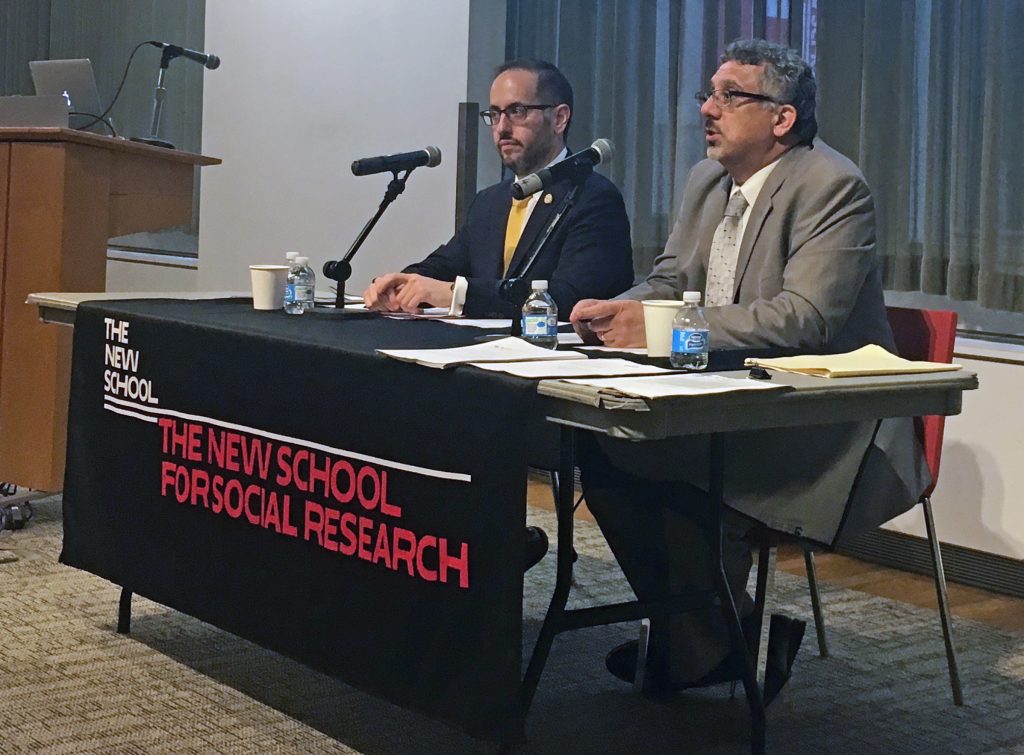 NSSR Launches Task Force on Immigration Status and Inclusion
Since entering the White House, the Trump Administration has issued a string of new rules and regulations surrounding immigration policy that have left certain members of The New School community vulnerable.
The Task Force on Immigration Status and Inclusion has stepped up to provide much-needed support.
Launched by The New School for Social Research, the Task Force has made its mission to "help members of the university community affected by these new rules and regulations and to advise senior leadership on the resources that students, faculty, and staff need to navigate this situation," according to a statement from the group.
Since the start of the summer, they have taken a number of steps aimed at protecting students. These include setting up, through the generosity of alumni and friends, an emergency fund for students in need of financial assistance as a result of the Travel Ban; hosting trainings for The New School community to better understand how to interact effectively with immigration and customs agents; helping to write and distribute guidelines for university faculty and staff in how to respond to government requests for immigration information on members of The New School community; and developing a plan for limiting the dissemination of immigration status information on New School community members through several computer databases.
With advice from the Task Force, New School President David Van Zandt recently issued a memo to the university community outlining procedures for dealing with government inquiries for information on immigration status of students, faculty and staff. These guidelines will become a routine part of the staff training administered by the Human Resources Department.
"The Task Force on Immigration Status and Inclusion has already demonstrated that there are faculty, students, and staff across The New School who are dedicated to keeping our community informed about changes to policies related to U.S. immigration," says NSSR Dean Will Milberg. "This group has also proven effective at identifying areas of needed change in university policy. It has been very encouraging to see that our friends and alumni are deeply concerned and that they have stepped in to support students with financial and legal needs that have resulted from these changes."
"That the Task Force was created points to a receptiveness to the NSSR community's affinity to live — not just do research — in line with the legacy of the NSSR, the Graduate Faculty, and University in Exile," says PJ Gorre, coordinator of academic affairs for the NSSR. "Though the Task Force has momentarily taken the lead on some things, it's our hope that we can collaborate with others around the university — especially those who might have more experience or offer better insight in helping us achieve our ends of staying informed, protected those we care about, and always facing injustice together."
In its continuing effort to support students, the Task Force recently hosted "Legal Issues In Immigration: A Discussion With Attorneys," a panel discussion with Albert Fox Cahn, legal director at the Council on American-Islamic Relations in New York City, and Shahnam Sharareh, partner at the law firm Fox Rothschild, focusing on immigration law in the United States. During the panel discussion, Cahn and Sharareh talked about "the legal implications of the constantly changing immigration situation in the United States," including the impact of decisions on Deferred Action for Childhood Arrivals, Temporary Protected Status, the travel ban, and more.
"Students have been at the vanguard of nearly every social justice movement of the past century," Cahn says. "We need students to remain engaged, speaking to support those who have been silenced by this administration. I think back to the first days of the Muslim Ban, when thousands of New Yorkers of every faith took to the streets, committing to defend their Muslim neighbors in their time of need. We have already proven that the people of this city will never acquiesce to injustice."
The Task Force is led by Milberg, and is comprised of faculty, staff, and students, including Miriam Ticktin and Abou Farman, faculty members in the Department of Anthropology; Anne McNevin, faculty member in the Department of Politics; and Alex Aleinikoff, Director of the Zolberg Institute on Migration and Mobility. Staff members on the Task Force are Gorre; Tsuya Yee, NSSR Assistant Dean of Academic Affairs; and Desiree Lavecchia, Executive Assistant to the NSSR Dean. The student members are Jordan Dunn, PhD Psychology '20; Bahareh Ebnelian, PhD Sociology '19, Kevin Duarte, BA History '17, and Yesenia Lazaro, BA Global Studies '19.