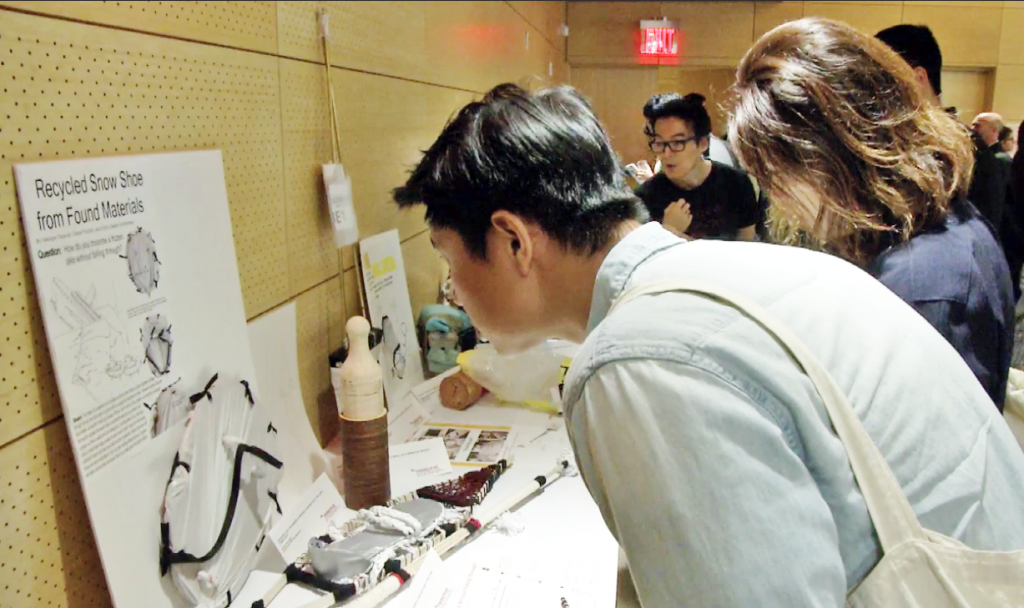 Parsons Students Present Disaster Preparedness Solutions as Part of 'Earth Manual Project' Intensive
In recent weeks, North America has been hit by one natural disaster after another. Last month, parts of Texas and Louisiana, especially the Houston metropolitan area, were rocked by strong winds and heavy rains that left large areas flooded and millions of people stranded. No less than two weeks later, Hurricane Irma left a trail of devastation across the Caribbean, Cuba, The Bahamas, and the Southeastern United States. In between the two weather events, an 8.1 magnitude earthquake rattled Southern Mexico, resulting in tens of thousands of damaged homes and more than 60 deaths.
Amid these catastrophes, students at Parsons School of Design were hard work on devising ways to use design to help people survive these and other catastrophes.
Working with Hirokazu Nagata, a leading expert on disaster preparedness education, students from across Parsons School of Constructed Environments participated in Earth Manual Project: Disaster Preparedness & Constructed Environments, a week-long design intensive in which they developed design solutions for surviving natural disasters, terrorist attacks, and infrastructure collapse. The intensive, which kicked off on the anniversary of the 9/11 attacks, culminated in a presentation of student work at The New School's University Center.
Hosted by Robert Kirkbride, dean of SCE, the event showcased student work in a variety of design fields, including architecture, interior design, lighting design, product design, and industrial design. Students looked into case studies — provided by the Zolberg Institute on Migration and Mobility at The New School for Social Research — on Hurricane Sandy, the 1977 and 2003 blackouts in New York, and the September 11 terrorist attacks.
"I have been thoroughly impressed by the range of experiences on disaster preparedness that students have brought with them from across the world," Kirkbride said to a crowd at Starr Foundation Hall. "They did not arrive as blank slates, they arrived as direct contributors to the work faculty have pursued."
The design intensive is a stepping stone in the creation of the first North American iteration of the collaborative exhibition, Earth Manual Project, which will be held at Parsons' Sheila C. Johnson Design Center in Fall 2018. Earth Manual Project is an accumulation of knowledge and ideas gleaned from the experiences of living through natural disasters.
"The question of what happens after catastrophes, in many ways, at this moment in time, is very fresh in our minds, including many of us who have connections to other parts of the world that have seen the force and the fury of floods and disasters," said Radhika Subramaniam, director of SJDC. "The project that Mr. Nagata brought to us frames a series of questions that are so incredibly urgent for us."
For Nagata, who came to Parsons from Japan, it was an honor to be able to "actualize this almost dream-like collaboration."
"I can't say enough about the quality of these ideas and projects," Nagata said through a translator. "These four days have been full of emotional stimulation and excitement for me. When one comes up with ideas addressing social issues such as disaster preparedness, one must keep in mind the process of discovery and innovation. Watching Parsons students over the past few days, I truly felt that they have a strong grasp of these two concepts."
To learn more about Earth Manual Project: Disaster Preparedness & Constructed Environments and to see the student projects, check out Facebook Live and the Livestream of the showcase, below.