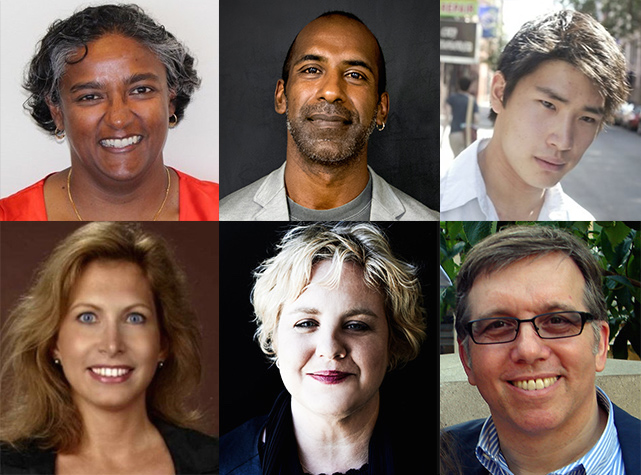 The New School Hires New Faculty with Focus on Management
Organizations — businesses, public institutions, nonprofits, start-ups — are rapidly evolving. Students entering this new management economy must be equipped with knowledge and experience that reflect the intersecting and emerging areas of design, entrepreneurship, media, and management. Their curricula must be built through collaboration with communities, sustainable practices, and a rich global awareness.
It is this thinking that motivated a search at The New School for new faculty members in a range of management fields.
The New School has since hired a half dozen new faculty members for positions across the university in areas including fashion management, media management, organizational management and leadership strategic design and management, and arts management and entrepreneurship. They are:
Sujatha Jesudason, Professor of Professional Practice in Management, the Milano School
David Lieberman, Associate Professor of Professional Practice in Media Management, School of Media Studies
Linda Saint Marc, Associate Professor of Professional Practice in Media Management and Director of Media Management, School of Media Studies
Mariana Amatullo, Associate Professor Strategic Design and Management, Parsons School of Design Strategies
Manoj Fenelon, Associate Professor Strategic Design and Management, Parsons School of Design Strategies
Jeongki Lim, Assistant Professor Strategic Design and Management, Parsons School of Design Strategies
Diane Ragsdale, Assistant Professor of Arts Management and Entrepreneurship and Program Director for the MA program
"Our imaginative approach at The New School leverages our core strengths in entrepreneurship, strategy, and sustainability," says Mary Watson, executive dean of the Schools of Public Engagement. "We meet the future by developing engaged innovators now."
Read more about the new faculty members, below:
Sujatha Jesudason joins The New School after six years as Founder and Executive Director of CoreAlign, a reproductive justice organization that teaches innovation for social change to frontline activists. Before CoreAlign, Sujatha had 20 years of practical experience and education across a wide range of social change movements, during which she worked to forge unlikely collaborations and look past forced simplifications at the intersection of issues too often considered separately: economic inequality, domestic violence, racial discrimination, and gender roles. Her previous work includes community organizing in Milwaukee, violence prevention in the South Asian American community, and policy advocacy on human genetics. She is a leading voice on new practices for movement building, the ethics of human genetics, women's rights, and racial justice. Sujatha holds a PhD in sociology from the University of California, Berkeley and an BA in Economics from the University of Wisconsin, Madison.

A leading voice in media industry redesign, David Lieberman served as Executive Editor for Deadline.com, where he reported on business, public policy, and technology. Previously he was Senior Media Reporter and columnist at USA Today's Money section. Before working at USA Today, David covered the media business at TV Guide and BusinessWeek, and covered business and the economy for The MacNeil/Lehrer NewsHour. He contributed an essay on media mergers for an anthology, Conglomerates and the Media, published by The New Press, and in 1996 delivered the annual Carlos McClatchy Memorial Lecture at Stanford University. He spent an academic year at the Columbia School of Business as fellow in the Knight-Bagehot Fellowship in Economics and Business Journalism. David earned MA in American Culture and in Journalism from the University of Michigan, and a BA from Washington University in St. Louis.

Linda Saint Marc is the founder of Media by Women, a diverse group dedicated to amplifying the accomplishments of women in media worldwide. As a senior executive and consultant, Linda has established and recast businesses for category leading media makers. As a publisher, she has launched and managed 128 international magazine editions along with corresponding digital media assets on six continents. As a brand strategist, she is recognized for expanding brands with new and innovative extensions by leveraging trademark and content assets with licensing programs for content, products, services, events and e-commerce. Linda's multi-sector experience enables media companies to optimize their intellectual property for maximum profitability and connectivity with audiences. Linda holds a Bachelor of Science degree in International Business and Marketing from New York University, an Executive Management degree from Columbia University Graduate School of Business, a BFA Fine Art from Parsons School of Design, and a MS in Media Management from The New School.

A practitioner-scholar, design researcher, strategist, educator and author, Mariana Amatullo is Co-Founder and Vice President of Designmatters, the award-winning social impact department of ArtCenter College of Design, in Pasadena, Calif., where Amatullo helped conceptualize and manage a portfolio of global and national educational design projects, research collaborations and publications at the intersection of art, design and social innovation. Her international work leading experiential design projects and initiatives in design for social innovation have included partnerships with institutions and organizations in India, China, Uganda and several countries in Latin America and Europe. Amatullo lectures and teaches internationally about design principles and emergent practices in the field of design for social innovation, design for international development and design management. As a strategist, her work focuses on assisting organizations to recognize design attitude capabilities as drivers of innovation and organizational change. She is the recipient of numerous design and social innovation awards and honors, among them the 2012 DELL Social Innovation Education award for outstanding leadership in teaching and supporting student social innovators, Fast Company's Co.Design 50 Designers Shaping the Future, and the Public Interest Design 100. She earned a PhD in management from Case Western Reserve University.

Manoj Fenelon has made a career out of being curious about what people buy, and why—not only products and services but also notions about the world and how it works (or doesn't). Along the way, he has been an advertising copywriter, PhD student in the communication of emotion, director of business innovation, social intra-preneur and Aspen Institute fellow, design faculty adjunct and futures researcher. In a world teeming with answers, Manoj is effective in asking important questions that catalyze a collective imagination towards transformative social change. He is a futurist who does not believe in predictions, advocating instead for participatory approaches to co-imagining desirable tomorrows. Manoj is Indian by birth, a New Yorker by residence, and a nomad in spirit. He earned an MA in Communication Science from the University of Connecticut.

Jeongki Kim espouses an interdisciplinary approach to developing new management models in rapidly converging industries. He is design founder of STELLA, the venture-backed project management platform. Since its inception, STELLA installed the concept of design at the center of the business which has manifested in product development, user experience, market strategy, and computational design. The design-driven practice has led to successful partnerships with Google's 30 Weeks and generated interest from top filmmakers and media companies like Bloomberg, Virgin Company, and Sony. Prior to co-founding STELLA, Jeongki worked in fields of national security, urban policy, and technology consulting, where he helped organize the inaugural NYCxDESIGN and secured a bid for the Reinvent NYC Payphone Challenge. In recent years, Jeongki has been teaching a wide range of subjects in the graduate and undergraduate level at Parsons and New York University, including courses in Social Entrepreneurship, Information Visualization, Design Research and Methodologies, and Senior Project Capstone. Jeongki holds a B.A. in Visual Media and an M.S. in Applied Urban Science, both from NYU.

Diane Ragsdale is currently a doctoral candidate at Erasmus University Rotterdam (in the Netherlands), where she lectured from 2011-2015 in the cultural economics and sociology of the arts programs. Alongside her work at The New School, Diane teaches a one-week intensive in aesthetics and beauty through the leadership program at Banff Centre for Arts and Creativity in Canada. The Banff course is an extension and variation on a course she first designed as a visiting guest lecturer for the School of Business at the University of Wisconsin-Madison in 2015. In addition to lecturing (in both academic and professional settings) Diane provides a range of advising, research, and education services to the arts and culture sector (in the US and abroad); is a frequent provocateur or interlocutor at arts conferences and symposia around the world; and has contributed articles to various trade publications and blogs over the past decade. Diane completed the Executive Program for Nonprofit Leaders in the Arts at the Stanford University School of Social Innovation, and holds a MFA in Acting & Directing from the University of Missouri-Kansas City as well as a BFA in theater and a BS in psychology from Tulane University.