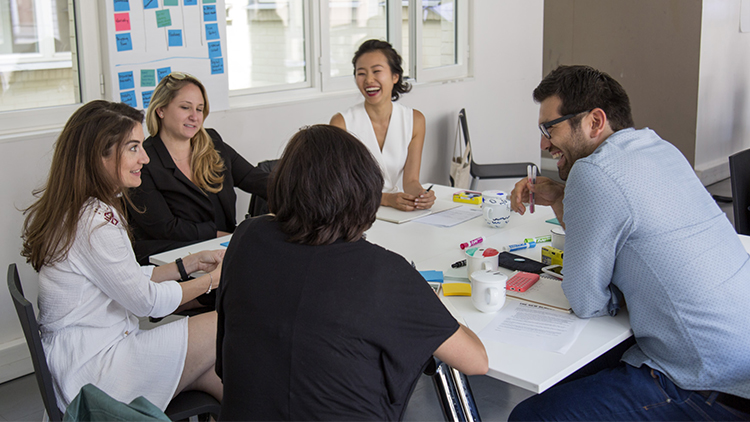 The New School Launches Impact Entrepreneurship Initiative to Support Early-Stage Entrepreneurial Leaders
This fall, The New School launches the Impact Entrepreneurship Initiative (IEI), a university-wide program supporting early-stage entrepreneurial leaders in developing the mindsets, skills, and sense of purpose needed to thrive in our rapidly changing world.
Funded by a grant from the Ewing Marion Kauffman Foundation's Inclusion Challenge, the IEI "aims to catalyze the creation of a more inclusive economy by making entrepreneurship education, resources, and networks more accessible to students from diverse backgrounds at different stages of the entrepreneurial journey," according to Elizabeth Werbe, IEI associate director, and Michele Kahane, IEI faculty director. "Drawing on the university's design-infused curriculum, faculty, and partnerships with the broader entrepreneurial ecosystem, the IEI provides students with the support and resources needed to transform challenges into opportunities that create positive economic, social, and environmental impact."
To kick off the IEI, The New School will host an event, Creating an Inclusive Economy: Pathways for Impact Entrepreneurs, on Monday, Oct. 2, 6-9 p.m. at the Theresa Lang Community Center, 55 West 13th St. The event will feature a panel discussion in which Porter Braswell, co-founder and CEO of Jopwell; Natalia Oberti Noguera, founder and CEO of Pipeline Angels; Christina Sass, co-founder and president of Andela; and Chike Ukaegbu, founder of Startup52 will discuss ways in which they're creating positive change, share ideas for creating a more inclusive economy, and discuss innovative strategies for supporting individuals from diverse backgrounds.
In conjunction with the launch of IEI, The New School is accepting applications to Venture Lab, an initiative designed to support graduate students and upper-level undergraduates in developing financially sustainable ventures that address critical societal challenges and demonstrate the potential for scalable impact. Students accepted to the Venture Lab will enroll in a semester-long course in the spring taught by Jen van der Meer, with support from Werbe and Kahane. In addition to receiving expert instruction and mentorship from seasoned entrepreneurs, select teams will have the opportunity to receive funding to develop their ventures and compete for up to $20,000 at the end of the course.
Students interested in applying for Venture Lab can attend an Information Session on Wednesday, Sept. 13 at 2 p.m. or Monday, Sept. 25 at 5 p.m. To RSVP to the Information Session and apply to Venture Lab, visit the Venture Lab website. Applications for the Venture Lab are due Wednesday, Oct. 4. 
Finally, The New School is recruiting prospective applicants for a Graduate Fellowship that aims to attract and support New School graduate students from diverse backgrounds who are committed to creating positive impact through entrepreneurship. Incoming students who are selected as Fellows will receive a 50 percent merit-based scholarship and participate in a cohort-based experience that includes mentorship, workshops, networking opportunities, and the chance to apply for the Venture Lab during the second year of their program.