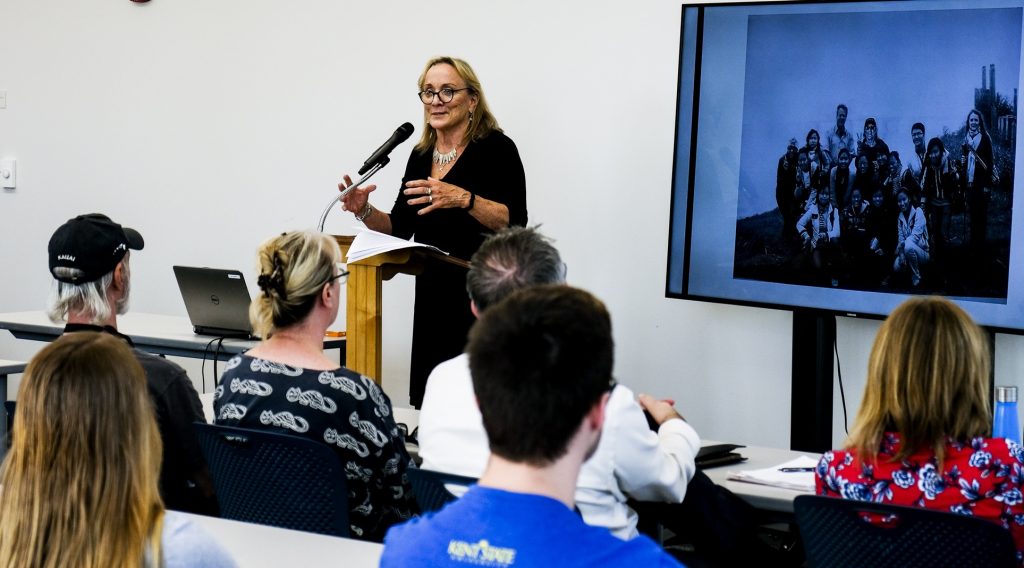 Media Studies Dean Carol Wilder, a Kent State Alum, Receives Prestigious Award from Alma Mater
On May 4, 1970, on the campus of Kent State University in Ohio, members of the Ohio National Guard opened fired on unarmed college students protesting the Vietnam War, killing four and wounding nine others.
Carol Wilder, a 1974 PhD graduate of Kent State University, was not on campus when the tragedy unfolded. But it forever changed her life — and the way she views the media.
"It is no exaggeration that even though I was not on the scene, in retrospect May 4 deeply changed my life," Wilder said before a packed auditorium at her alma mater in September. "It is axiomatic in persuasion theory that any single message rarely accounts for much variance in attitudes. For a long time — centuries, maybe — the thinking was one message equals one effect . . . May 4 belied all this — it was a magic bullet for me, though luckily of the psychological and not ballistics type."
Wilder, the dean of the School of Media Studies at The New School, made her remarks during a ceremony in which she was honored with the 2017 Centennial Award by the faculty in the School of Communications Studies at Kent State University. The prestigious award was given to Wilder "in recognition of [her] professional achievements and the indelible imprint [she has] had on the field of communication," said Elizabeth Graham, director of the School of Communication at Kent State. Graham noted Wilder's "prodigious career as an accomplished professor of media theory and criticism, impactful Fulbright Scholar, celebrated writer and filmmaker, and now the dean of the School of Media Studies at The New School."
During a wide-ranging speech, Wilder, who was in attendance partly to mark the anniversary of the Kent State shooting, connected her understanding of media theory with the important event in her life.
"It was like a ton of bricks hitting: What just happened? What didn't I know and why didn't I know it? What was I missing in my insulated media environment? How could I learn enough to not be blindsided again?" she said. "I immediately shifted course in my studies to focus on Political Sociology and Social Movements. The questions of May 4 have animated all of my teaching in political communication and my deep love of Vietnam in particular."
In her speech, Wilder also championed the School of Media Studies' educational approach — a blending of theory and practice.
"Truth be told, we don't do any rhetoric to speak of in my New School Media Studies program, but then the program is a direct spawn of McLuhan and history doesn't go much farther back," Wilder said. "Our mantra is the indivisibility of theory and practice, which is really complementary to the rhetoric/communication symbiosis."