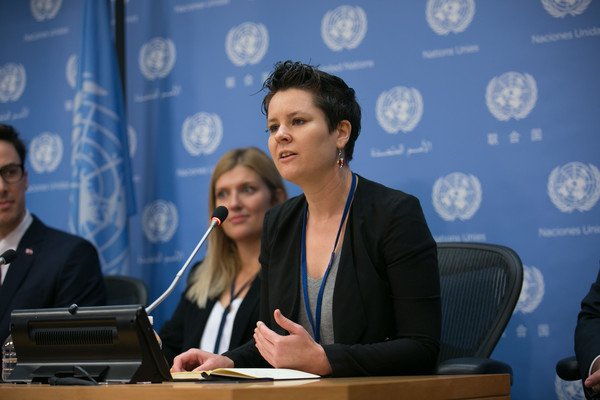 Ray Acheson, MA Politics '14, is a Member of Nobel Prize-Winning International Campaign to Abolish Nuclear Weapons
In recent months, dire news reports have pointed to escalating conflict between the United States and North Korea — and the rising specter of nuclear war.
But for many people working on this issue, including Ray Acheson, MA Politics '14, that threat, while particularly urgent now, "has always been there."
"Regardless of who is governing a country that possesses them, nuclear weapons use is a constant risk," says Acheson, who has worked on the abolition of nuclear weapons for the last 13 years. "Whether it's an accident, a misunderstanding, or deliberate use, we're really lucky to have not experienced nuclear war yet. That luck will run out; its inevitable. Eliminating these weapons, which are designed to slaughter millions of civilians and destroy entire cities and the environment for generations to come, is imperative."
As one of 10 representatives on the steering group of the International Campaign to Abolish Nuclear Weapons (ICAN), a coalition of NGOs in 100 countries, Acheson has worked on an effort to advance negotiations leading to a treaty prohibiting nuclear arms. Two-thirds of the 192-member United Nations adopted the agreement last summer.
For that work, ICAN — and by extension, Acheson — was recently honored with a Nobel Peace Prize.
"It is such an honor to have our collective work recognized with this prestigious award," says Acheson, a 2014 graduate of the MA Politics program at The New School for Social Research. "For the last 10 years, ICAN has been the driving force behind achieving a legal prohibition on nuclear weapons, and it's been an incredible experience to be part of such a diverse, passionate team of people working toward this goal. I hope the Prize leads not just to recognition for ICAN and its fierce campaigners around the world, but also for the nuclear weapon ban treaty that 122 governments have so far supported. This treaty is a critical tool to help lead to the total elimination of nuclear weapons — we just need people to use it."
Acheson, who was working with ICAN and the Women's International League for Peace and Freedom when she enrolled at The New School, chose to study at the New York City university "because of its historical commitment to social engagement and the activism of its community." At The New School, Acheson had the opportunity to study political theory, economic philosophy, and history — experiences that sharpened her critical thinking skills and honed her ability to thoughtfully engage with intersectional issues.
"I wanted to learn more theory and interact with academics in a setting I knew I'd find enriching, and it definitely worked out that way," says Acheson, who, as a New School student, also had the chance to pursue research and writing around the history and theory of the nuclear abolition movement.
Even as she handled a full course load at The New School, Acheson managed to make meaningful contributions to confronting one of the most pressing issues of our time. Through ICAN, she collaborated with governments to get political traction for a nuclear weapon ban, which has meant "writing the theory, having meetings with government officials and campaigners from around the world, and making the case for the ban in so many different national and regional contexts," she says.
"I have learned from so many campaigners and diplomats from around the world, and have really felt like the work we've done together is significant not just for abolishing nuclear weapons, but for making social justice change more broadly," she adds. "We've managed to take a difficult space, the international diplomatic space, and use it effectively by working together as activists and government representations to upset power structures and make progress even when up against many of the most militarily and economically powerful countries in the world.
However, as the standoff between the United States and North Korea demonstrates, there's still a lot of progress to be made. If you're anxious over the specter of nuclear war, look to Acheson, who remains optimistic that, one day, nuclear weapons will be abolished once and for all.
"As they become increasingly seen for what they are — weapons of genocide — we will see their supporters, and then their possessors, losing economic, political, and social support for these weapons," she said. "It's only a matter of time — but we hope it will happen sooner rather than later."