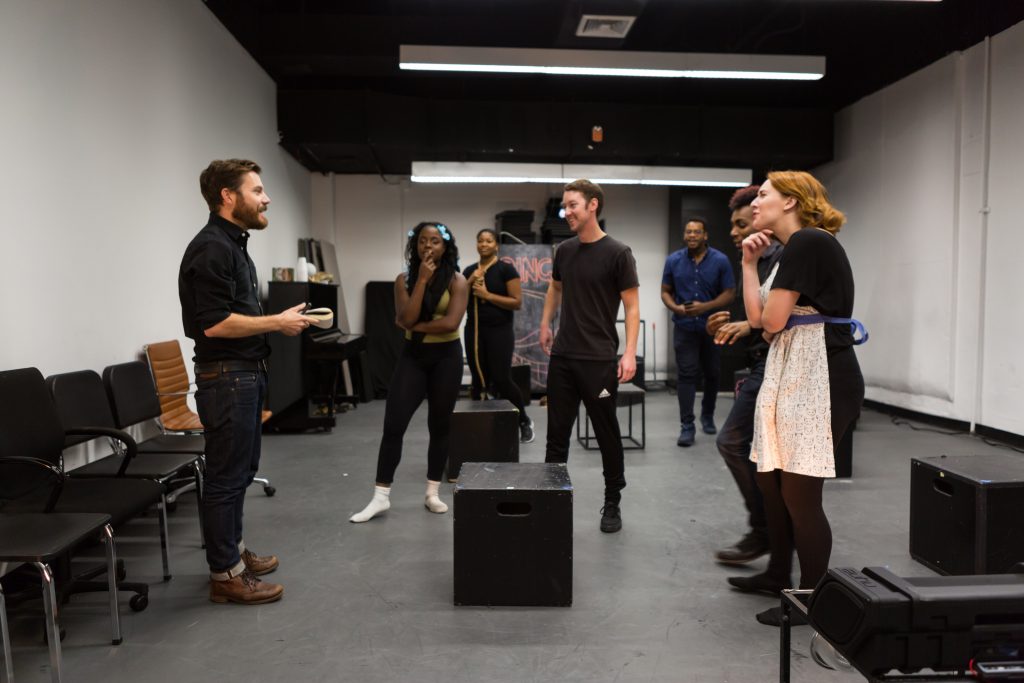 School of Drama Partners with Tectonic Theater Project for New Plays that Highlight Collaboration
It should come as no surprise that actors, writers, and directors work collaboratively to tell stories, whether for television, the stage, or films.
That also goes for MFA students in School of Drama. Through a recent partnership with the Tectonic Theater Project, the prestigious New York City-based company, students had the chance to work in cohorts to create original pieces and learn new storytelling techniques. The opportunity is a reflection of the School of Drama's commitment to collaboration, bold creativity, and harnessing students' unique artistic voices.
"It's a tremendous opportunity, and part of the wealth of training in New York City, for our students to collaborate with companies such as Tectonic," says Pippin Parker, dean of School of Drama. "Tectonic represents the relevance, vibrancy, and innovation of theater today."
Renowned for their innovative theater techniques and teaching methods, Tectonic lead teaching artist Jimmy Maize worked directly with students to develop their new plays with a focus on "moment work." The residency culminated in performances of three original pieces by student groups in a workshop format.
"It's a completely democratic process at first, so there was little delineation of respective disciplines, which meant the writers and directors were performing in their own moments, just as the actors were 'writing performance' and self directing," says Maize. "All students learn how to employ every element of the theatrical machine towards making narrative, which includes lights, props, costumes, and text."
In a play directed by Nigel Barnes, Drama '20, 'moment work' comes through in every scene. Cast members actively move props and create sound effects, in addition to performing their lines. During rehearsals, the playwright was actively working with Barnes and the actors to refine dialogue, and incorporate new ideas into the script.
"I learned a new approach to staging productions," says Barnes. "The Tectonic process was challenging because we were asked to just make and not worry about editing or codifying. It was a very interesting experience."
For Maize, the experience helped him codify his own teaching methods, especially with cohorts that consisted of actors, writers, and directors.
"As theater artists, we all fall prey to the misnomer that compartmentalizing our jobs is the path to success," he says. "Once students understand that every artist can 'hold the keys to the kingdom', and craft narrative with myriad tools, everyone is given more agency, eventually moving with freedom and purpose."
The collaboration and creativity exhibited throughout the Tectonic partnership has also been highlighted by recent performances in the College of Performing Arts. Cabaret and Dust were both performed with students from Mannes School of Music, School of Jazz, and Drama, and underscore the interdisciplinary education that students are receiving at The New School.
"Theatre is a collaborative art form, so I think it's important we learn different approaches with one another so when we graduate, we are more well-round artists ready to tackle a multitude of production styles," says Barnes.