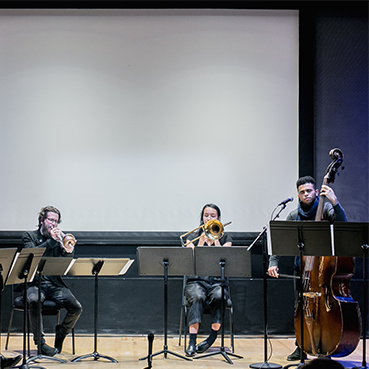 CoPA Students Conduct Research in NY Public Library Archives to Create Original Works
At the College of Performing Arts (CoPA), students are encouraged to work across disciplines and media to create new and innovative compositions.
One way they are doing that is through Shelf Life. A collaboration with the New York Public Library for the Performing Arts, the class gives students from Mannes School of Music and the School of Jazz the opportunity to access archival works at the library, including poetry, interviews, and recordings. These served as inspiration for their original pieces, which debuted at the Bruno Walter Auditorium at Lincoln Center in December.
"These materials spur a creative spark," says Nick Dunston, BFA Jazz and BA Contemporary Music '19, a participant in the class. "I was able to read a lot of unpublished poetry that I wouldn't have been able to see otherwise, and I was given a different kind of work space than I normally get to use. The preparation of this performance and the actual creation of the music is coming directly from the resources I was given from the course."
Shelf Life is the brainchild of Jane Ira Bloom, the acclaimed soprano saxophonist, composer, and Jazz faculty member. She created the class after writing a piece for a jazz quartet that was inspired by fragments of Emily Dickinson's poems. So enthralled was Bloom by the experience that she wanted her students to have the opportunity to work with poetry and other materials to which they're not normally exposed.
"The process of going into a library and researching materials, especially for students, was a tremendously creative experience," says Bloom. "It was beneficial not only in terms of academic research, but also in terms of research that sparks the imagination."
Shelf Life is one of the many ways CoPA students collaborate with leading artists and institutions to create new and engaging works. School of Drama students recently worked with Tectonic Theater Group to present original plays, while acclaimed composer Kaija Saariaho staged workshop performances of her opera L'Amour de Loin at the Guggenheim Museum and the French Institute Alliance Française with Mannes students during her time as composer-in-residence.
The unique interdisciplinary curriculum, as well as opportunities to engage with other artists and creators, is among the main reasons Dunston decided to study at The New School.
"I knew at The New School the music education was going to be great and really rigorous," says Dunston, who previously worked with Bloom on an independent study course and collaborated with the Joffrey Ballet School. "I also realized that I would be missing out on a lot of important experiences and social skills by potentially being in an only musical environment and not part of a larger university, where I could get a well-rounded overall experience as a student."