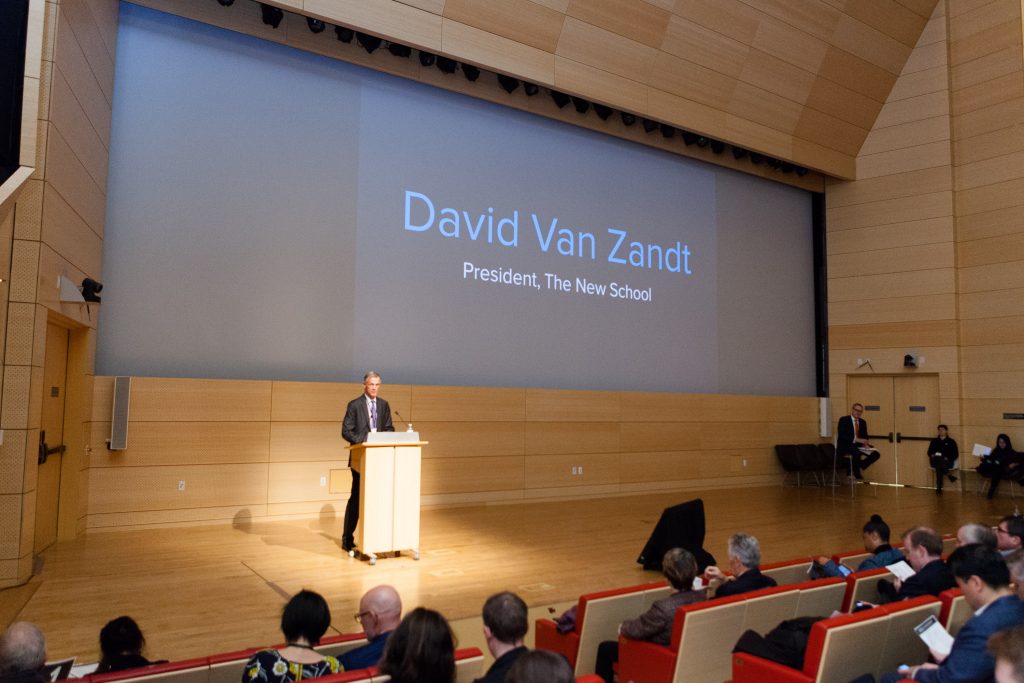 Regional Plan Association Releases the Fourth Regional Plan at The New School
On November 30, the Regional Plan Association (RPA)  released its most ambitious economic plan yet for New York, New Jersey and Connecticut, called the Fourth Regional Plan. In the overflowing Tishman auditorium, executives and politicians outlined their vision for the future of the region.
The RPA is an influential urban-planning group which studies issues of land use, transportation, the environment, economic development, and opportunity. RPA's plans are often considered by state and local agencies when they embark upon infrastructure projects. Previous RPA plans were published in the1920s, 1960s, and 1990s; one of the most notable recommendations helped determine the location of the George Washington Bridge.
"As a design-inspired university that engages with the human and social problems of the world today, we see the RPA grappling with issues much as we do: the need to design solutions to complex problems, and to organize objects, people, and environments to be more effective," said David Van Zandt, President of The New School.  "Therefore, we cannot imagine a better place to roll out the RPA's Fourth Regional Plan than here at The New School."
The RPA's latest roadmap to making the region work for everyone is a bold plan of action in four areas:  
Fix the institutions that are failing us

. Public institutions have been slow to incorporate state-of-the-art technology to improve the quality of services. The RPA plan addresses these problems by proposing to increase civic engagement at the local level and make planning and development more inclusive, predictable, and efficient.

Create a dynamic, customer oriented transportation network

. Because transportation is the backbone of the region's economy, the RPA plan expands and modernizes transit and airports and upgrades streetscapes. This plan includes upgrading subways and eliminating 24-hour subway service for system maintenance from 12:30am to 5am Monday through Thursday.

Rise to the challenge of climate change

. Instead of treating each storm as if it were a once-in-a-lifetime occurrence, the RPA plan prepares the region for events such as Hurricane Sandy, and presents a permanently changed environment, including putting a price on carbon, adapting to a new coastline, creating a greener, smarter energy grid, and welcoming more nature into communities.

Make the region affordable for everyone

. The RPA's ambitious plan addresses the lack of quality housing for all income levels in places that have good transit service, and looks to make the region more affordable for both residents and businesses. Ideas include investing in smaller cities and downtowns to boost economic opportunities.
The RPA's plan attempts to address the evolving needs of the tri-state region, an area with a diverse population of 23 million people. This plan is a long-term strategy to provide opportunity for future generations.