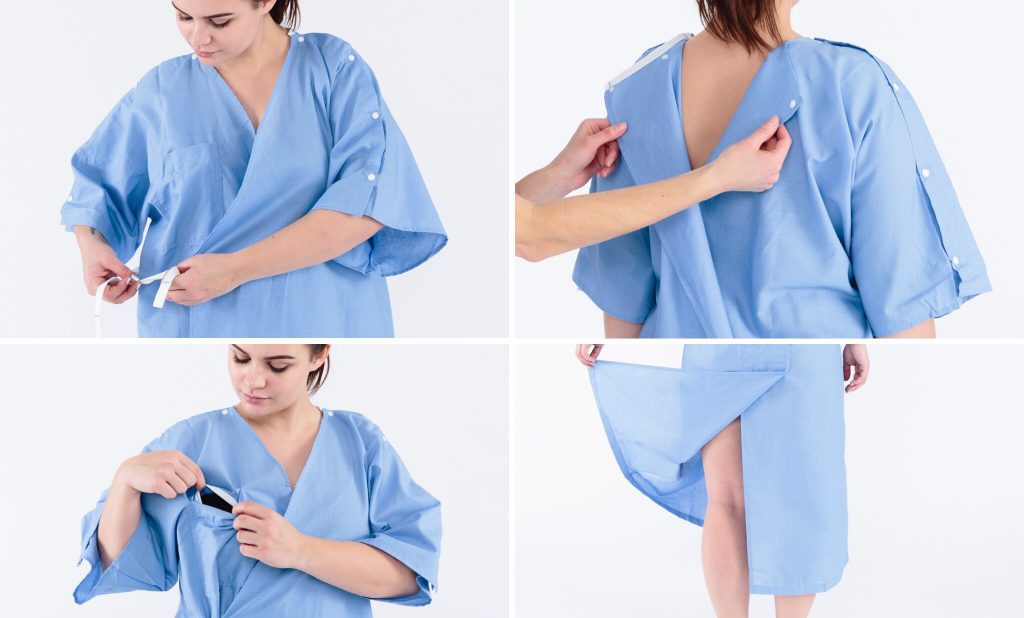 Parsons School of Design Students Redesign The Hospital Gown
In recent years, students at The New School's Parsons School of Design have designed coats that turn into tents for refugees and adaptable clothing for people with disabilities. Their latest creation has the needs of hospital patients in mind: a new kimono-inspired hospital gown that opens in the front, has a shielding pleat in the back, and replaces five types of gowns with one while allowing easy access to doctors and nurses.
In partnership with healthwear company Care+Wear, Parsons students, led by faculty members Brittany Dickinson and Lucy Jones, Fashion Design '15, reimagined the hospital gown, spending a semester working closely with patients, designers, nurses, doctors, hospital leaders, and laundering experts on the new human-centered design to create The Patient Gown. It is a reflection of the leading art and design school's commitment to socially engaged thinking.
"I thought it would be nice to spend a whole semester on working on a design that had a strong functional purpose, addressed a social issue such as patient comfort and experience, and especially, would become applicable in the real world," says Irene Lu, Fashion Design '18. "Addressing social issues through design can help call attention to those underserved and bring about bigger changes in re-aligning or reinterpreting the entire system that the social issue is connected to."
In addition to addressing social issues, Parsons' curriculum emphasizes the systems in which products exist: students consider the entire lifecycle of the gown, from production to transport, storage, user experience, laundering, and disposal.
"In the School of Fashion we have created an entire Pathway called Systems and Society in which students are challenged to develop new fashion models that address critical social issues," says Brendan McCarthy, Program Director BFA Fashion Design: Systems and Materiality. "We have been deeply committed to innovation from a design methodology perspective, with a strong emphasis on human-centered design. We have many students who are working and collaborating directly with specific people and communities they care about as an integral part of their fashion research and​ design development processes."
​ ​This isn't the first time Parsons has partnered with a leading companies to design innovative, socially engaged projects.
Recently, the school teamed with Roche Bobois to create new dining chairs that "reinvigorate the cultural and historical rituals of resting, gathering, and nourishing the body"; Street Seats, a collaboration between Parsons students and the NYC Department of Transportation to transform sidewalks into public seating areas; and a partnership between celebrated designer Tom Dixon and IKEA, which led to a human-centered redesign of IKEA's Delaktig sofa.
For McCarthy, the partnership with Care+Wear has reinforced the importance of interdisciplinary learning for fashion students, as well as the deep importance for students to work closely with the users of products.
"Our integration of ​systems-based design​ strategies in fashion is helping to generate a new landscape of possibilities for fashion, which, in turn, is helping students to generate new speculative possibilities for fashion models that completely rethink the current system," he says. "This partnership has enabled our students to actually have their designs come to life and enter the real world at significant scale and make a measurable, positive social impact to health and lives of patients.