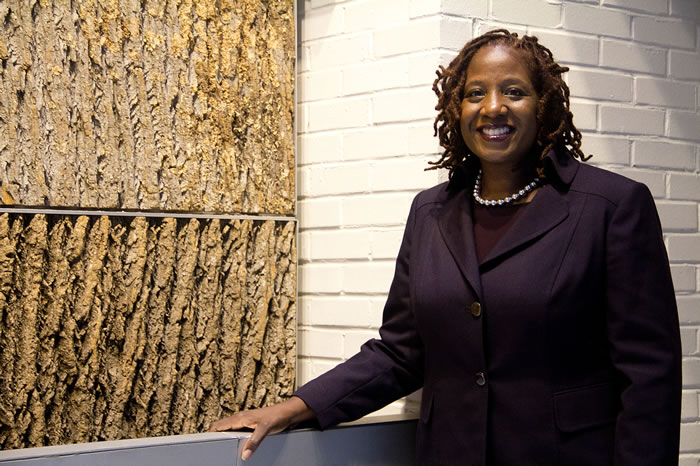 Michelle DePass, Milano Dean and Tishman Center Director, is Leaving The New School
Michelle DePass — a national leader on social justice, sustainability and environmental policy-making who has served as dean of Milano School and director of the Tishman Environment and Design Center at The New School for the last four years — will be leaving the university to become chief executive officer of the Meyer Memorial Trust in April.
A former Environmental Protection Agency (EPA) official who was appointed by President Obama to serve as the agency's Assistant Administrator for International and Tribal Affairs, DePass played a key role in infusing sustainability and environmental justice causes into The New School's policies and curriculum. That the university is a leading voice in the climate action movement is thanks in no small part to DePass.
"Michelle's legacy of advocating for social justice and sustainability will be felt long beyond her tenure here," Mary Watson, executive dean of the Schools of Public Engagement, and Tim Marshall, New School Provost, said in a letter to The New School community. "Since Michelle joined The New School as Tishman Professor of Environmental Policy and Sustainability Management, her contributions to advancing social and environmental justice initiatives have been innumerable."
During her tenure at the progressive New York City university, DePass co-created the Global Urban Futures, an interdisciplinary research and practice initiative on the economy, environment and inequality with Professor of International Affairs Michael Cohen; convened with the City of New York the People's Hearing on Repeal of Clean Power Plan and provided testimony at the hearing; organized the Race in The U.S. series with her Milano School colleagues Maya Wiley and Darrick Hamilton; played a key role in the creation of The New School's bold climate action plan; re-imagined the Tishman Environment and Design Center as an interdisciplinary sustainability practice space for over 70 affiliated faculty and scholars; and helped mobilize the university community's participation in the history-making Climate Action March, among countless other contributions.
"It has been a great honor to serve as dean of the Milano School," DePass says. "Over these past four years, I have had the privilege of guiding and interacting with an incredibly talented community of scholars, researchers, designers, and practitioners who integrate social justice into their work across every discipline and office at the university. At the Tishman Center, it has been a pleasure to work with our affiliated faculty and the center staff to lead The New School's efforts to act on climate, create opportunities for all students to learn about climate and environmental justice, and connect our students and faculty with communities in order to advance just and sustainable outcomes."
At the Meyer Memorial Trust, the largest private foundation in Oregon, DePass will lead the organization's efforts to dismantle barriers to equity in education, housing, and the environment and to improve community conditions for Oregon residents. Her family — including her husband, Joshua Paulson, a civil rights attorney, and her children — will follow her to the Pacific Northwest.
Prior to joining the EPA and The New School, DePass was a program officer at the Ford Foundation. Her portfolio focused on the environment and community development, including green economy and climate change, environmental health and justice, and indigenous environmental rights. DePass holds a bachelor's degree from Tufts University, a Juris Doctor from Fordham Law School, an honorary doctorate from Fordham University and a Master of Public Administration from Baruch College, where she was a National Urban Fellow.