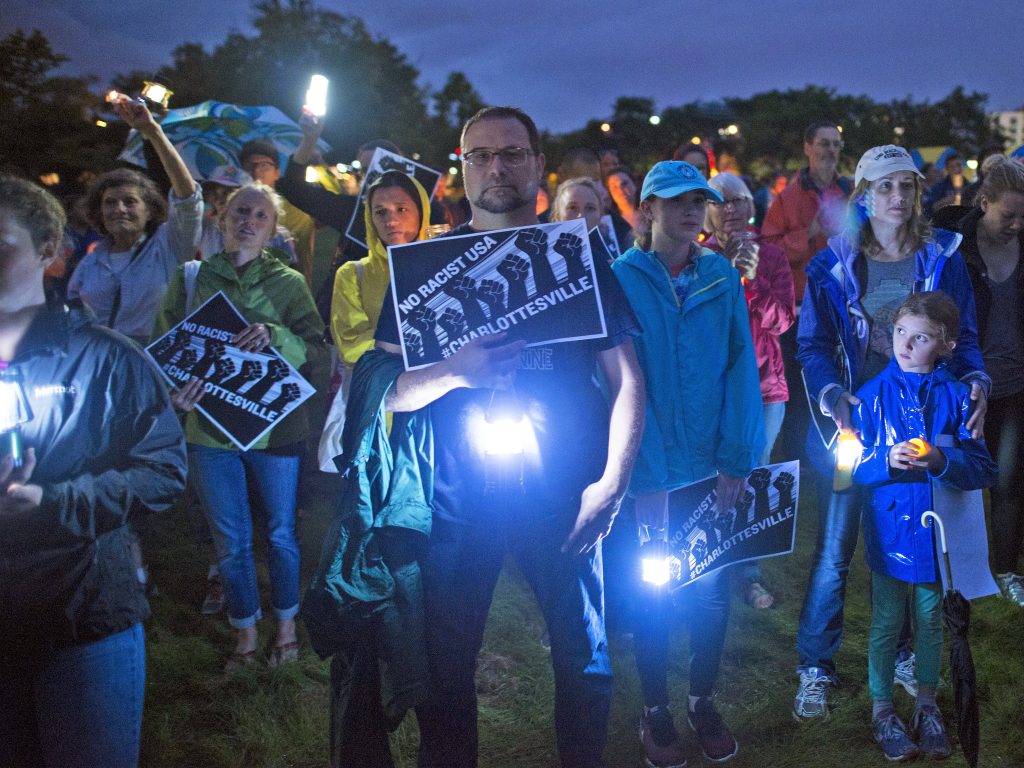 Public Seminar Launches #Charlottesville Book Responding to Violence and White Supremacy
A year after a bitterly divisive election, issues of racism and white identity politics came to the fore in Charlottesville. It was there in August 2017 that white nationalists descended on the Virginia city to protest the removal of a Confederate monument in a public park — an event that erupted in violence and ended with the murder of counter-protester Heather Heyer.
In the wake of the chaos, a frightened and bewildered country was left with questions of "why" and "what's next"?
In an attempt to answer them, Public Seminar, a publication of The New School for Social Research, has launched #Charlottesville: Before and Beyond, the first publication to emerge from and critically respond to the events surrounding the violence of August 2017. Featuring a message from Charlottesville Vice Mayor Wes Bellamy, the pay-what-you-want e-book is a collection of essays by scholars and activists that attempt to answer questions still plaguing the country.
"How much is our contemporary political environment to blame for the sudden visibility of white supremacist groups?" Jeffrey C. Goldfarb and Claire Potter, publishers and founders of Public Seminar, explain. "What are we to do with Americans' tragic racial history and relics that commemorate the violence of slavery and the Civil War? Where can we turn as political conversation stalls around these important subjects? What are our responsibilities as citizens?"
The essays in part one of #Charlottesville: Before and Beyond reflect upon the immediate aftermath of the violence in Charlottesville while the essays in part two address the context of the violence. In his piece, "Charlottesville, Thomas Jefferson, and America's Fate: A Response to Keval Bhatt," Michael Weinman, professor of philosophy at Bard College Berlin, observes that statue politics, though divisive in the public forum, require greater attention to the particular ways black identity was both (or either) misrepresented and mis-recognized historically. In her piece, "The Capital that Made Capitalism," Julia Ottt, co-director of the Robert L. Heilbroner Center for Capitalism Studies at NSSR, offers the history of chattel slavery in American economics, so much of which is willfully forgotten by white nationalists. And in his piece, "What We Really Learned in Charlottesville: Finding a Way Forward," writer Andrew Boyer takes up the relationship between violent political action and the slow degradation of our political institutions, articulating the philosophical importance of habit and the prerogative of pluralism over ideological difference.
The book also features contributions from Jeffrey Isaac, Jared Loggins, Leonard A. Williams, Keval Bhatt, Isaac Ariail Reed, Gordon Mantler, Maria Bucur, Marcus McCullough, Vaughn A. Booker, Sanford Schram, Jeffrey Goldfarb, Rachel McKinney, Nicholas Baer and Maggie Hennefeld, Melvin Rogers, Neil Roberts, Michael Sasha King, Deva Woodly, Mitchell Kosters, and Eric Anthamatten.
"Americans not only read, listen to and watch different sources of news, information and opinion, we constitute ourselves as separate and apart, making a political solution to the enduring problems of white supremacy and racism ever more elusive," Goldfarb said. "We hope this collection of essays will start a dialogue that brings us together to find a solution."
To download #Charlottesville: Before and Beyond, visit Public Seminar.