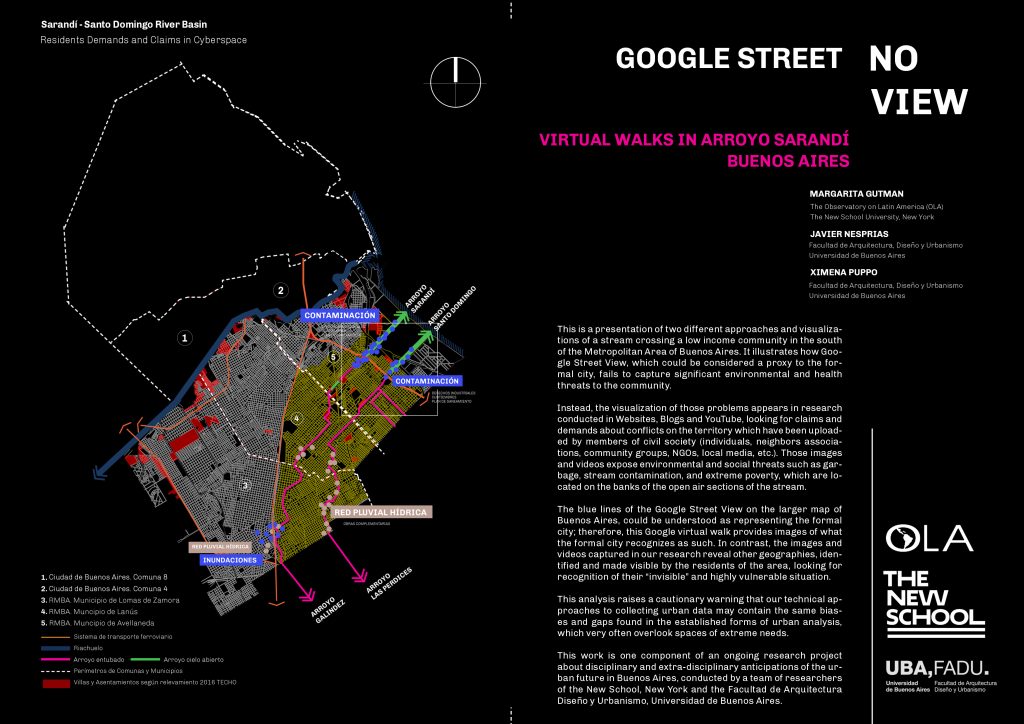 SGPIA Research Finds 'Digital Divide' in Google Street View of Environmental Issues, Slums
For years, Arroyo Sarandí, a stream that snakes through the working class suburb of Avellaneda in Buenos Aires, has fallen victim to industrial use. Pollution and trash have caused serious flooding and health issues for the people living in villas misérias, or slums, along the river banks.
But you wouldn't know any of that by looking at Google Street View of Avellaneda: Neither the slums nor the environmental issues impacting it appear there.
The gaps in information are keeping researchers and policy analysts in the dark on the extent of the problems in villas misérias, according to a team of researchers at The New School and the University of Buenos Aires. They warn of an emerging "urban digital divide" between places visible on Google Street View and those that are not.
"As part of our research, we discovered that Google Street View does not in many cases cover slum neighborhoods or the specific environmental problem areas that have been the subject of many online claims and complaints by neighborhood residents," said Margarita Gutman, Professor of Urban Studies and International Affairs, who recently presented her research during this month's World Urban Forum 9 (WUF9) in Kuala Lumpur, Malaysia. "The significance of this finding is that many researchers and policy analysts rely on the information provided by Google Street View."
At a time when Google Street View can display minute details of a range of environments, Gutman and her team of researchers worry that the Silicon Valley cartography tool is erasing from public view threatening conditions impacting hundreds of thousands of vulnerable people.
"The missing data limits awareness of this pressing issue, thus impeding the potential for research to address it," says Gutman, whose research team is supported by the Studley Faculty Research Fund in the Studley Graduate Program in International Affairs (SGPIA).
The gaps in Google Map data raise a larger issue. Gutman and her team warn that the estimated one billion people living in urban informality throughout the world — fully one-seventh of humanity — are at a risk of being left behind in the era of high-tech data gathering. In researching and reporting on this issue, they hope to raise awareness among urban professionals who use metrics and measurement to define municipal priorities.
This project is the second phase of Gutman's 10-year research project about the future of urban conditions in Buenos Aires. In 2011, Gutman published a book detailing her research, Buenos Aires: El Poder de la Anticipación. Imágenes itinerantes del futuro metropolitano en torno al Centenario.
The New School's participation in the WUF 9 was organized by the Global Urban Futures (GUF) project, based in SGPIA and the Milano School PhD Program in Public and Urban Policy. The GUF includes Michael Cohen, Professor of International Affairs; Lena Simet and David Lopez, PhD candidates in Public and Urban Policy;  and Ayesha Issadeen, MA International Affairs '18.