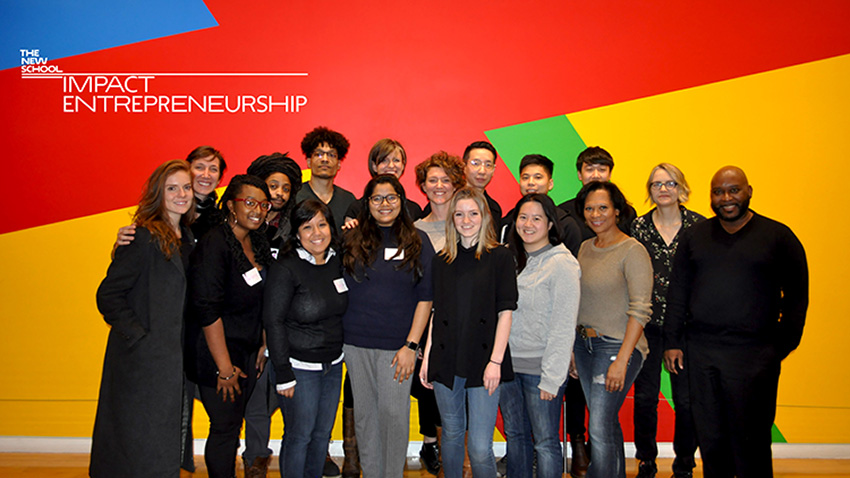 Socially Engaged Entrepreneurs Selected for The New School's Inaugural Venture Lab Course
For women in India, it isn't easy finding safe, affordable menstrual hygiene products.
Because it's such a taboo subject, companies have invested little in the way of providing quality options — in fact, 95 percent of India's menstrual pad market uses harmful chemicals known to cause urinary tract infections.
A team of students, including two students from The New School's Parsons School of Design, is hoping to change that.
Nagasai Adama and Nancy Guetssoyan, MS Strategic Design and Management students, along with Kalpana Parvathaneni, a PhD candidate at the Uniformed Services University of Health Sciences, and Nandan Reddy, a graduate of Birla Institute of Technology and Science, have launched Nora, a company that will aim to produce a sanitary napkin made of 100 percent organic cotton.
Nora will receive guidance and support as one of the 11 teams selected to participate in the Spring 2018 Venture Lab. Part of The New School's Impact Entrepreneurship Initiative, the semester-long course is "designed to help current masters students and upper-level undergraduates advance their entrepreneurial ventures by providing the support, resources, and capacity to build financially sustainable models that address critical societal challenges and demonstrate the potential for scalable impact."
Businesses range from a performing and fine arts facility aimed at making theater more accessible (Broke Broadway), to a reusable breathing mask that will attempt to address health issues arising from the deteriorating air conditions in cities (Spirus Breathing Mask), to a peer-to-peer platform that aims to democratize learning by connecting young professionals and college dropouts (Leform).
In January, the teams participated in a two-day intensive in advance of the course, which is being taught by Michele Kahane, Professor of Professional Practice and Associate Dean for Social Engagement, and Jen van der Meer, Assistant Professor Strategic Design and Management at Parsons School of Design. What's more, in April, top-performing teams enrolled in the Venture Lab course will be invited to pitch their ideas for as much as $20,000 in prize money.
The Venture Lab Teams are: