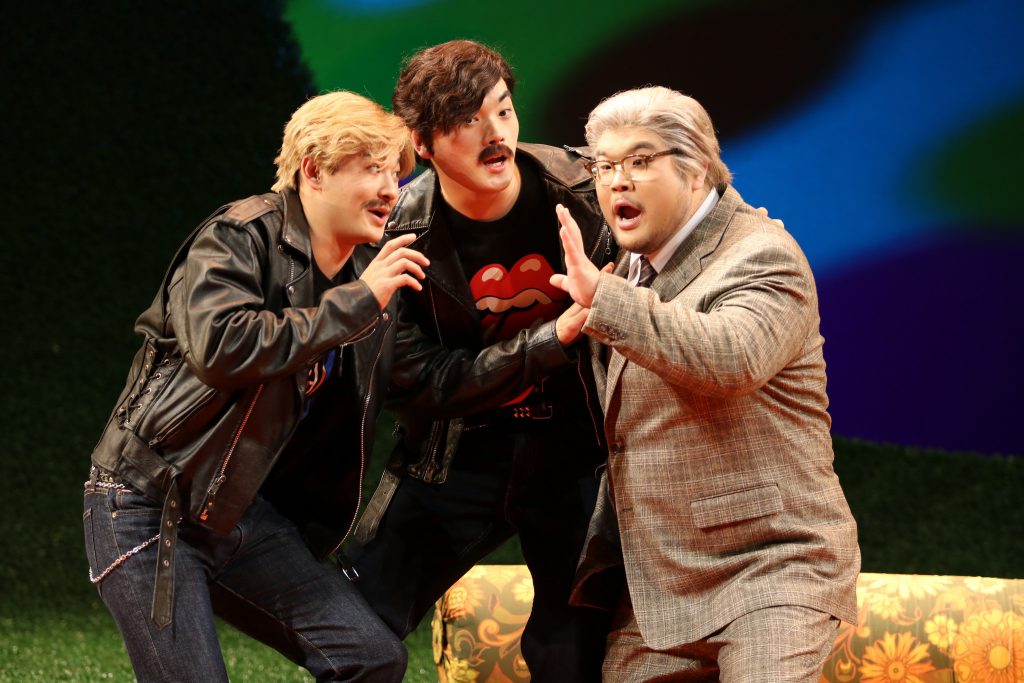 Mannes School of Music Opera Alums Excel Onstage at the Metropolitan Opera
Kidon Choi's dreams came true last year when he made his debut at the Metropolitan Opera, playing Yamadori in Madama Butterfly.
"I think every singer dreams of singing at the Metropolitan Opera," says Choi, PDPL '17, who was selected for the Met's Lindemann Young Artist Development Program. "Of course, there is pressure to be a better singer, since it's a huge theater that everybody pays attention to, but it is also great motivation to work harder."
Choi joins a growing list of accomplished Mannes School of Music opera singers who have performed at the Met. They include soprano Nadine Sierra, tenor Yonghoon Lee, mezzo-soprano Maya Lahyani, soprano Deanna Breiwick, mezzo-soprano Avery Amereau, mezzo-soprano Karolina Pilou, countertenor Siman Chung (covering the countertenor role in the recent production of Thomas Adès's Exterminating Angel), tenor Won Whi Choi, and bass David Leigh. Bryan Wagorn and Nimrod David Pfeffer are now assistant conductors at the Met, alongside faculty members Joshua Greene and Vlad Iftinca.
Choi and his peers owe their success in part to the rigorous training and education they received at Mannes. Studying under voice teacher Arthur Levy, and Joseph Colaneri, artistic director of the Mannes Opera and a conductor at the Met, helped Choi refine his technique as a singer and pursue his dream of performing on the world's biggest stages.
"Maestro Colaneri always treated us as professional musicians, so I learned how to approach the opera as a professional, not just a student," says Choi. "This offered me a solid foundation on which to build, because Mannes felt like a bridge connecting me from being a student to the professional stage."
Launched by Colaneri in 1998, the Mannes Opera employs a professional workshop approach, in which students study both classic and contemporary music with faculty working in the field. The program stages two fully realized operas a year, which range from classics like Così fan tutte and L'Elisir d'amore to modern pieces such as last season's Vanessa by Samuel Barber and this spring's The Rake's Progress by Stravinsky.
Colaneri's flexible approach prepares students to tackle a diverse repertory presented by noted institutions like the Met. In true New School fashion, students in the program engage in interdisciplinary opportunities, which include collaborating with The Mannes Orchestra on their productions and working with designers from Parsons School of Design on productions including Daniel Catán's Il Postino and Jonathan Dove's Flight.
"Opera is a multifaceted art form involving singers, instrumentalists, scenic designers, and stage directors," says Colaneri. "I believe that the interconnectedness and multidisciplinary approach of opera serves as a metaphor for the interactions of the many intellectual and academic disciplines of The New School. When it all comes together, it is a thrill to experience."
Outside of the Met, recent graduates like Nadine Sierra, David Leigh, and Maya Lahyani have performed around the world, at opera houses including La Scala in Italy, Ópera de Nuevo León in Mexico, and the Grand Theater of Luxembourg. In addition, Mannes will be well represented in this year's Metropolitan Opera National Council auditions, with current Mannes student Danielle Beckvermit (soprano) and recent alums Emily Misch (soprano) and Terrence Chin-Loy (tenor) all competing as semi-finalists on April 29. Participants in the MONC competition frequently go on to sing at the Met.