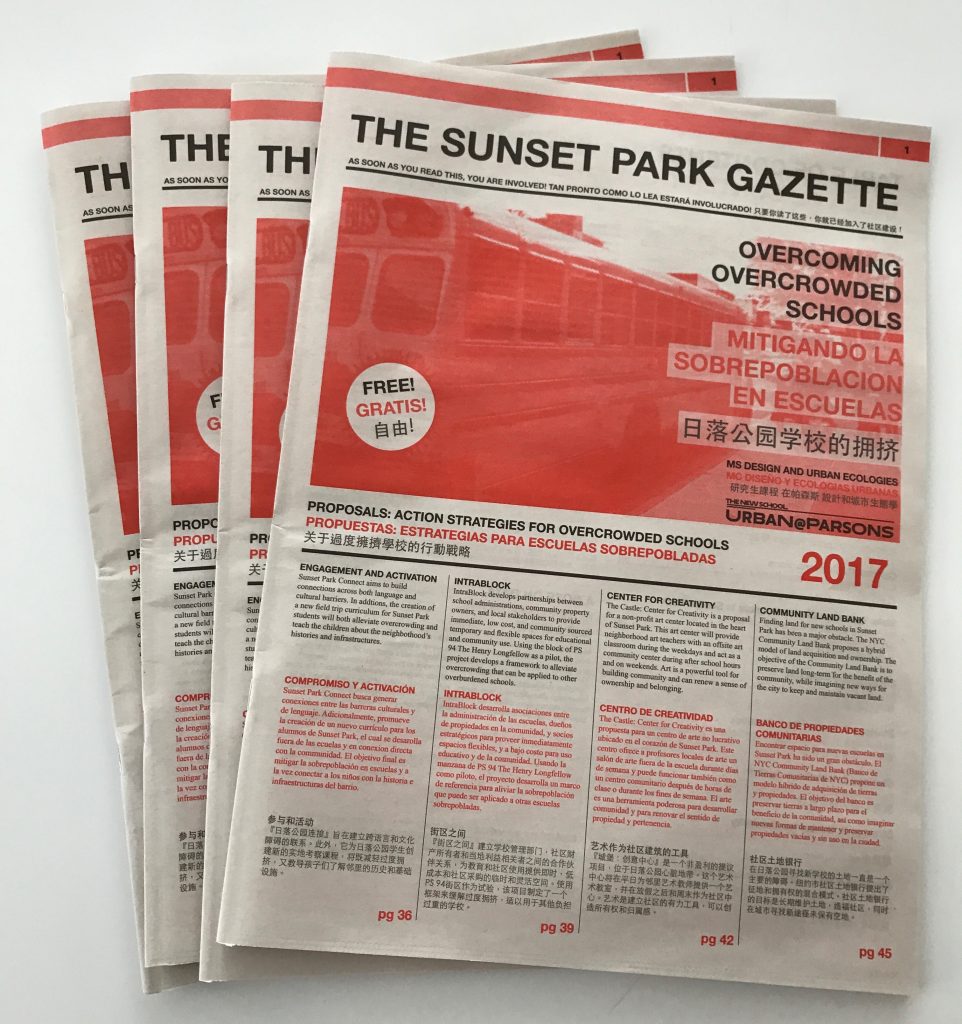 MS Urban Ecologies Confronts Critical Urban Issues in Sunset Park Gazette
Sunset Park, a working-class area of Hispanic, Chinese, and Middle-Eastern immigrants in southwest Brooklyn, has undergone a dramatic transformation in recent years: Bush Piers Terminal Park, a new green space, opened along Bay Ridge Channel between 44th and 51st Streets; Industry City, a 16-building waterfront industrial complex, welcomed artisans, craftsmen, and small businesses following a $1 billion modernization; and the Brooklyn Nets professional basketball team cut the ribbon on a new state-of-the-art training center.
The upgrades have made Sunset Park one of "New York's Next Hot Neighborhoods", according to The New York Times. However, the massive public and private investment that prompted those changes hasn't flowed to the other side of the Brooklyn-Queens Expressway. There, in the neighborhood's vast residential section, a shortage of schools and affordable housing housing has left many residents with concerns about the future of the neighborhood.
"Sunset Park has seen a 50 percent population growth in the last two decades, and a revitalization of the waterfront and gentrification in the last few years" says Gabriela Rendon, Assistant Professor of Urban Planning at Parsons School of Design. "Unfortunately, the neighborhood has not seen the development of affordable housing and the provision of public services to serve its immigrant communities. Housing prices have gone up, and there are not enough schools to accommodate its growing young population. These issues are a direct threat to the neighborhood's immigrant communities."
To confront these challenges, Rendon and her students in the MS Design and Urban Ecologies program launched Sunset Park Gazette. Developed in collaboration with community members and Make Space for Quality Schools in Sunset Park, a local campaign advocating for the construction of new schools, the Gazette is a free trilingual publication (English, Chinese and Spanish) that lays out useful knowledge for area residents about critical urban issues affecting Sunset Park and bold solutions to address them.
A continuation of a similar project Rendon and her students completed around affordable housing in Bushwick, another rapidly gentrifying neighborhood in Brooklyn, the neighborhood gazette is an effective means of communicating with residents — primarily working mothers and fathers — who lack access to the Internet. Thus far, more than 1,000 copies have been distributed to community centers, businesses, and places of worship across Sunset Park.
The long-term research- and design-based project is a reflection of Parsons' socially engaged, hands-on, collaborative approach to education.
"Sunset Park Gazette engages students in current and complex urban processes, as well as stakeholders impacted by those processes, while creating localized and community-driven solutions," Rendon says.
In the first edition of the Gazette, "Overcoming Overcrowding," students explored one of the most urgent problems facing Sunset Park: school overcrowding. Students reported that the neighborhood is in need of 3,000 new seats to serve its young population; some schools have reached 147 percent of their capacity. To address this problem, they collaborated with Make Space for Quality Schools, a participatory mapping campaign led by Sunset Park's immigrant parents that aims to identify potential spaces for the construction of new public schools. With the students' help, parents persuaded the Department of Education and the School Construction Authority to build four new schools this past summer.
"It was an interesting process in which we not only identified and researched a problem, but also got directly involved in addressing it," says Eduarda Aun De Azevedo Nascimento, MS Design and Urban Ecologies '18. "It was a learning process of community organizing, participatory action research, design strategies, and editorial design and publishing."
In the second edition of the The Gazette, "The Housing Issue," which will be completed and distributed in Sunset Park in the spring, students delve into the pressing issue of affordable housing. The rise of property values in Brooklyn Heights, Downtown Brooklyn, Cobble Hill, Carroll Gardens, Fort Greene, and Park Slope, have opened new housing markets in working class and low-income neighborhoods such as Sunset Park. According to The Gazette, "unprecedented development and gentrification" in Central Brooklyn has spread to southern territories, squeezing existing residents out of the market.
"Displacement in the name of development has been the policy," students write in the Gazette.
Through fieldwork and urban research, students brainstormed strategies for maintaining and potentially expanding low-income housing opportunities. The answer, the students found, is in the neighborhood's history of housing cooperatives. Started by Swedish and Finnish immigrants nearly a century ago, the co-ops were meant to maintain the integrity of their communities amid a growing housing crisis. Additionally, in the 1970s and 80s, New York City launched a number of limited equity co-ops to preserve affordability for low- and moderate-income households (shares in limited-equity cooperatives, or LECs, have restricted resale values, so there are income limits for potential members). Students gleaned ideas from each of these models to form the framework for a solution.
"There have been many housing crises in New York City, and although the technological, political, and economic contexts have been different, every example of success incorporated the values of cooperativism, including a shared commitment to living and working together," says Isaac Diebboll, MS Design and Urban Ecologies '19. " A cooperative is just a tool; it can be used for destructive or creative intentions. Therefore it is important to begin with fostering a healthy working culture within a community."
Following the publication of two editions of Sunset Park Gazette, Rendon hopes to engage other neighborhoods in Brooklyn on critical urban issues and create a vehicle for sharing student research.
"Design has a critical role to play in mediating urban housing and school overcrowding in New York City," she says. "Our hope is to empower communities to achieve a high quality of life in spite of developments that pose greater and greater threats."