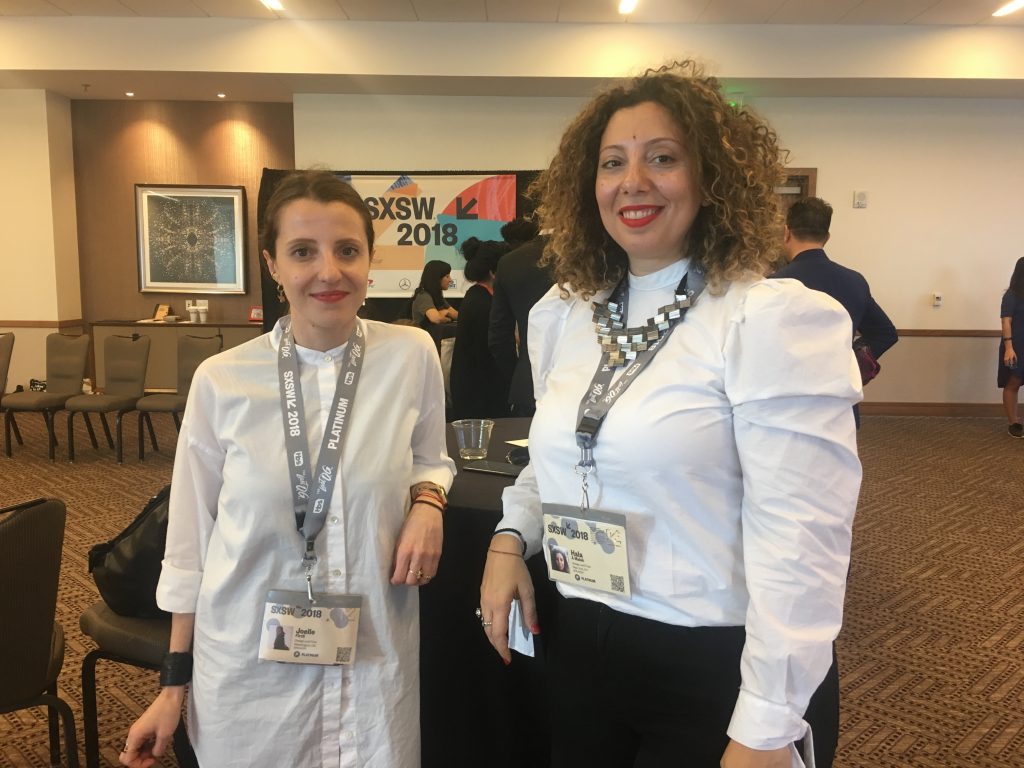 The New School + #SXSW: Parsons' Hala A. Malak and Joelle Firzli Named Honorary Winners of SXSW EDU Competition
The ongoing Syrian civil war has caused the displacement of more than half of the country's 22 million citizens. Pushed out of their homes and with no place to turn, many refugees live in tents designed to last for three to six months. The problem with this solution? The average displacement lasts 17 years.
To address this issue, Hala A. Malak, Professor of Strategic Design and Management at Parsons School of Design, and Joelle Firzli, Fashion Studies '16 — co-founders of Design and Flow — partnered with the Ghata project to design and build a shelter that is portable, scalable, and most importantly, durable.
Malak and Firzli earned acclaim for the project at the SXSW EDU Conference and Festival, where it was named an honorary winner of the SXSW EDU Learn by Design competition. After accepting the honor, Malak and Firzli hosted Design for Impact Meet Up, a forum for designers and innovators to "create concrete, impactful, and thoughtful solutions to a myriad of local and global contemporary challenges."
"The world stands today in dire need of a new wave of design leaders — humans that embody the message of inclusivity and shared responsibility, and that contribute to the rising collective and creative movement to strategically, and positively, address system level challenges and transform the realities around them," Malak says.
Echoing Parsons' human-centered approach to design, Ghata was made to address the complex landscape of humanitarian needs — economic efficiency, surviving climatic changes — as well as local constraints by building a solution that was derived from refugees' own shelter construction practices. Currently, Ghata units serve as portable school campuses for more than 5000 students annually in Informal Tented Refugee Settlements across Lebanon, Malak and Firzli's home country.
Meeting through mutual friends at Parsons, Malak and Firzli discovered a shared appreciation for socially impactful design. They founded Design and Flow, a firm dedicated to using design "as a tool, not as an end, in order to transform the world for the better." Ghata was last showcased in an immersive installation — including a video that allowed people to experience refugee conditions on the ground — during NYCxDESIGN in 2016 at WantedDesign at Industry City.
"We're focused on the idea that design really can be used for good, that it can positively impact the world," Malak said. "We have a shared responsibility to make this world a better place to live in. We need to work together to have a better future."
Malak and Firzli have found eager partners in Parsons alums, who share the duo's goal to design a better, more sustainable, and more beautiful world.
"What's amazing is that Parsons' mission of sustainability aligns with Design and Flow,"  Firzli said. "What better place to find innovators and creators — like-minded people on the same wavelength as us — with whom to exchange ideas."