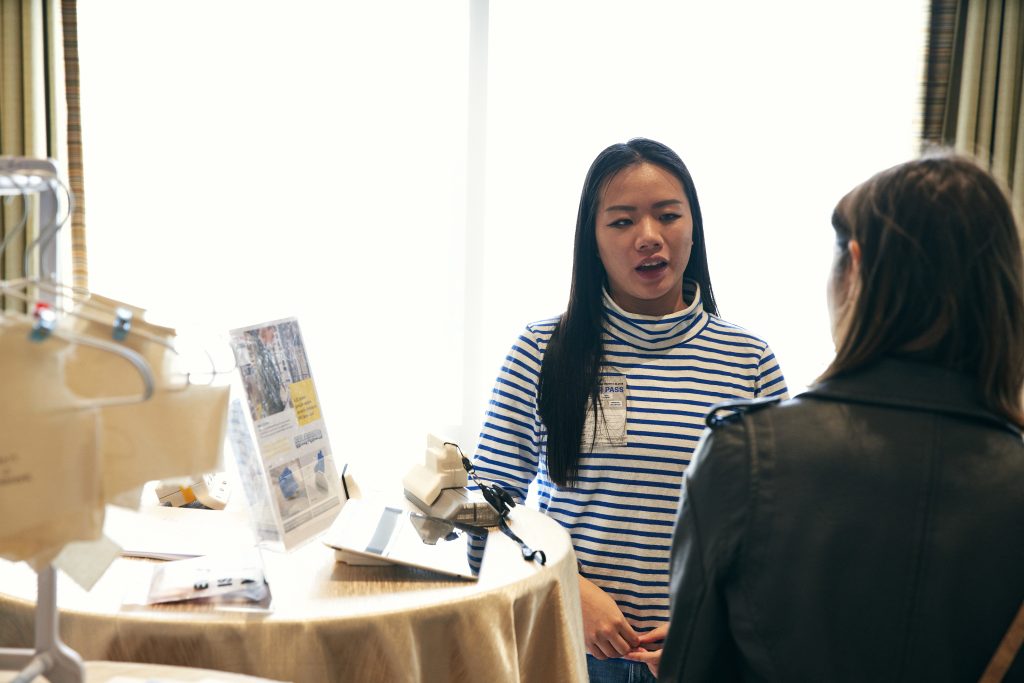 The New School + #SXSW: Parsons' Open Style Lab Designs for People of All Abilities
Every day, millions of New Yorkers take the subway — and complain about it.
For Christina Mallon, a young professional living in New York City, the crush of fellow passengers and delayed arrivals aren't her biggest worry — it's getting on the subway. Mallon, who has flail arm syndrome, a form of amyotrophic lateral sclerosis (ALS), faces the daily challenge of swiping her MetroCard at the subway turnstile.
With the help of Open Style Lab (OSL) — a Parsons School of Design-housed organization dedicated to creating technology-based wearable solutions for people of all abilities without compromising on style — that task has become a lot easier. As part of a spring 2017 collab at Parsons, Julia Liao, Product Design '17; Claudia Poh, Fashion Design '18; and Estee Bruno, MFA Design and Technology '18 worked with Mallon to create Swipe, an accessory that allows her to perform the task on her own.
"I live alone in New York City, and I've been paralyzed for eight years," Mallon said during OSL's presentation at #SXSW 2018. "This has allowed me to be an active member of society — a solution to help me in my daily life. It's a form of giving back and a beautiful design. It's a win-win."
Established in 2014, OSL brings students in Parsons' Fashion Design, Fine Arts, Product Design, and Transdisciplinary Design programs together with engineers, occupational therapists, and members of the disabilities community to conceive and build accessible wearables that address the needs of people with disabilities. In addition to a semester-long collab, OSL hosts summer workshops in which fellows from the design, engineering, and therapy sectors work with mentors and clients to create new bespoke garments.
Grace Jun, MFA Design and Technology '16, executive director at OSL, stresses that all people—including nearly 40 million Americans have disabilities, or about 12 percent of the U.S. population—"have the right to wear beautiful clothes that make them feel like their best selves." Since its first showcase at MIT in 2014, OSL has worked on developing clothing for people with autism, impaired vision, cerebral palsy, and many other disabilities.
"Disability overlaps with aging and universal design," Jun said in a recent interview with The New York Times. "We need to see it as part of our life cycle. It's something that we need to not only see from a human rights standpoint but also for its economic value."
A leading art and design school dedicated to socially engaged design, design thinking, and cross-disciplinary collaboration, Parsons is "the ideal place for Open Style Lab and the solutions we design," adds Jun, who is also an assistant professor of fashion design at Parsons.
One of those solutions is Swipe. A compact 3D-printed portable device made with filaments donated by Ultimaker, Swipe is fitted with magnets that attach to a subway turnstile. Mallon can insert her MetroCard into the accessory, place it around her neck, and use her body motion to push the MetroCard through the card reader.
"At Parsons and OSL, you learn to redefine what a product means, which is to help people in need," says Liao, who also worked with Poh, Bruno, and Mallon to create Unparalleled, a dress that allows people with paralysis, ALS, and MS to dress independently.
Going forward, Jun hopes to both support OSL alumni continue their work and research after graduation and to raise the visibility of the organization by partnering with nonprofit, business, and governmental organizations and presenting at conferences such as #SXSW.
"We're aiming to reach more people and attract more attention to the barriers to accessible fashion," says Jun, who will make a presentation, Style for All: Universal Designed Clothing at #SXSW on Sunday, March 10. "Our overall vision is to eradicate poverty where 77 percent of new yorkers with disabilities have no jobs or below average income. Clothing for workwear and uniforms in the workplace are still a barrier for many."
Mallon, who is working with Jun to promote OSL and its work, praised the organization for being the thought leader in an emerging field that considers the way in which garments will work for both customers who walk into their store and those who happen to be in a wheelchair.
"OSL is the tastemaker for fashion for people with disabilities," she says. "It's on a rocket ship and through its partnership with Parsons, it's going to go even higher."