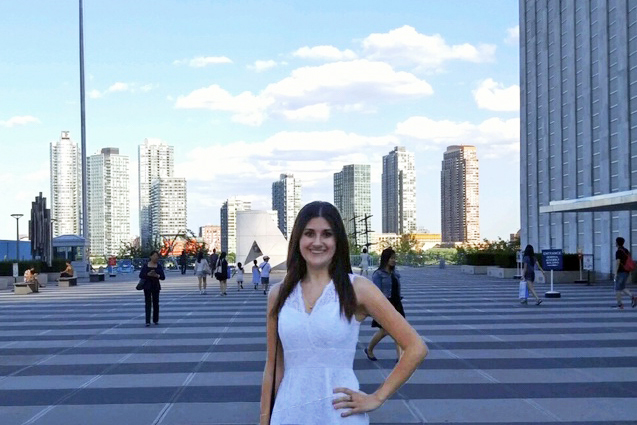 Eugene Lang College Students Present Thesis Projects at Annual Dean's Honor Symposium
During her internships with New York Governor Andrew Cuomo and New York State Senator Andrew Lanza, Gabriella Wagner participated in meetings about the injustices of underage marriage. In New York State, she discovered, children ages 14 and 15 could marry with judicial approval; children ages 16 and 17 could marry with parental permission.
Wagner wanted to correct this injustice. Working with Cuomo's and Lanza's teams, she helped craft Senate bill S4407B, which prohibited the marriage of anyone under 17.
For this year's Dean's Honor Symposium at Eugene Lang College, Wagner, Global Studies '19, expanded her research on underage marriage—a topic with which most Americans are unfamiliar, although the majority live in states (48) where the practice is still legally permitted. Wagner benefited from her time as a Eugene Lang fellow, which gave her the opportunity to intern in Cuomo's and Lanza's offices and research this pressing issue.
"The Eugene Lang Fellowship program assisted with the research process through various sessions that were held to guide the fellows and teach the correct ways to perform and construct research," says Wagner. "I had the opportunity to have a PhD candidate in the Politics Department at The New School for Social Research as my mentor, who helped answer any questions and provided useful tips from his own research experience."
Now in its third year, the Dean's Honor Symposium reflects Lang's commitment to providing students with the opportunity to pursue rigorous research on critical histories and contemporary social issues in a collaborative, cross-disciplinary space. Through the Dean's Honor Symposium, groups of students under the guidance of an advisor research a topic, exchange ideas with their peers, and present academic work and co-curricular projects to the New School community.
"The symposium is a great opportunity for students to learn how to present the results of their hard work and to be confident and proud of it," says Laura Palermo, a history professor at Lang and a faculty advisor for the symposium. "It helps prepare students to face the challenges they will confront during their careers."
Topics for this year's presentations included "What Trends Shape Society: An Examination of Policy, Fashion, Immigration, and Green Washing," "Land of the Free: Autonomy and Agency in the United States," and "(Re)Forming Histories: Queer Faith, Secular Abolition, Institutional Whiteness, Grounded Identities."
In working on the Dean's Honor Symposium, faculty advisors and students learned a lot from one another—in exchanges that reflect the integral role of collaboration to the Lang experience.
"As a faculty advisor, I was able to meet students from different fields at a very special stage in their careers," says Palermo. "As an educator, I learned about their methods of learning, and I was able to see in a unique way students approach presenting their research."
Says Wagner, "Having the opportunity to work with Professor Steele and my other colleagues on the panel has been very helpful, as we drafted our presentations and provided feedback to one another in order to fulfill our fullest potential of our work."