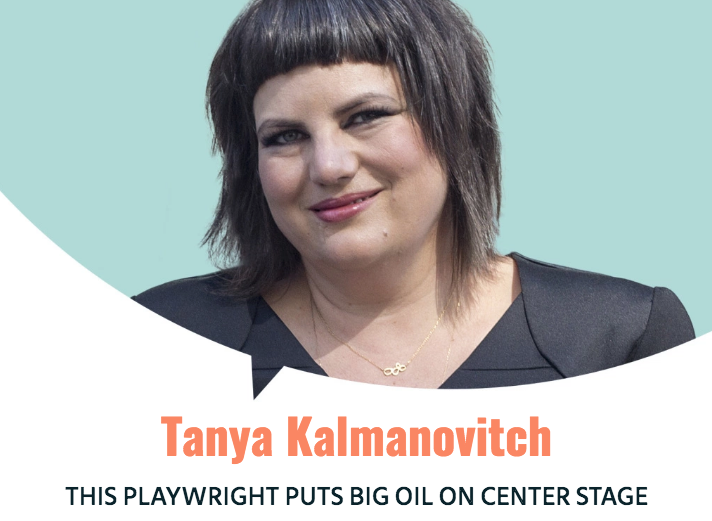 Mannes School of Music Faculty Member Tanya Kalmanovitch Named to Grist 50
Tanya Kalmanovitch grew up surrounded by oil in her hometown of Fort McMurray, Alberta, home of the largest bitumen oil reservoir in the world.
Dotted with forests and lakes, the area has developed rapidly over the years, and has the third largest oil reserves in the world. There has also been significant environmental damage, including the largest wildfire in Canadian history in May 2016.
"As a teenager, I chose to become a musician because I wanted nothing to do with oil," says Kalmanovitch, a musician and Mannes School of Music faculty member. "Like most people, I was ignorant about the energy I used and where it comes from. But over time, the cumulative impacts of social and environmental devastation became impossible for me to ignore."
Thanks to a grant from the Tishman Environment and Design Center in 2016, she returned to Canada to create a documentary theater piece that investigates our complicated relationships to oil and its social-environmental impacts. "The Tar Sands Songbook," as the piece is called, recently earned her recognition from the Grist 50, an annual list of 50 people creating solutions for the world's biggest challenges.
"By challenging the idea that music has nothing to do with oil, I hope I can advance a deeper understanding of music's real power," says Kalmanovitch. "I hope my project will inspire anyone who thinks they might a kind of an outlier in the conversation about climate change."
"The Tar Sands Song Book" highlights the interdisciplinary curriculum of The New School, an approach Kalmanovitch is eager to keep exploring in her work.
"I'm using these two lives I have — as a working-class native of a remote northern mining town, and as an artist and scholar in New York — to show how we're all connected to this issue," says Kalmanovitch, who hopes to show the documentary at the Edinburgh Fringe Festival. "By challenging the idea that music has nothing to do with oil, I hope I can advance a deeper understanding of music's real power. Not just as the "soundtrack" to change, but as an engine of change."