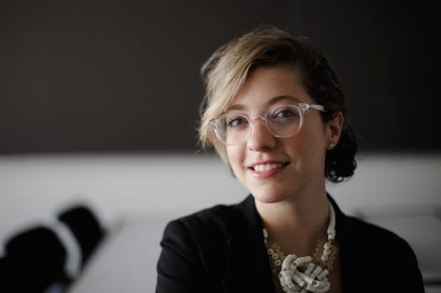 Thalia Porteny, Liberal Arts '08, is Working to Improve Health Resources in Mexico and the U.S.
Thalia Porteny has an ambitious goal: to change health policy so that health resources are more fairly distributed across Mexico and around the world.
She's already taken several steps to achieve it, working on prevention programs for the Ministry of Health in Mexico, collaborating with officials from the U.S. Department of Health and Human Services' Health Resources and Services Administration (HRSA) to help boost the health of Mexican migrants in the U.S., and earning her master of science in global health and population at the Harvard School of Public Health, where she's currently pursuing a PhD in health policy and ethics.
Studying at Eugene Lang College, Thalia Porteny, Liberal Arts '08, developed a multidisciplinary mindset that has guided her career and research.
"I owe my fascination to the field of public health to my education at Lang," says Porteny. "As an undergrad, I was able to take a class where I learned about how a mutation in the influenza virus could change the health of populations, shifting the economy, migration patterns and world history. I realized it was a field that was based on science that would allow me to creatively integrate several disciplines."
Porteny credits a diverse range of classes from dedicated faculty with opening her eyes to the world of public health—namely, Katayoun Chamany, Mohn Family Professor of Natural Sciences and Mathematics; Associate Professor of Biology, who was instrumental in her intellectual and professional development.
"I seek to reduce disparities in migrant populations by using qualitative, quantitative and normative research," she says. "I care about a range of healthcare and ethical issues related to rationing and resource allocation at a global scale as well as women's health."