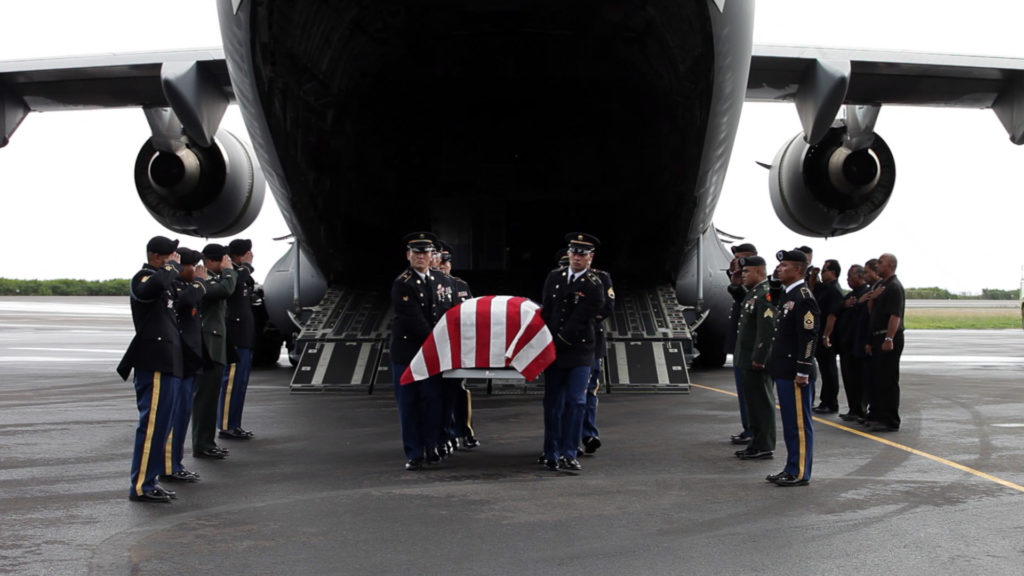 Eugene Lang Faculty Nathan Fitch Debuts New 'Island Soldier' Documentary
The Federated States of Micronesia (FSM) is an independent nation comprised of hundreds of tiny volcanic islands with a population of roughly 100,000 people. It is also a protectorate of the United States that has become a "recruiter's paradise" for the U.S. military: many young men and women from the island who are not American citizens enlist to fight in America's wars.
This issue is the focus of Island Soldier, a new feature length documentary from Eugene Lang faculty member Nathan Fitch that follows members of two Micronesian families as they deal with the repercussions of military service. Despite serving and dying at higher per capita rates than Americans of any U.S. state, people from FSM lack access to full veteran's benefits.
"I served in the Peace Corps in Micronesia for two years and saw first-hand how military recruitment was affecting a very tightly knit community," says Fitch. "I wanted to tell this story because of my strong ties to the community in Micronesia, and because I thought it was a narrative that Americans should learn about. Less than one percent of Americans serve in the U.S. Military, while every family on the island on which my film is focused has at least one relative in the U.S. armed services. As U.S. citizens, we should know who is fighting America's wars."
Filmed over the course of five years, Island Soldier is an intricate and personal story of FSM's soldiers, who are caught in the constantly evolving shifts of international politics. At the same time, the film asks audiences to consider what it means for the United States to outsource foreign soldiers from a country that is on the brink of economic collapse, when U.S. support for the islands is slated to end in 2023.
The documentary has been called "An affecting chronicle of gentle lives and quiet outrage," by The Hollywood Reporter, and has screened at film festivals around the world, including DOC NYC, Hot Docs, and One World Human Rights Film Festival. Fitch also screened the film at the U.S. State Department and the Department of the Interior and the State Department, and the film will soon premiere on PBS.