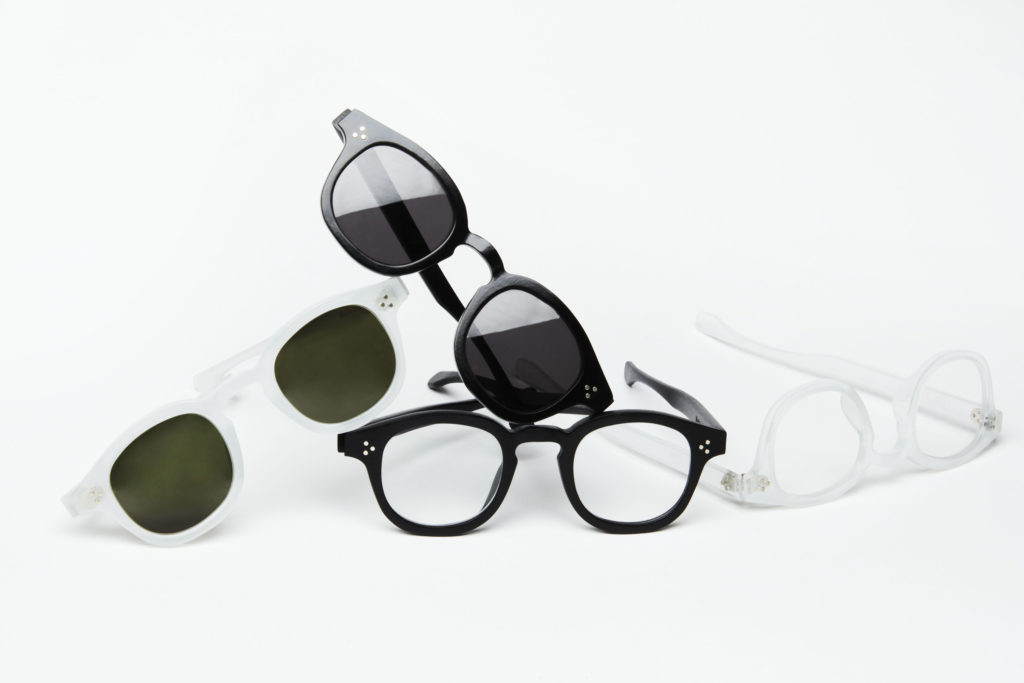 Parsons Graduates Create Sustainable Eyewear Company That Helps Flint, Michigan
At the height of the water crisis in Flint, Michigan, the city was using more than 20 million plastic water bottles a day, creating large amounts of plastic waste.
Ali Rose VanOverbeke, Fashion Design '14, who was volunteering with the Red Cross in her hometown of Detroit at the time, turned the crisis into an opportunity to help. She and her friend and former classmate Jack Burns, Fashion Design '14, created a design solution that addresses the issue of plastic waste while creating new jobs: eyewear.
"Eyeglasses can be manufactured with a basic understanding of tools and on-the-job skills training," says Burns, who uses plastic from water bottles as the raw material to create eyewear. "We will put people back to work by retraining and employing them in new skills and crafts. We want to bring a new manufacturing legacy to Flint."
A reflection of Parsons' socially engaged approach to design and sustainability, Genusee — the moniker is a play on Genesee, the name of the county where Flint is located — upcycles 15 plastic bottles for every pair of glasses that's produced. The company is guided by four core principles: reduce localized plastic waste, create living wage jobs, encourage a circular economy, and give back to Flint. Once the brand is launched, there will also be a buyback program for consumers in which old glasses can be refurbished, donated, or recycled back into the product stream, creating a true closed-loop business model. In effect, VanOverbeke and Burns are addressing not only Flint's but also the design industry's waste problem.
"Parsons provided me with ways that I could encourage, enhance, and continuously develop my own critical thinking," says Burns, who is also a part-time faculty member at Parsons. "I think I am a difficult hire because of Parsons, as I'm never satisfied with the status quo."
The project, which has been covered in the New York Times, Vogue, and Women's Wear Daily, is currently accepting investments.
Parsons' curriculum is grounded in the idea that design can create positive social change. Recently students collaborated with healthwear company Care+Wear to redesign the hospital gown, while Camilla Chiribogo, in partnership with AARP, designed a collection to help visually impaired people dress themselves more easily.
"I believe design is inherently meant to bring people together, and collaboration is the best way of arriving at well-rounded originality," says Burns. "Nothing happens in a vacuum, and if I am only in my head with my design agenda and ideals, then I am not considering that which is outside of myself."
Burns and VanOverbeke hope to see their business model replicated elsewhere, as the United States currently uses 1,500 plastic bottles every second.
"We want to make real, lasting impact and the only way to do that is to increase scale and volume," says Burns. "We believe that sustainability should be accessible, not elitist and unattainable, so that people can shop with their values and not just with their budgets and aesthetics in mind."