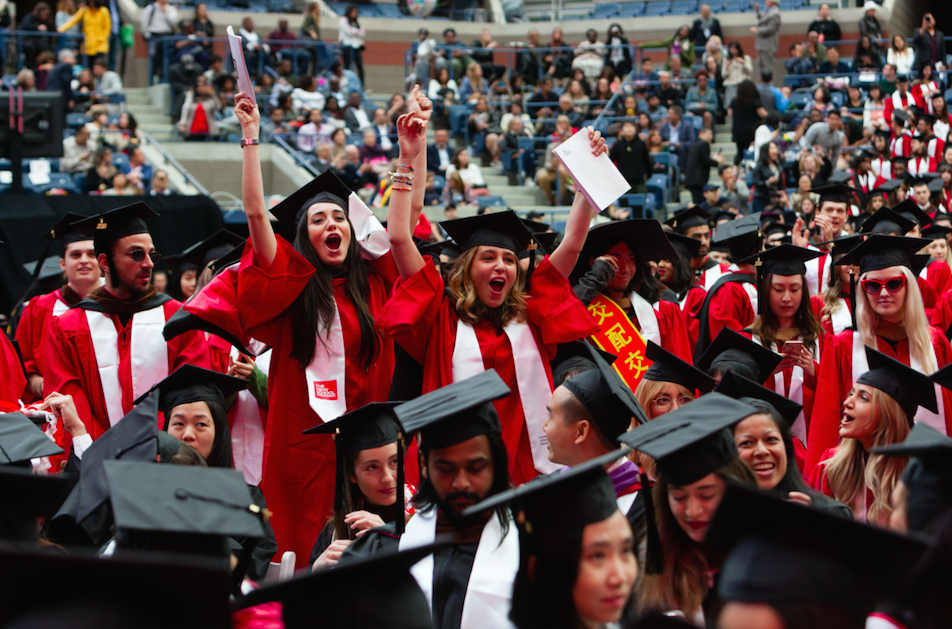 The New School Celebrates 2018 Graduating Class, Honors Degree Recipients at 2018 Commencement
Four years ago, Yu Ling Wu had no idea why she had come to The New School. Nor did she have any idea what to expect. She had originally planned to study business, "to make my parents sacrifice worth it by doing what I was supposed to do," Wu recalled to a crowd of thousands gathered inside the Arthur Ashe Stadium at the USTA Billie Jean King National Tennis Center on Friday.
"But The New School was the exact opposite of that," she said, "The exact opposite of what I was supposed to do. It was the biggest risk I took."
That risk paid off in a rigorous, transformative education and, as Wu, BAFA, Theater and Integrated Design '18, put it, "An extended family that is constantly making, shaping, and transforming the world around us."
"At The New School, I found people who were patient enough to give me space for my messiness, a large margin for error, a room for becoming," she said. "But also those who demanded I be more aware, awake, ask more questions, to think again, to make and remake, and after all that … to self-destruct and reconstruct. Here, I learned what community looks like."
Wu's address was the exclamation point on The New School's 82nd Commencement exercises, a lively celebration of the university's 2018 graduating class, their families, and teachers.
Prior to Wu's speech, The New School honored a quintet of renowned, socially engaged artists, writers, entrepreneurs, and philanthropists: preeminent multimedia artist Glenn Ligon, Pulitzer Prize-winning critic Hilton Als, photographer and documentarian Camilo José Vergara, social entrepreneur and Crisis Text Line CEO Nancy Lublin; and philanthropist, Windcrest Partners co-founder, and longtime New School Trustee Michael Gellert. 
Additionally, The New School recognized alumnae — a group of successful, engaged New School graduates representing the milestone graduation years of 1993 (25th anniversary of graduation) and 2008 (10th anniversary of graduation) — as Class Delegates for their ongoing commitment to the university. They are Sheila Bridges, AAS Interior Design, Alisa Drayton, MS Urban Policy Analysis and Management, and Emily Meyer, BFA Fashion Design from the class of 1993; and Ariel Kennan, BFA Integrated Design, and Cleopatra LaMothe, BA Liberal Arts, from the class of 2008.
New School President David E. Van Zandt presided over the ceremony — the second consecutive year the university held its commencement exercises at the legendary tennis venue. The ceremony can be viewed on Livestream.
Speaking before a crowd of 2,000-plus graduates and their friends and family, faculty members and staff, and university leadership, Van Zandt praised The New School's graduating class for living The New School mission: using their "creativity and scholarship to address complex issues and work toward positive social change."
"You've confronted climate change, addressed social and economic equality, and advocated for more open and inclusive immigration policies," he said. "On our own campus in recent months, you've demonstrated resilience in the face of a building fire, spoken out on behalf of workers, and worked to promote a more inclusive campus environment. Please take that energy and drive with you wherever you go."
The honorary degree recipients took turns delivering brief, impactful talks that got to the heart of their advice to The New School's graduating class.
Speaking on behalf of Michael Gellert, Kate Gellert recalled the year, May 21, 1938, when her father's family made the decision to leave their home in Prague for the United States.
"The Germans had marched into Austria and the consequences of what that meant started to become clear. Three years later, in 1941, my father and his family all arrived safely here in the United States and set about creating their new lives," she said. "The first step on that path was education. 'Education is the foundation of everything.' That simple statement was said by my father on the 80th anniversary of the University in Exile, the origin of today's New School."
Ligon urged The New School's 2018 graduating class to consider "how you will you use your gifts and who will you leave them for," Vergara encouraged them to "pursue failure with all your heart and soul," and Lublin requested that they "stay weird and be amazing."
Als, who took classes at The New School in French art and literature of the 19th century and a survey course in Chinese art as a young man ("now I'm old," he said, "Madonna and P. Diddy old"), credited the university for setting him down the path to becoming one of the most respected critics of his generation.
"When I found The New School is when I began to find myself," he said.
Als also praised his New School education for expanding his capacity for critical thinking — a hallmark of the university's educational approach.
"What I come away with from my time at The New School and all my studies is a deeper understanding of nuance," he said. "Just now, we live in a world of absolutes, of sharp divisions between the good and the bad, and some of that is warranted, God knows … But we can't make up for that rageous literalness and cowardice of one party by discounting what we thinkers and makers are especially good at: finding and unearthing the complications of human experience."
In her speech, Wu showed that The New School's 2018 graduating class had followed Als' advice.
"Our strength is that we confront the contradictions of the world today, we invite the problematic," she said, praising her classmates for working on behalf of labor rights and, with the help of the university, creating a space for people of color on campus.
"I've never met a group of people who are more resilient, capable, and passionate," she said. "Our world is shifting, the tides are turning, and we are at the forefront. We are the ones manifesting, creating, and forcing possibility. We do what we do because we have a deep love for humanity."