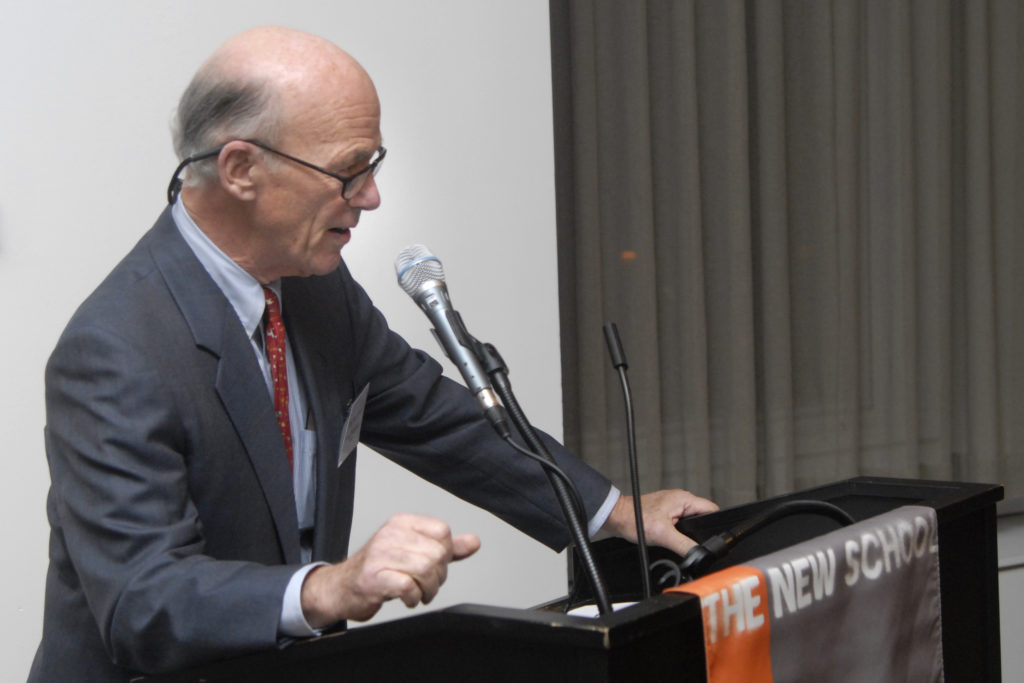 NSSR Revitalizes the Robert H. Mundheim Medal to the Living Spirit
Thanks to the generosity of New School Trustee Robert H. Mundheim, The New School for Social Research has renewed a rich tradition of honoring people "who have made profound and transforming contributions to the university."
Originally awarded during the 1980s and 1990s, that tradition, the Founders' Medal to the Living Spirit, has been revived as the Robert H. Mundheim Medal to the Living Spirit. Recently established and endowed, it celebrates individuals who champion NSSR through extraordinary academic and professional accomplishments, exemplify The New School spirit, and demonstrate a deep commitment to strengthening the university community and to the future of the institution.
"This medal recognizes people who share NSSR's values," says Mundheim, who has been a member of the school's Board of Governors since 1994 and The New School's Board of Trustees since 1999. "It's important that those values are embodied in individual actions, just as they had been at our founding. We want to acknowledge individuals who give back to society, whether through service, intellectual impact, or imparting knowledge."
The inaugural honoree for the Robert H. Mundheim Medal to the Living Spirit is the late Martin J. Whitman, MA Economics '58. Known as the "Dean of Value Investing," Whitman was an effective value investor in common stocks and an adept control investor who led the rehabilitation of companies in various industries. Whitman, who passed away in April, received the award posthumously at this year's Commencement, where his family accepted it on his behalf. He joins past Founders' Medal to the Living Spirit honorees Clara Mayer and Ira Katznelson, among others.
Mundheim, a friend of Whitman's for more than 50 years, praised him for his commitment to academia and philanthropy.
"Marty was passionate about the academic aspect of investing; he was always willing to spend his time teaching younger people, whether inside or outside of the classroom," Mundheim says. "Even in his philanthropy, Marty was very generous to the academic institutions with which he was associated."
The medal's unique name is derived from a quote from author Thomas Mann, who spoke at the University in Exile, since renamed The New School for Social Research, in 1937. The university's graduate school faculty had been charged with preserving the spirit of free inquiry amid the rule of oppressive governments during World War II. Mann suggested that they adopt the motto, "To The Living Spirit."