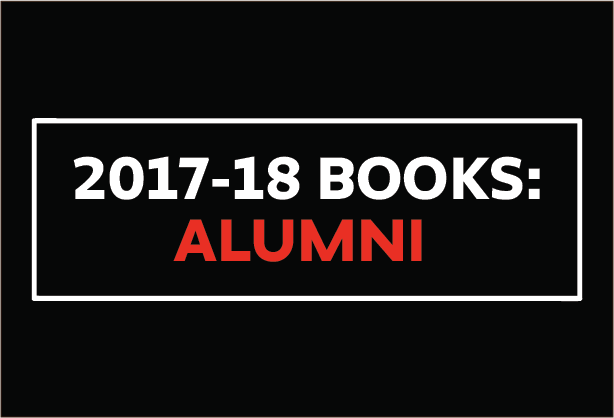 The New School's Academic Year in Books 2017-18: Alumni
The 2017-2018 academic year was a prolific 12 months for The New School's alumni authors, with dozens of books in various genres — nonfiction, fiction, poetry, and children and young adults — hitting the shelves.
Among the titles readers couldn't put down were The Hopefuls by Jennifer Close, MFA Creative Writing '05, and Stay or Go: Dr. Ruth's Rules for Real Relationships by Ruth Westheimer, MA Sociology '59. (Check one out and take it to the beach!)
The following is a list of books by alumni released over the 2017-18 academic year. It will continue to be updated as more titles are submitted for inclusion (email gargans@newschool.edu). Also check out The New School's list of faculty-authored books.
Heather Abel, MFA Creative Writing '04 / The Optimistic Decade (Algonquin Books)
Ahmad Al-Ashqar, MFA Creative Writing '17 / Advances in Embroidery: Poems, with Translations from Mahmoud Darwish (Poets and Traitors)
Lessie Branch, PhD Public and Urban Policy '15 / Optimism at All Costs: Black Attitudes, Activism, and Advancement in Obama's America (University of Massachusetts Press)
Selene Castrovilla, MFA Creative Writing '04 / Revolutionary Rogues: John André and Benedict Arnold (Calkins Creek)
Kheryn Callender, MFA Creative Writing '14 / Hurricane Child (Scholastic)
Jennifer Close, MFA Creative Writing '05 / The Hopefuls (Knopf Doubleday)
Dhonielle Clayton, MFA Creative Writing '12 / The Belles (Freeform)
Christine Dimmick, BFA Communication Design '91 / Detox Your Home (Rowman & Littlefield)
Brooke Ellsworth, MFA Creative Writing '13 / Serenade (Octopus Books)
John Findura, MFA Creative Writing '06 / Submerged (Five Oaks Press)
Siobhan Fallon, MFA Creative Writing '01 / The Confusion of Languages (G.P. Putnam's Sons)
Louis Fisher, PhD Politics '66 / Supreme Court Expansion of Presidential Power: Unconstitutional Leanings (University Press of Kansas)
Anna Fishbeyn, MFA Creative Writing '04 / The Matrimonial Flirtations of Emma Kaulfield (Arcade Publishing)
Gary L. Ford, MFA Creative Writing '06 / Constance Baker Motley: One Woman's Fight for Civil Rights and Equal Justice under Law (University of Alabama Press)
Lenea Grace, MFA Creative Writing '12 / A Generous Latitude (ECW Press)
Gareth Hinds, BFA Illustration '94 / Poe: Stories and Poems (Random House)  
Morten Høi Jensen, Literary Studies '11 / The Difficult Death: The Life and Work of Jens Peter Jacobsen (Yale University Press)
Jeff T. Johnson MFA Creative Writing '11 / Trouble Songs: A Musicological Poetics (Punctum Books)
Tadzio Koelb, BFA Fine Arts '93 / Trenton Makes (Random House)
Suzanne LaFleur, MFA Creative Writing / Threads of Blue (Wendy Lamb Books)
Amy Lawless, MFA Creative Writing '07 / Broadax (Octopus Books)
Deirdra McAfee, MFA Creative Writing '04 (co-editor) / Lock and Load: Armed Fiction (University of New Mexico Press)
Anna Meriano, MFA Creative Writing '16 / Love, Sugar, Magic: A Dash of Trouble (Harper Collins)
Sarah Moriarty, MFA Creative Writing '07 / North Haven (Little A)
Alexandra Oliva, MFA Creative Writing '11 / The Last One (Random House)
Joy Rhoades, MFA Creative Writing '05 / The Woolgrower's Companion (Bantam Australia)
Julia Lynn Rubin, MFA Creative Writing '17 / Burro Hills (Diversion Books)
Jessica Siskin, MFA Creative Writing '16 / Treat Yourself! (Workman Publishing)
Emily Skillings, BA The Arts '10 / Fort Not (The Song Cave Press)
Sarah Nicole Smetana, MFA Creative Writing '13 / The Midnights (Harper Collins)
Magali Duzant, MFA Photography '14 / Light Blue Desire (Conveyor Editions)
Andrew Weatherhead MFA Creative Writing '12 / Todd (Monster House Press)
Dr. Ruth Westheimer, MA Sociology '59 / Stay or Go: Dr. Ruth's Rules for Real Relationships (Amazon Publishing)
Catherine Woodard, MFA Creative Writing '02 / Opening the Mouth of the Dead (Lone Goose Press)
Laura Esther Wolfson, MFA Creative Writing '07 / For Single Mothers Working as Train Conductors (University of Iowa Press)