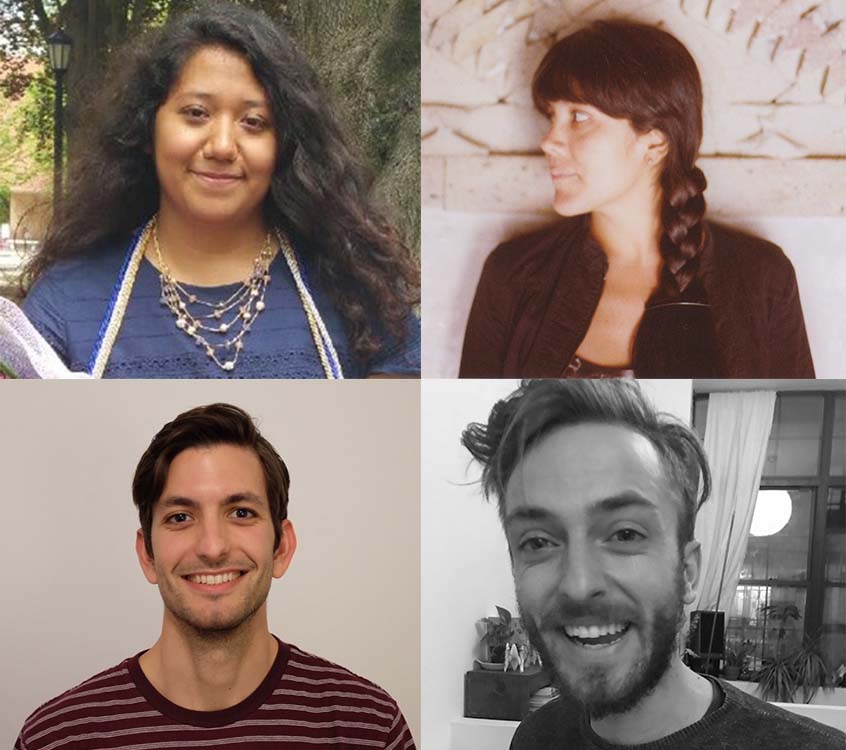 New School Alumni Named 2018 Fulbright U.S. Student Finalists
At The New School, scholars, artists, and designers work to confront the most pressing global issues of our time through design and social research.
That work often takes them to countries around the world.
Four university alumni will have the chance to do just that after being named finalists in the Fulbright U.S. Student Program. Sponsored by the U.S. Department of State's Bureau of Educational and Cultural Affairs, it provides grants for U.S. students to research, study and teach in more than 140 countries.
The students are Matthew Colangelo, MFA Fiction '18, who will travel to Italy; Emmet Elliott, BAFA Philosophy/Architectural '18, who will head to Germany; and Guadalupe Chavez, MA Political Science '18, and Tania Aparicio, PhD Sociology, both of whom will work in Mexico.
Three alternates have also been chosen from The New School: Isaiah DuPree, Global Studies '16; Emie Eshmawy, PhD, Public and Urban Policy '17; and Gabriela Taboas Zayas, MFA Creative Writing '18.

The Finalists will study a range of issues. Continue reading to learn more:
Colangelo: "My project will be to write about the ongoing struggle with earthquakes in central Italy. For the first few months I will focus on collecting and archiving oral histories of survivors, as well as interviewing people with different perspectives on earthquakes such as geologists, architects, doctors, etc. Then I will turn this testimony and research into a collection of essays."

Chavez: "I will explore how Mexican formal and informal institutions respond to the return of deported diasporas from the U.S to Mexico and they types of organizations and mobilization that arises after expulsion amongst deportees and returnees."

Aparicio: "My project aims to understand how cultural organizations, such as film centers, develop and implement strategies to curate and exhibit film. I will be conducting participant observation in the offices of Cineteca Nacional in Mexico City, the most important case in the region in terms of audiences, to examine how film programming responds to a larger set of social, economic, and political flows."

Elliott: "In Dresden, Germany, I will do an in-depth reading of Dresden's architecture and further develop a language for architectural representation. My project synthesizes these two aims through one set of drawings. The emotion-laden character of its architecture and the city's history make Dresden the ideal place for refining a drawing method at once analytic and expressive. In Dresden I hope to document how a people's working out of their relationship to their history—to their values—is explicitly expressed in stone, concrete, glass and steel."