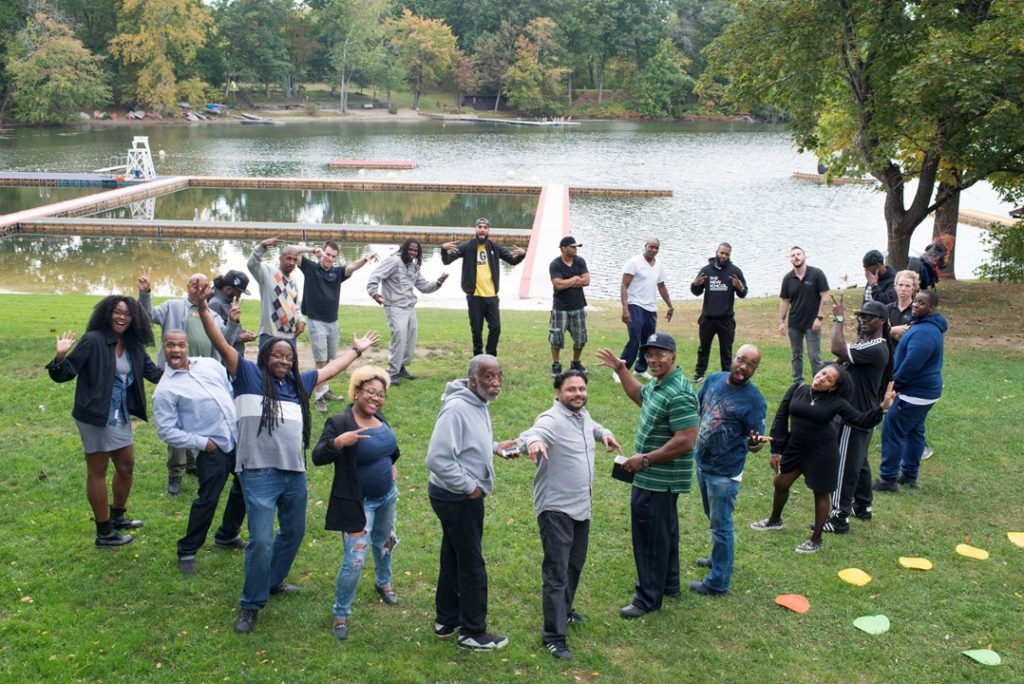 Institute for Transformative Mentoring Helps Credible Messengers Help Vulnerable Youth
During a meeting of the Institute for Transformative Mentoring (ITM) at The New School's Center for New York City Affairs (CNYCA), 20 students took turns holding a "talking piece" that granted each of them the opportunity to address the group. They shared traumatic experiences from childhood and adolescence: street violence, drug abuse, poverty, and incarceration.
"We go through lots of boxes of tissues," recalls Sajjadur Rahman, ITM's program director. "We create a safe space to talk about those experiences."
But the therapy session didn't end there. Following the meeting, ITM students introduced the same exercises to the young people — youths living in high-poverty, justice-involved areas — whom they mentor.
This is one of several pedagogical approaches employed by ITM. An intensive semester-long college course funded by generous grants from the Pinkerton Foundation, J.M. Kaplan Fund and Other Press, ITM helps credible messengers — individuals with experience in the criminal justice system who work in social service agencies as professional mentors to young adults — heal emotionally, advance professionally, and boost their knowledge and skill sets. Because of their training, ITM students are better able to support young people navigate community violence and avoid the criminal justice system.
"The idea is to heal people so that they can heal people," Rahman says.
ITM reflects the commitment of the CNYCA — an applied research center focused on innovation in social policy — and The New School to confronting pressing social issues through community engagement.
"ITM is squarely in our social justice mission, and we're honored to grow the program on our campus," says Kristin Morse, director of the CNYCA. "ITM students are making an enormous impact on their communities through their work in New York City social services fields."
Affirming Morse's point, credible messengers have been shown to make streets safer and to reduce incarceration. A new evaluation from the Urban Institute and the Department of Probation shows that individuals who work with credible messenger mentors are 57 percent less likely to be re-convicted of a crime.
"Credible messengers demonstrate that an individual with a lived experience is going to be much more effective in working with young people in low-income communities who are struggling with the same or similar experiences," Morse says. "That kind of personal mentorship is a profound opportunity to help young people make change."
At ITM, that change starts with a hot meal. Students start the day with a sit-down breakfast, which gives them the chance to mingle, network, and trade teaching tips. Then it's off to class, where they learn new concepts that inform their professional work: restorative justice practices, trauma-informed care, violence intervention, case management, and history, including the legacy of slavery and mass incarceration and how those issues affect society today. Students also have the chance to "share their personal narratives, which is key to the restorative justice practice," Rahman says.
"The better able you are at telling your personal narrative, the better able you are at capturing young people," he adds.
For ITM students, the program has been nothing short of life changing.
"This program wasn't what I expected — it was a healing program," said Tyisha Jackson, who works for Good Shepherd Services, a nonprofit organization operating more than 80 programs that serve nearly 30,000 youth and family members in struggling neighborhoods throughout New York City. "It helped me to get in touch with myself and helped me with the work that I do for people every day in the juvenile justice system."
Carolyn Dixon, a hospital responder supervisor at Life Camp, an organization that assists families affected by gun violence, praised ITM for "opening my eyes and giving me the tools to move on and educate my community."
"I don't know if Saj and his supporters realize what they've done for me," said Dixon, who lost a child to gun violence. "ITM is a blessing."
ITM participants are earning college credits, promotions, and wage increases. Building on these strong outcomes, the program is expanding its young adult program and adding an advanced course.  
Says Rahman, "Credible messengers are turning their lives around helping communities they once harmed. It's inspiring to see that transformation."