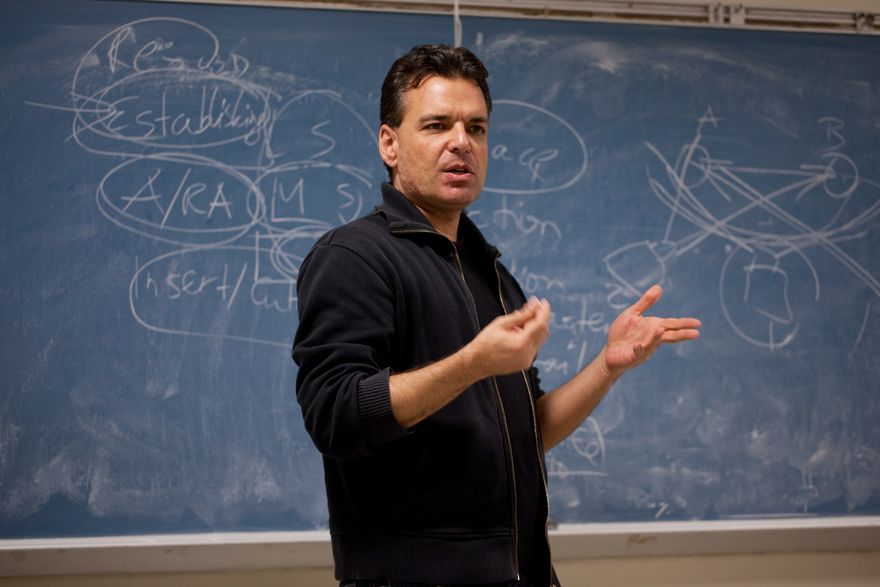 Vladan Nikolic, a Leader in Transmedia and Digital Film, is the New Dean of Media Studies
Immersive media — pioneering technologies that place users in simulated environments or enable them to see from another person's perspective — have the potential to create deeper engagement and empathy in users.
Few media makers understand those possibilities better than Vladan Nikolic.
An award-winning filmmaker, producer, and pioneer in the use of digital filmmaking, he produced and directed one of the first transmedia films, Zenith, combining story extensions and releases over different media platforms. His book, Independent Filmmaking and Digital Convergence: Transmedia and Beyond, examines how independent filmmaking concepts merge with digital and online technologies to produce new hybrid multi-platform content creations.
Nikolic's experience, combined with his understanding of both the promise — and the perils — of immersive media, makes him the ideal person to lead the School of Media Studies at The New School in 2018. The school, defined by its continued relevance amid an ever-evolving media landscape, is at the forefront of the exploration of virtual, augmented, and mixed reality.
"There is an inevitable push toward these technologies, and it's important for students to be able to utilize them effectively to tell stories that build empathy and engage with socially pressing issues," says Nikolic, who replaces Carol Wilder as dean.
Nikolic steps into his new role at a time when The New School is ecstatically embracing the learning and creative potential of immersive media. Last year, the university opened the XReality Center, a research center that advances the study and design of virtual, augmented, and mixed reality, and the Still Photography and Motion Tracking Studio, a work space in which students can engage in video game design, digital animation, dynamic projection mapping, data visualization, photography, and other forms of digital production. Various Parsons School of Design programs, including MFA and BFA Design and Technology and MS Data Visualization, have been employing immersive media for years, and the School of Media Studies, in collaboration with Parsons and MFA Creative Writing, is currently developing a MFA geared toward transmedia storytelling.
Like the Portapak, the world's first-ever consumer video recorder, introduced in 1967, immersive media is a revolutionary storytelling tool for students confronting pressing issues. Journalists, filmmakers, designers, and activists can create viewing experiences that produce the kinds of visceral sensations of presence and place that "fundamentally alter the viewer's point of view and broaden their understanding of the world around them," Nikolic says.
"A VR documentary of migrants traversing the Mediterranean on a boat can bring you closer to that experience in a way that reading about it or even seeing it on film can't," he adds. "While those media allow us to witness an event, immersive media can make us feel like participants in that event."
In the right hands, immersive media can be used for good. But it can also be used for nefarious ends. Nikolic pointed to social media — a tool that has been used to facilitate revolutions by connecting networks of activists, but also to disrupt democratic elections through the spreading of fake news and propaganda — to demonstrate the contradictions inherent in many new technologies.
"A decade of social media changed everything," Nikolic says. "I'm really interested in thinking about what's going to happen in the next decade with VR/AR. It's very exciting, but we're in a very unstable media environment where the future is uncertain."
To confront this challenge, students will be encouraged to study the theory and ethics of immersive media.
"We're at a point in which technology is moving faster than the time it takes to grapple with all elements and issues surrounding it," Nikolic says. "It opens a lot of new questions in terms of theory and research. We strive to be cutting edge and at the forefront of these themes and to closely follow new developments as they unfold, whether it is about new technologies, or about their social and cultural impacts."
Nikolic will also oversee the growth of management programs at the School of Media Studies. That effort encompasses the recent hiring of faculty members David Lieberman, associate professor of professional practice in media management, and Linda Saint Marc, associate professor of professional practice in media management and director of the MA Media Management program.
"We hope to bring more resources to Media Management in terms of faculty, and to work on ways of amplifying what differentiates [the program]," Nikolic says. "More and more student creators want to start their own businesses or combine their creativity with business acumen. We want to grow further there."
The School of Media Studies, a pioneer in the study of the social impact of media and the embrace of new technologies and platforms, has found an innovative leader in Nikolic.