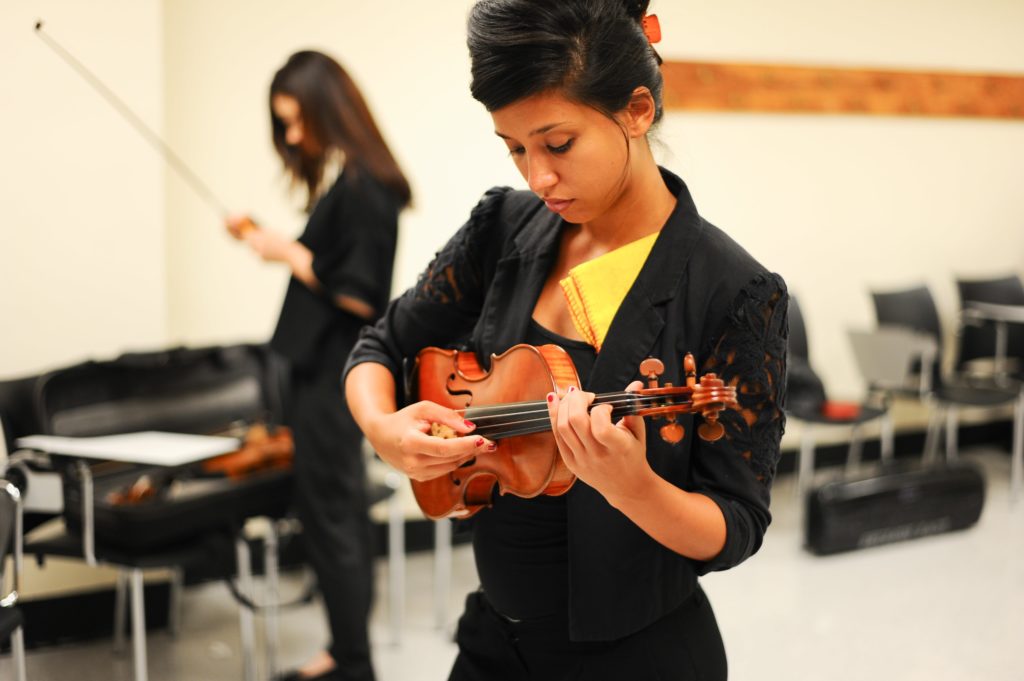 College of Performing Arts' New Master's Degree for the Changing Creative Economy
In the 21st century, performing artists need to be both masters of their craft and experts in business management to succeed in today's rapidly changing global economy. Performing artists now strive to be impact entrepreneurs; they want to use their creative capital to benefit society and culture at-large.
Responding to this shift in educational and professional need, the College of Performing Arts (CoPA) developed the Master of Arts in Arts Management and Entrepreneurship, one of the first advanced management degrees in the country designed exclusively for the performing arts industry.
Since its launch in 2017, the program has developed a deep partnership with a major external funder, the Jean and Louis Dreyfus Foundation, stewarded by the Foundation's President and CoPA Board of Governors member Nicholas Firth. In spring 2018, the Foundation pledged a significant challenge grant to encourage ongoing fundraising to support the program's development and sustainability.
The Master of Arts program promotes performing artists who strive to be leaders of their own enterprises, in their art disciplines, and in their communities. By leveraging The New School's core values, professors at Milano School of Policy, Management, and the Environment and CoPA administer a multidisciplinary curriculum. Students take custom-designed courses on arts-related business and management courses to hone the skills they need to further their artistic and professional development.
"We are particularly pleased with the caliber of students in our cohorts. These are individuals who are strong in their craft, entrepreneurial, and socially engaged; they've come to The New School because this Master's degree is specifically curated to help them achieve their goals and change the performing arts industry," program director Diane Ragsdale says.
Over the last two years, applications to the newly minted program have more than doubled. Ragsdale expects that the applicant pool will continue to increase as the program expands and more creatives become aware of this new path.
The MA in Arts Management and Entrepreneurship is representative of a larger effort at The New School: a curricular evolution that both advances student goals and innovates to correct for the shifts in the global economy and society. By developing a unique management degree for the arts, CoPA and dedicated funders like the Jean and Louis Dreyfus Foundation ensure that its students will stand at the forefront of groundbreaking and influential change in their industry.
The Jean and Louis Dreyfus Foundation, established in 1979, strives to enhance the quality of life of New Yorkers, particularly the aging and disadvantaged. The Foundation disburses grants to organizations within the five boroughs of New York City and primarily in fields supportive of aging, arts, education, and social services.