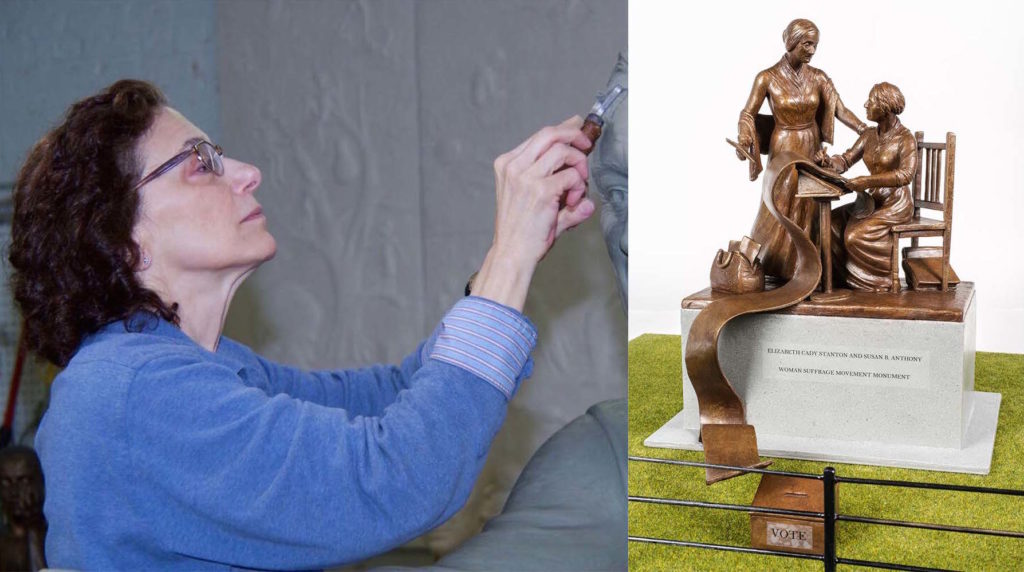 Meredith Gang Bergmann, Communication Design '75, Selected to Sculpt Woman Suffrage Movement Monument
Meredith Gang Bergmann, Communication Design '75, has been selected as the sculptor for The Elizabeth Cady Stanton and Susan B. Anthony Woman Suffrage Movement Monument — an effort led by the Statue Fund to memorialize the two women's rights pioneers in Central Park.
Bergmann's sculpture, which was approved by the New York City Parks Department, depicts Stanton and Anthony alongside names of other suffragists. It will be exhibited at the New York Historical Society in New York City and the New York State Museum in Albany before arriving at Central Park's Literary Walk In 2020.
"I'm honored to have been chosen to make this monument to a movement that transformed our democracy so profoundly from within, and without bloodshed, and that began with two women writing together, composing the most powerful arguments they could imagine," says the Parsons School of Design alum. "It's a great subject for a sculpture."
Bergmann's sculpture was selected from 91 submissions by a jury of art and design professionals, historians and representatives from New York City Parks and the Statue Fund. It also gained widespread backing from the Girl Scouts of Greater New York and New York Life, both of whom rallied in support of female statues and provided donations.
"We are happy to have broken the bronze ceiling to create the first statue of real women in the 164-year history of NYC's Central Park honoring New Yorkers Stanton and Anthony, as well as all the women who fought for the right to vote," Pam Elam, President of the Elizabeth Cady Stanton and Susan B. Anthony Statue Fund and its Monumental Women Campaign, sats,
In addition to the Statue Fund, Bergmann will work with the architecture firm Beyer Blinder Belle to realize the project.
For more than 40 years, Bergmann has made sculptures that explore issues of history, social justice, race, human rights, disabilities, and the power of poetry and music. Her work has been shown in more than two dozen exhibitions and appears in 10 institutional collections. Her largest public commission, unveiled in 2003, was for the Boston Women's Memorial on Commonwealth Avenue in Boston's Back Bay. Her FDR Hope Memorial for New York City's Roosevelt Island will be unveiled this year, and she is working with a Columbia University Faculty Seminar on Memory and Slavery on a slavery memorial for New York City.