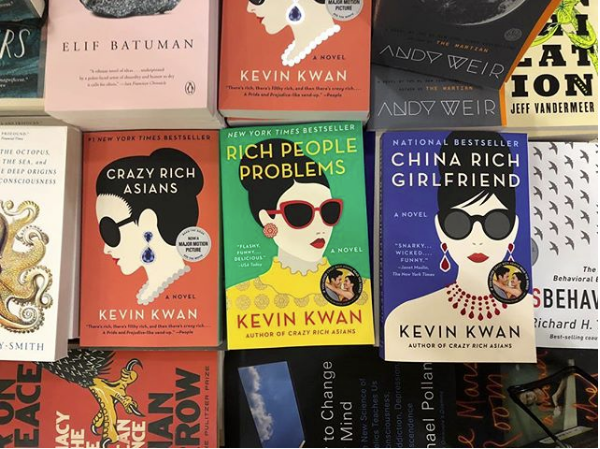 Joan Wong, BFA Communication Design '12, Designs Book Covers for 'Crazy Rich Asians'
Ever since "Crazy Rich Asians" hit theaters earlier this month, the books on which the movie is based — and their colorful, vector style covers — have been flying off the shelves.
The designer of those covers is none other than Joan Wong, BFA Communication Design '12. Wong's is the second Parsons connection to the books and film, with Kevin Kwan, BFA Photography, having written the "Crazy Rich Asians" book trilogy. The film marks the first time a major Hollywood studio has made a movie with all-Asian cast in 20 years.
"I'm proud that I've inadvertently made a small contribution to Crazy Rich Asians' journey into becoming a movie that spearheads conversations about Asian representation," Wong says of her covers, which she designed during her first year with Vintage and Anchor Books of Random House.
An artist from a young age, Wong attended a high school that specialized in visual and performing arts before enrolling in the BFA Communication Design program at Parsons School of Design. It wasn't long before she met mentor Gabriele Wilson, a professor at Parsons who was teaching a course on book cover design. After taking the class and interning at Wilson's studio, Wong went on to work with Rodrigo Corral, where she continued to learn about the publishing world and translating stories to visuals.
"There were a lot of realms of graphic design that felt soulless to me, but design for narratives felt like a fulfilling and worthwhile thing to do," says Wong, who sketches and takes notes while she reads. "I read for tone and make sure what I design captures the quality of the writing."
Currently, Wong is working on a personal project called Sister Life, where she gathers written stories from people, and illustrates the lives that could have been. In the future, she hopes to experiment more in different mediums.