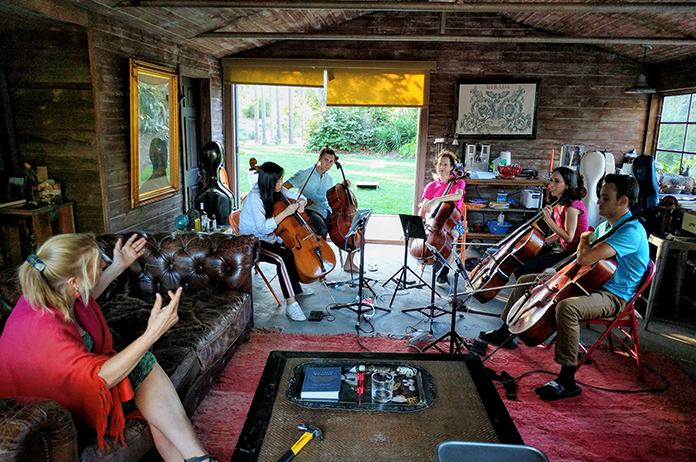 Mannes School of Music Cellists Collaborate with New John Cage Fellow Matt Haimovitz
Rehearsing for seven hours a day in Malibu on author Cornelia Funke's avocado farm might not seem like the most obvious place for a cello quintet to practice, but for Mannes School of Music's new John Cage Fellow Matt Haimovitz, the space was perfect for his Uccello quintet. The all-cello ensemble is known for their innovative programming, which spans several diverse genres of music, including classical, jazz, and rock, among others.
As part of his new Fellowship with Mannes, Haimovitz traveled to Malibu with two students from the Schulich School of Music at McGill University, where he is on faculty, and two students from Mannes. Julian Müller, Professional Studies '19, was part of the quintet, where his lessons with Haimovitz left a profound and lasting impact.
"It was a magical experience joining Matt and Uccello in Malibu for our first time working together in this configuration," says Müller. "Matt taught us to commit fully and wholeheartedly to any musical idea that arises, no matter if it's the ideal or not. He also taught me to listen more alertly and deeply to what was happening in the moment, to be flexible with my technique and let my imagination and intuition dictate the musical outcome, more than a preconceived notion for how the music should evolve."
Haimovitz is acclaimed for both his tremendous artistry and as a musical visionary – pushing the boundaries of classical music performance, championing new music, and initiating groundbreaking collaborations. He made his Carnegie Hall debut at the age of 13, and has since collaborated with musical icons including Philip Glass, Mannes alum Frederica Von Stade, and many others. Haimovitz has also won numerous awards, and was the first classical artist to perform in New York's famous CBGB.
"In Uccello he creates a collegial atmosphere that lends itself, ultimately, to serve the music without ego but with genuine honesty," says Müller. "He is a consummate musician of our time and the sound he produces from the cello is vivid, raw, vulnerable and unmistakably personal, which is an inspiring example to have the privilege and of being a part of."
As part of Mannes and the College of Performing Arts commitment to training a musician to succeed in the 21st century, the three schools have been working with renowned artists to create new learning opportunities for students. In addition to Haimovitz, CoPA has recently welcomed acclaimed clarinetist Anat Cohen, who is teaching in the School of Jazz and Contemporary Music, and Bob Hurwitz, former President of Nonesuch Records, who recently became the university's first Aaron Copland Fellow.
"The culture at Mannes fosters and promotes an environment to confront how you want to represent yourself as an artist in the 21st century," says Müller. "They offer entrepreneurship and interdisciplinary classes that opened my perspective to what I might be capable of doing if I determined more clearly what success looks like to me and not necessarily just trying to follow and execute a predetermined route."