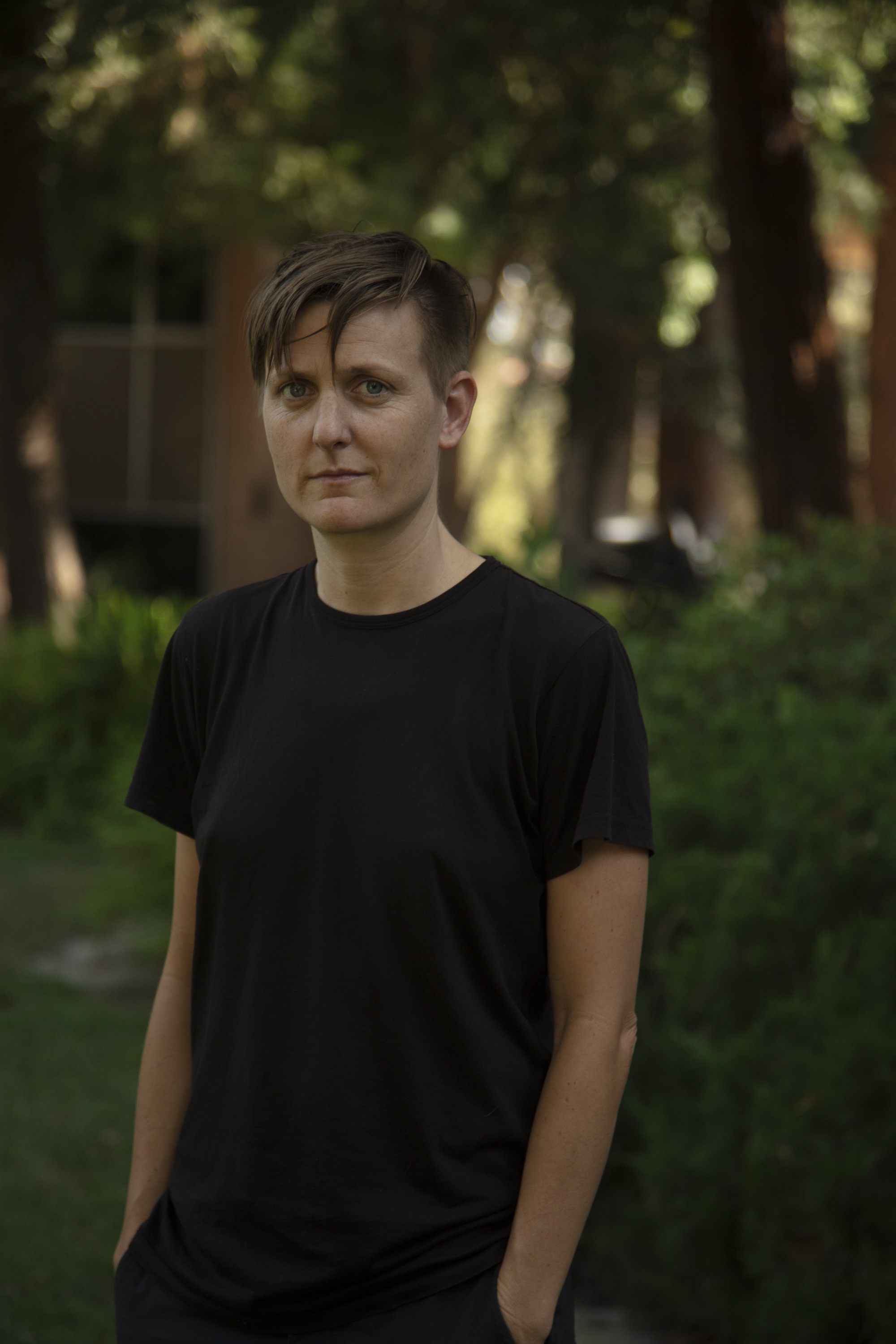 Visual Artist Brings Compelling Work to Vera List Center for Art and Politics
Dean Erdmann, a Los Angeles–based visual artist who is one of the two Vera List Center (VLC) Fellows for 2018-2020, creates work that provides viewers with an intense experience that has been described as "meditative, hypnotic, or hallucinatory."
During their fellowship, Erdmann will work on a semi-autobiographical environmental installation on the subject of American illiberalism. Weaving together film, sculpture, photography, and texts, the installation will explore the way our past has led us to the current moment of social and political crisis.
Erdmann, whose work addresses the politics of place, class, and the body, recently introduced a cross-section of New School faculty to their practice with three samples of stunning visual work.
One of the videos they presented was an excerpt of a seven-minute endless loop called Donut, created in 2008. In the video, an anonymous driver in a four-wheeled ATV (all-terrain vehicle) alternately appears and disappears as the vehicle rides across the desert. Erdmann's website describes the video as a "potent experience for the viewer, who stands still pondering the patterns of dusty clouds as they billow up and then deflate in the warm glimmers of sunlight…. Watch it through, and you'll find a hushed lyricism and clear pattern as the sandy scene demonstrates its quiet message."
Erdmann, who grew up in the San Diego area and completed their MFA at the University of California, San Diego, in 2008, is an avid motorcyclist whose work examines the "comparatively cheap thrills of motorcycling and the high price of stimulant use to tie together the working class and poor, legacies of war, and the subcultural thrill of speed." Much of their work is informed by their complicated relationship with their politically conservative working-class family.
Erdmann and Helene Kazan were selected as Vera List Fellows from a pool of more than 200 applicants from 35 countries and will develop projects inspired by the center's focus theme for 2018-2020, "If Art Is Politics." Erdmann plans to spend ten months of the next two years at The New School, working on their project and interacting with the university community. They will be returning to The New School beginning in February 2019.
"We're thrilled to have Dean join the New School community," said Carin Kuoni, the director and chief curator of the Vera List Center for Art and Politics. "At a moment of deep political polarization, their fellowship proposal calls for what we need most: a nuanced approach to understanding how people arrive at political positions."
The center's most recent fellows were Casey Gollan and Victoria Sobel of Free Cooper Union and Lawrence Abu Hamdan, a Beirut-based artist whose fellowship project was part of the Vera List Center's Post Democracy series of programs. Other former fellows are Maurice Berger, Jill Magid, Lorraine O'Grady, and Walid Raad.
VLC Fellows receive research support from New School faculty, an individually assigned graduate student assistant, a public platform for the presentation of their work, short-term residencies in New York City, and a stipend of $10,000.