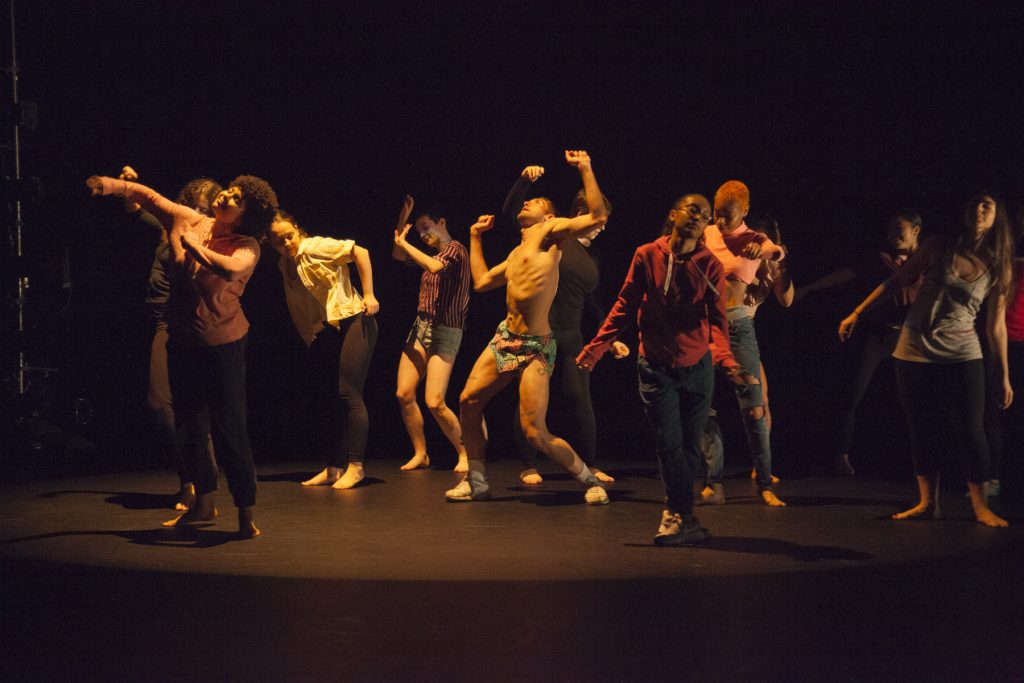 Contemporary Dance Masters the Steps of Becoming a Major at Eugene Lang
Two dancers are lying on their backs in the center of the rehearsal floor as other performers watch from the side. Responding to a prompt from choreographer Nia Love, "I want you to figure out a way for you to 'bubble up' from the ground to your feet without using your hands," the dancers contort their bodies, imitating the waves and ripples of water. It takes a few tries, and the students move this way and that before finding a way up onto their feet without using their hands. This exercise is part of the Performative Studies class, one of many dance courses available to students in the new Contemporary Dance major at Eugene Lang College of Liberal Arts.
Contemporary Dance at Lang has evolved over the last 14 years from its initial status as a minor and a concentration in Arts in Context. While these two pathways are still available, students now have the opportunity to earn a bachelor of arts degree through their work.
"The existence of a major signals a seriousness of study and a commitment from the institution," says Danielle Goldman, an associate professor of critical dance studies and the Dance program director. "The new major also means greater visibility for the program within the university as well as in the broader landscape of higher education and the field of dance."
Thoroughly intertwined with the Lang liberal arts curriculum, Contemporary Dance features an interdisciplinary approach emphasizing rigorous physical practice, performance, and choreographic research. Students in the major do not need to audition; the program recognizes and welcomes varying degrees and kinds of dance experience. The goal is for students to cultivate a broad understanding of dance: They are encouraged to engage in diverse practices — ballet, somatics, hip-hop, West African dance, and contact improvisation — and explore different ways of understanding the body. "Students come to realize that there is not a single thing called 'technique,' and together they think critically about various conditions and reasons for dancing," says Goldman.
Unlike conservatory programs — which, as the name implies, focus on conserving traditional practices — Contemporary Dance at The New School incorporates recent developments in the field. Students are not holed up in a studio, isolated from the rest of the university; rather, they interact with other areas of arts study, the humanities, and the social sciences, connecting those disciplines to their dance practice. Students do not have to sacrifice their other interests and career goals to pursue a dance education.
"Studying dance at Lang is not only about learning the history of the discipline or training to become a performer or choreographer; it also involves looking to dance in order to think about the world," says Goldman. "Students learn to think critically with and about their art, and they graduate with skills that enable them to explore, research, and engage in thoughtful discourse about whatever discipline they choose to pursue, whether dance or a related field."
While Lang is not the only college to offer a BA degree in dance — Bard College, Sarah Lawrence College, Bennington, and Oberlin offer similar programs — the program's integration into the Lang process of academic exploration and its focus on social justice provide a unique experience. In addition, the school's location in New York City gives students access to cutting-edge performance spaces and artists and the dynamic arts culture of the city. Trips are regularly scheduled to Lincoln Center, City Center, The Joyce Theater, and the Brooklyn Academy of Music, as well as more experimental spaces such as The Kitchen, New York Live Arts, Danspace Project at St. Mark's Church, Performance Space New York, The Chocolate Factory Theater, and Judson Memorial Church. The program also taps into the array of working artists and adventurous practitioners found here. This semester, students are working with guest artists Nia Love and David Thomson, creating pieces that will be performed at the annual Lang Dance Fall Production on Friday and Saturday, December 7 and 8, 2018.
Love, a choreographer and Fulbright fellow, works with students to help them investigate their ideas, giving form to what they imagine in their choreography. "I was invited to teach at Lang four years ago, and I love it," says Love. "The minds of New School students are supported in such a way that their creativity, their improvisational mind — the artistic mind — is cultivated. It's a way that challenges systems that have been in place for a long time. I think The New School, out of all the schools I've taught at, is a really incredible, activist-thinking school."