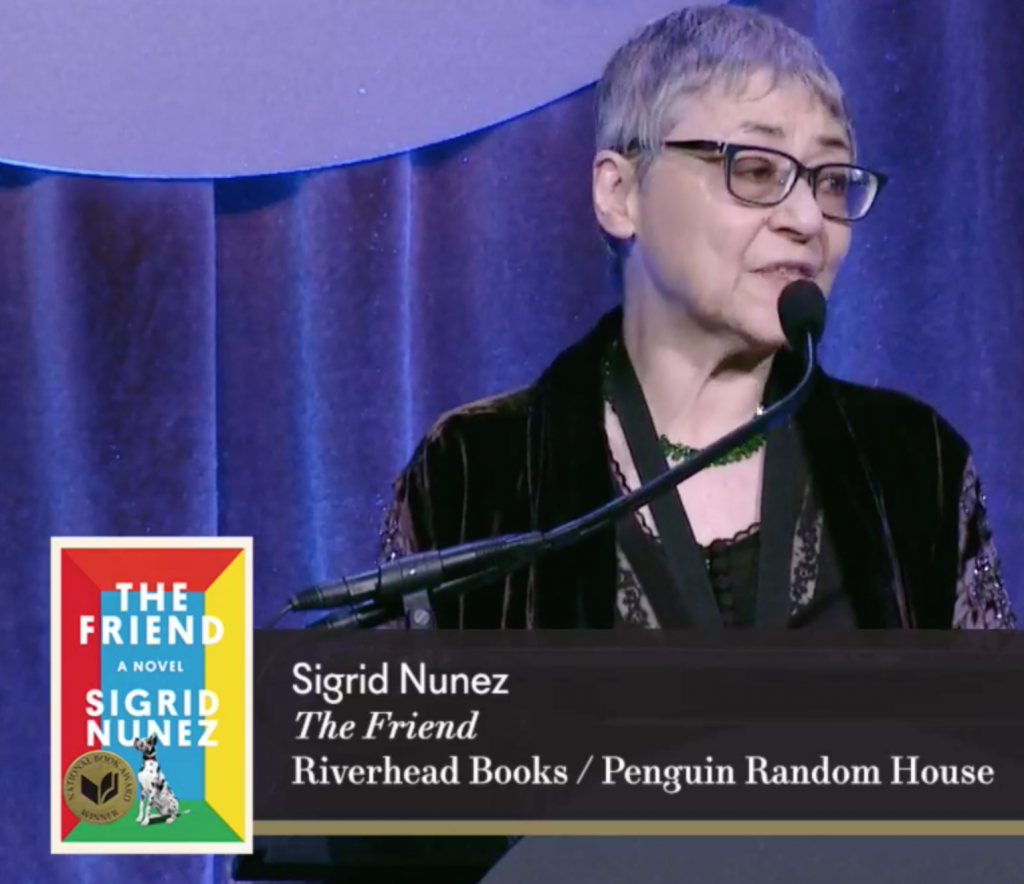 Sigrid Nunez, Creative Writing Faculty Member, Wins the National Book Award for Fiction
Sigrid Nunez, a longtime faculty member in The New School's Creative Writing Program, has won the prestigious National Book Award for her novel, The Friend. The novel is a moving story that explores profound loss and celebrates the connection between canines and humans. The plot revolves around an aging writer whose best friend commits suicide and is left to care for the friend's Great Dane.
The National Book Award prize jury called The Friend an "exquisitely written and deeply humane exploration of grief, literature and memory." The New York Times Book Review wrote that "Nunez's prose itself comforts us. Her confident and direct style uplifts—the music in her sentences, her deep and varied intelligence.
In her acceptance speech at the November 14th awards ceremony held in Lower Manhattan, Nunez thanked her mother and teachers "who taught me whatever happened in life, however bad things might get, I could always escape by reading a book."
"I thought it was something I could do alone and hidden, in the privacy of my own room," she said. "How lucky to have discovered that writing books made the miraculous possible: to be removed from the world and to be a part of the world at the same time. And tonight how happy I am to feel like a part of the world.
The awards have frequently been referred to as the Oscars of the book world, and the other finalists for the fiction prize in 2018, included stellar work such as, Lauren Groff's Florida, and Brandon Hobson's, Where the Dead Sit Talking.  Groff told the Associated Press  that "In these frightening and fraught times, I had to come into the full certainty that art was meaningful enough for me to devote my heart to it."
For Nunez, the award is a highlight in a critically acclaimed literary career that has included the Rome Prize in literature, and the Berlin Prize Fellowship. Some of her other work includes the novels Salvation City, and The Last of Her Kind, and Sempre Susan: A Memoir of Susan Sontag published in 2014. Her first novel, Naked Sleeper, was published in 1996.
She has also contributed work to a varied array of publications including The New York Times, The New York Times Book Review, The Paris Review, Threepenny Review, Harper's,  and McSweeney's.  Nunez graduated from Barnard College in 1972 and earned her MFA from Columbia University.
The night before the announcement of the awards The New School hosted a reading with the finalists in the categories of translated literature, poetry, fiction, nonfiction, and young people's literature.
"All of us in the Creative Writing Program are thrilled that Sigrid Nunez, brilliant colleague, professor, and mentor, has won the National Book Award for her novel The Friend," said Laura Cronk, assistant professor of writing and director of the Creative Writing Program at The New School. "This is among the highest honors a writer publishing in the United States can receive. All of us who have the privilege of knowing Sigrid and her writing are doubly proud that she, someone of such profound integrity and vision, has received this recognition."