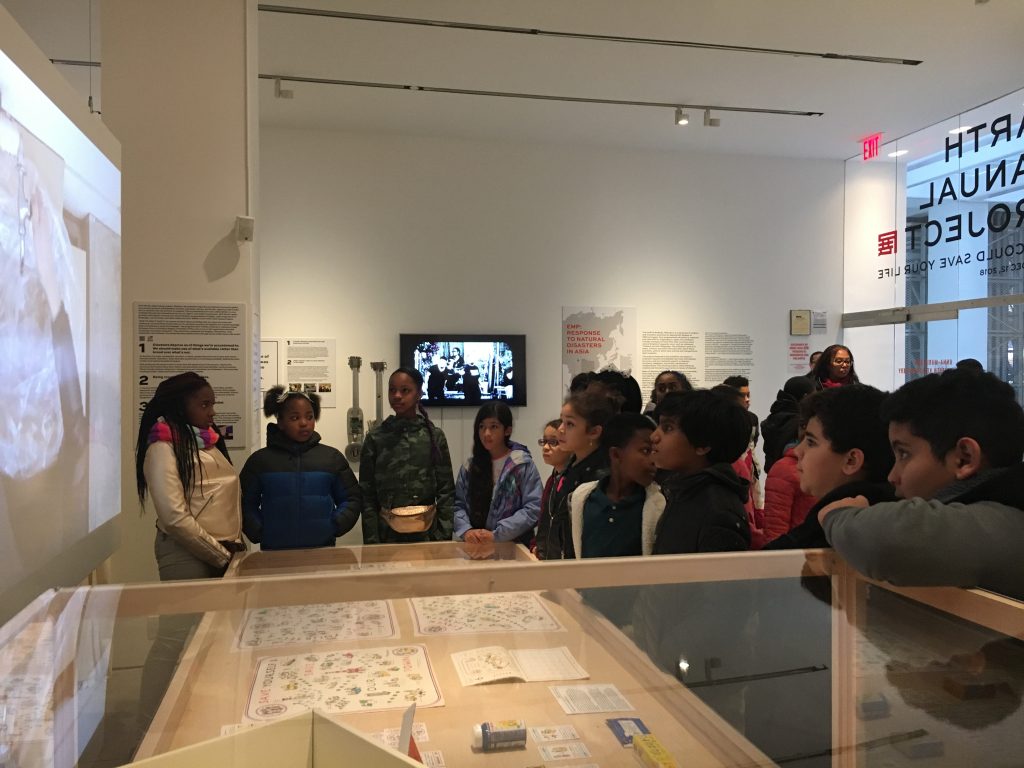 Students Learn About Disaster Preparedness at Earth Manual Project Exhibit
A new study by researchers at the University Hawaii found that the increase of simultaneous natural disasters caused by climate change in the next 100 years would be disastrous for society. During the last 20 years, the United States has suffered among the greatest number of natural disasters according to the United Nations disaster monitoring system.
In response to this global chaos, some educators have decided that It's never too early for students to learn about disaster preparedness. That's the message to 4th and 5th grade students at P.S. 147 in Brooklyn, who through a series of workshops, are learning how to help themselves and others in the event of a natural disaster.
The workshops were coordinated by the Japan Foundation, and led by Hirokazu Nagata, the chairman of Plus Arts, a non-profit specializing in education for disaster preparedness.
Nagata is also the curator of the Earth Manual Project: This Could Save Your Life," an ongoing exhibit at the Sheila C. Johnson Design Center at the Parsons School of Design. After living through Kobe's Great Hanshin-Awaji Earthquake in 1995, Nagata went on to dedicate his career to preparing communities for earthquakes, tsunami, typhoons, volcanic eruptions, and floods.
Recently, several classes from PS 147 visited the Earth Manual Project to help bring to life the concepts that they had been learning and to further emphasize how to think creatively during an emergency. P.S. 147 itself is unique in that it is the only public school in the city to be teaching a dual program of English and Japanese. Carmen Rosario, the fifth grade teacher who brought her students to see the exhibit, said that part of the impetus to participate in the program, came from the impact that Hurricane Maria had on students, many of whom come from or have family in Puerto Rico.
Tomomi Tanikawa, the associate program officer, Arts & Cultural Exchange Program at The Japan Foundation, took the students on a tour of the exhibit, engaging them by demonstrating how ordinary objects can be used in a disaster. She showed the grade- schoolers the work of an SCE student, who created an emergency "go-bag, using just a sweater and cardboard as materials. Tanikawa explained that plastic bags could be used inside the sweater, to carry wet items such as bottled water.
"If where you're evacuated is a cold place, you can untie it and wear it as a sweater," she told the students. "This is something you all can do."
The Earth Manual Project showcases creative ideas dealing with disasters at different stages — from preparedness education to response and relief efforts — from leading designers from Japan, Indonesia, Thailand, and other countries where such cataclysmic events are frequent.
"Whether caused by natural or human-made forces, or a complex combination thereof, disaster is an ill-starred event that tests the limits of our resilience and humanity, said Robert Kirkbride, dean of SCE and associate professor of architecture and product design. "Learning from catastrophe enables us to better prepare our communities for the range of disasters that increasingly preoccupy our news. Through our three-year partnership with the Earth Manual Project, the Japan Foundation, and the Zolberg Center, we have based our school-wide design intensives on the imperative for design to better equip us for our imminent future. We hope to continue to grow this collaboration with the students of PS 147.