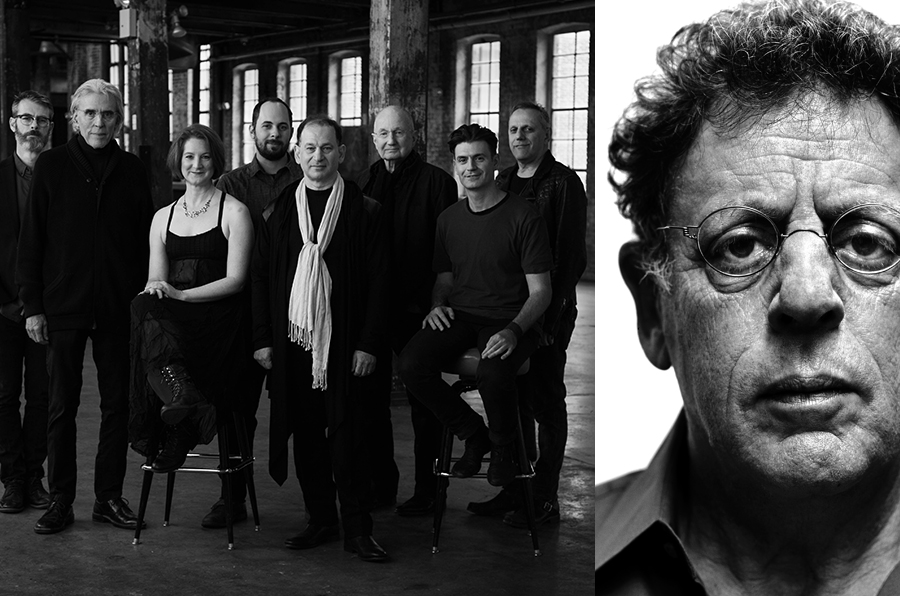 The College of Performing Arts Inaugurates the Philip Glass Institute
Philip Glass has had an unprecedented and incredible impact on music as one of the most recognizable and influential composers in the world. He has written symphonies, concertos, operas, string quartets, and film scores that have captivated audiences with his bold artistic vision, which fuses a truly original musical language and an unparalleled collaborative practice in a singularly entrepreneurial spirit.
Recently, the College of Performing Arts announced the launch of the Philip Glass Institute (PGI), as well as the residency of the Philip Glass Ensemble (PGE) at the university. The PGI will be a learning and creative center building on Glass' enduring contributions to modern culture and will offer students, faculty, and the public the opportunity to immerse themselves in the work of Glass, other important artists within his circle, and the iconic Philip Glass Ensemble. Lisa Bielawa, a renowned composer and the long-time vocalist for the PGE, will become the inaugural composer-in-residence and chief curator of the Philip Glass Institute. Bielawa, an award-winning multidisciplinary artist and composer, is a 2009 Rome Prize winner in Musical Composition and recipient of the 2017 Music Award from the American Academy of Arts & Letters.
"I can think of no better home for the Philip Glass Institute and the Philip Glass Ensemble than CoPA," said executive dean Richard Kessler. "Over the past century, The New School has been a home to John Cage, Henry Cowell, Martha Graham, Aaron Copland, the Fluxus Movement, and scores of other trailblazing artists and scholars. Today the original, highly influential, and beloved work of Philip Glass will become accessible for a long time to come to new generations of students and audiences through this exciting new partnership."
The idea for the PGI originated with Glass and Bielawa, both of whom felt that The New School would be the ideal setting for such an institute. Subsequently Bielawa approached Kessler about the future of the PGE, Glass' legacy, the continuation of his work along with her own, and how this all might work together under a single umbrella. Both Kessler and Bielawa were struck by the ways in which Glass has built community throughout his career, a practice that Bielawa has honored in her own work and life as well. Together Glass, Bielawa, and Kessler were drawn to creating an institute to further that ethos.
"I am very pleased about the Philip Glass Institute at The New School," said Glass. "My own legacy flourished in a wide garden of music going on all at the same time. In my lifetime, I was contemporaneous with all kinds of music, and I rejoiced in it. In terms of range and variety of modern music, it is important to be unafflicted by prejudice. The music stands by itself. At the new PGI, we can prioritize a curriculum which doesn't require critical approval of any period or style. Young composers need to be true to their voices. 'Coming up' can be very independent, and this is what will be guiding our work at The New School."
Peerless in his originality as a composer and musician, Glass has been instrumental in breaking down barriers across genres. His work includes the groundbreaking opera Einstein on the Beach, Music in Twelve Parts, and Academy Award–nominated scores for three films, The Hours, Kundun, and Notes on a Scandal.
As PGI's composer-in-residence and chief curator, Bielawa will work not just to preserve Glass' legacy but to build on it by creating new works, organizing concerts, and developing new courses and curricula that advance Glass' ethos and vision.
"It is a huge honor and pleasure to spearhead this new initiative at The New School, which has a long history of charting new territory in the way that artists share their work and lives with the next generation," said Bielawa. "The PGI is a new and lasting way to celebrate Philip's ethos: an NYC incubator for the sharing of ideas among a multi-generational community of composers, performers, and music industry professionals."
The PGI will create new learning opportunities rooted in Glass' contributions to modern musical and cultural life for students at CoPA's three schools — Mannes School of Music, the School of Jazz and Contemporary Music, and the School of Drama. At the PGI, they will learn composition, sound design, musicology, arts management, and other disciplines from members of the PGE and CoPA faculty who are frequent collaborators with Glass, including Matt Haimovitz, Jennifer Koh, Bob Hurwitz, and Dennis Russell Davies.
As ensemble-in-residence, the PGE will base its extensive touring and performance operations out of The New School. Recognized as the premier performers of Glass' compositions, the ensemble has been exclusively devoted to performing Glass' works in some of the world's most prestigious music festivals and concert venues. At the university, the group will integrate its rigorous practice-performance methodology into CoPA's innovative curriculum, hosting workshops, leading master classes, and welcoming the public to select rehearsals. This first-of-its-kind residency at CoPA will be instrumental in preparing students to succeed in the 21st-century musical landscape.