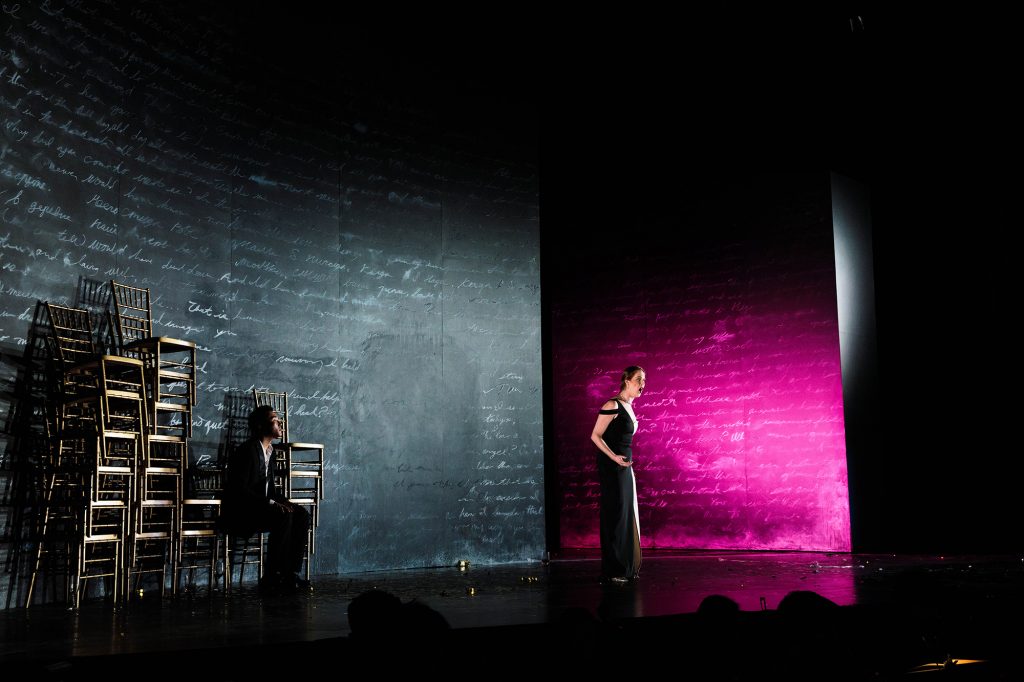 The Mannes Opera Looks to the Future with New Managing Artistic Director
The premiere of Pyotr Tchaikovsky's opera Eugene Onegin took place almost 140 years ago, but to viewers of the recent production by The Mannes Opera, the story felt as relevant as ever. The production was stripped down to its roots in order to better showcase the complexities of the teenagers' sexual awakening, while also underscoring the first pangs of desire and regret in the characters' lives.
The production was the first to be staged under Emma Griffin, a director and educator who was recently appointed managing artistic director of Mannes School of Music's Mannes Opera, replacing Joseph Colaneri, who stepped down after his 20-year tenure ended in June 2018. In her new role, Griffin is responsible for leading curriculum and program development, stage direction, and teaching, as well as supporting the development of musical theater at the College of Performing Arts (CoPA).
"To have young artists approach this work — so full of youthful yearning and heartbreak — is to reveal aspects of this extraordinary piece we often don't see explored," says Griffin. "Purely pedagogically, the value for a school like Mannes is tremendous. Singing in Russian; the difficult vocal demands; the complexity of the music, for both principals and chorus; the robust and physical role of the chorus — all of these things are exactly the kind of challenges I want to bring to our young artists."
Griffin's vision for the program is grounded in a collaborative and interdisciplinary approach, which aligns with The New School and CoPA's mission and practice. Being exposed to different directors and conductors is one of many important experiences she believes will prepare her students to become successful opera singers.
"One of the invaluable opportunities we can offer our students is to start that range of exposure now, while they are in school and have the support and structure a top conservatory can offer," she says. "Eugene Onegin was a fully realized classic opera, with a creative team drawn from the very top of the New York performing arts field. The students were immersed in a rigorous, demanding production process, and they delivered a dramatically effective performance that was both sonically thrilling and musically sophisticated."
For Michaela Estrin, Mannes '20, who played the role of Tatyana during the second performance of Eugene Onegin, Mannes has provided a space in which to learn something new every day and the chance to work with an inspiring cast.
"The Mannes Opera has done a wonderful job of creating collaborative opportunities for us singers with a wide range of industry professionals," she says. "We are treated like young professionals in that we are encouraged to bring our own opinions on the score to each rehearsal."
Griffin plans to carry forward Mannes' tradition of presenting classic and innovative opera productions with Street Scene, which will be presented in May 2019 under the direction of Mannes faculty member and acclaimed conductor Leslie Stifelman.
"Street Scene perfectly encapsulates the goals of CoPA by combining a rigorous operatic style with a distinctively American story," says Griffin. "As a meditation on how communities shift and tear as they accommodate new worldviews, it's a remarkably modern and prescient piece, sometimes painfully so. We are particularly proud that our cast will represent exactly the kind of diversity that the piece celebrates; many, many of our singers are international students, and many of them speak English as a second, third, fourth, or fifth language. We are thrilled to be working on a show that will so effortlessly highlight what we are so proud of — the range of backgrounds, experiences, and cultures that our students bring to our school."