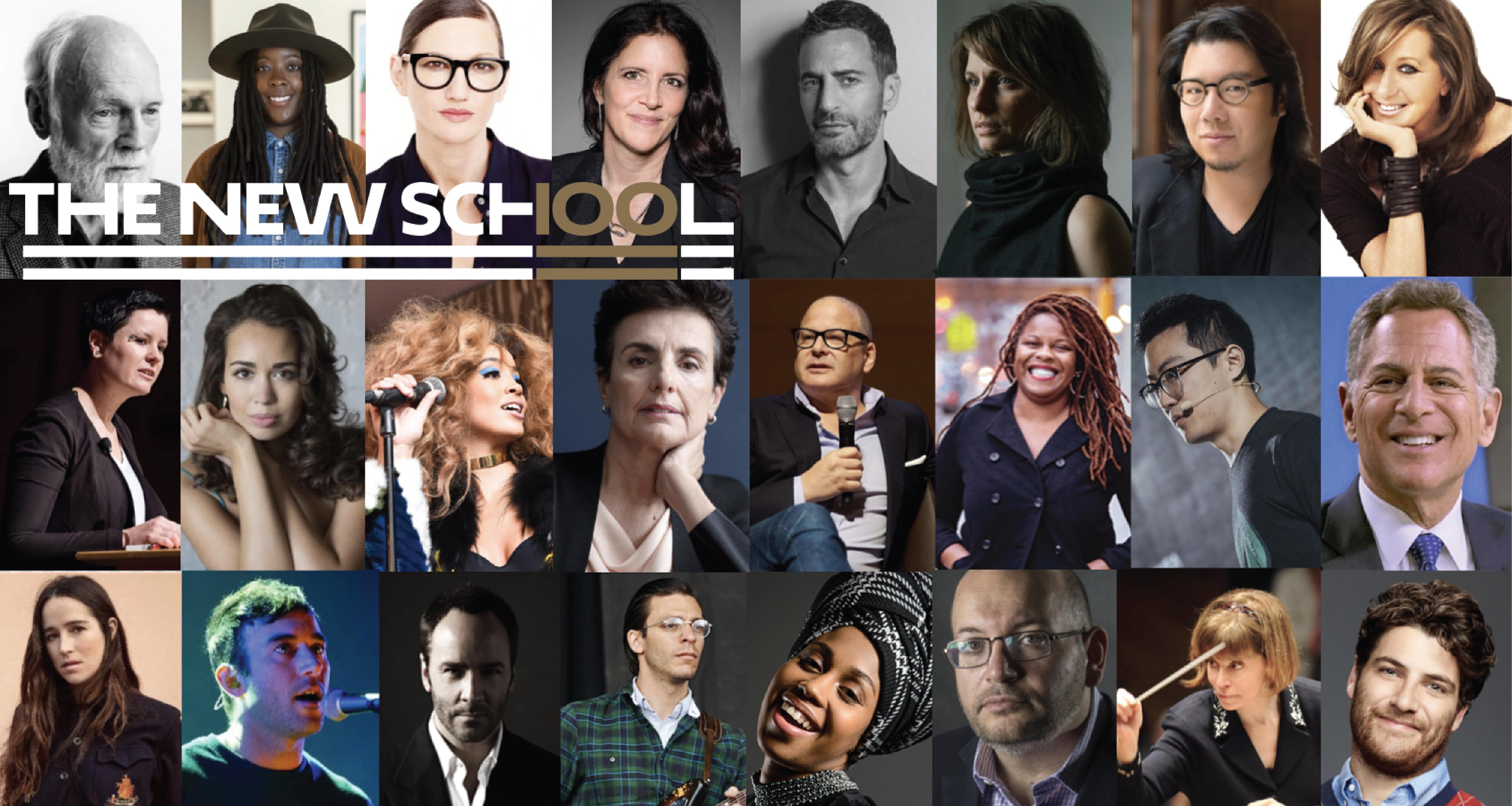 One Hundred Years of Remarkable New School Alumni
In its first 100 years, The New School has produced many graduates who have gone on to become innovative, influential, and groundbreaking figures in a number of disciplines. The names read like a who's who in fields such as design, acting, music, psychology, and economics. The university has been home to Academy Award winners such as Bradley Cooper and humanitarians like singer and actor Harry Belafonte. Music pioneer Ani DiFranco attended The New School, and so did legendary designers Marc Jacobs, Donna Karan, and Tom Ford.
Throughout 2019, The New School's centennial, there will be profiles on the New School Alumni Medium page of 100 notable university alumni in a monthly feature. Some are legendary figures, while others are more recent graduates whose cutting-edge ideas have already established them as major players in their fields.
The series kicks off with profiles of Kevin Kwan, BFA Photography '98; Rachel Kaadzi Ghansah, Culture and Media '06; Ray Acheson, MA Politics '14, Anthony LaMarca, BFA Jazz and Contemporary Music '09; Vanessa Wruble, MA Psychology '08; Reed Krakoff, AAS Fashion Design '89; Nina Chanel Abney, MFA Fine Arts '07; JoAnn Falletta, BM Performance '76; Alfonso Javier Cobo Albusac, MS Strategic Design and Management '18; and Nelson Barbosa, PhD Economics '02.
The year 2018 was an important one for Kevin Kwan, the author of the best-selling satirical novel Crazy Rich Asians. The novel was made into a film that became a world-wide hit, grossing more than $234 million. The novel is part of the Rich Asians trilogy, which also includes China Rich Girlfriend and Rich People Problems.
Last year was also one of triumph for Rachel Kaadzi Ghansah, a Brooklyn resident who won the Pulitzer Prize for Feature Writing for her searing story about Dylann Roof. Published in GQ in 2017, the story profiled Roof, who murdered nine people in a Charleston church in 2015. Kaadzi Ghansah's first book, The Explainers & the Explorers, is forthcoming from Scribner.
After helping to establish Coach as one of the most fashionable and successful luxury brands in the world, designer Reed Krakoff was appointed chief artistic officer at Tiffany & Co. in 2017. At Tiffany, he oversees jewelry and luxury accessories and leads the brand's artistic and design vision for store design, e-commerce, marketing, and advertising.
Alfonso Javier Cobo Albusac, the most recent grad to be featured, is an entrepreneur and co-founder of Unfold. In just a short time, he has turned the Unfold app into a $4-million-a-year business that offers storytellers a tool kit with which to create polished, design-driven Instagram stories with minimal templates. Cobo Albusac was recently featured in Forbes' 30 Under 30 issue.
Feminist activist Ray Acheson is the director of the disarmament program of the Women's International League for Peace and Freedom (WILPF). In 2017, she took part in a Nobel Prize–winning international campaign to abolish nuclear weapons. Acheson is part of the steering group of the International Campaign to Abolish Nuclear Weapons, a coalition of NGOs in 100 countries.
Multidimensional musician Anthony LaMarca is a guitarist for The War on Drugs, a popular indie rock band whose work has been critically acclaimed since its debut in 2008. Also a drummer, he toured with St. Vincent in 2010 before joining The War on Drugs in 2013. The band won a Grammy Award for Best Rock Album in 2017.
JoAnn Falletta, the music director of the Buffalo Philharmonic Orchestra (BPO) and the Virginia Symphony Orchestra, has been acclaimed as one of the "finest conductors of her generation" and a "leading force for the music of our time." according to The New York Times and Washington Post respectively.
She is also the principal guest conductor at the Brevard Music Center. Falletta has won two GRAMMY Awards and received ten nominations. In February, Naxos will release her recording of Respighi's Rome Trilogy with the BPO.
Vanessa Wruble was one of the organizers of the first Women's March on Washington, an event that brought hundreds of thousands of people to the nation's capital the day after the 2017 presidential inauguration. Wruble is a prominent activist and journalist who in 2011 teamed with Roots frontman Questlove to found OkayAfrica, a site bringing cultural news from continental Africa to an international audience.
Nina Chanel Abney is an American artist whose work powerfully explores charged issues like race, politics, morality, and sex. In 2018, the prestigious New York art publisher and gallery Pace Prints presented a series of "monumental scaled monoprints" by Abney, the artist's first work in the print medium. Her work has been featured in cultural institutions including the Brooklyn Museum, the Bronx Museum of the Arts, the Nasher Museum of Art (North Carolina), and the Chicago Cultural Center.
The Brazilian economist Nelson Barbosa served as Brazil's finance minister in 2015 and 2016 after serving as the country's minister of planning, budget, and management. Barbosa is currently a professor of economics at the São Paulo School of Economics. He is a frequent contributor to Folha de S.Paulo, writing columns on economic and political issues.
Other New School alumni who will be featured in 2019 are Edwin Fancher, BA Liberal Arts '49 and MA Psychology '51, co-founder of the Village Voice, and the noted sex therapist and author Ruth Westheimer, MA Sociology '59; designer Narciso Rodriguez, BFA Fashion Design '82; Orange is the New Black actress Adrienne Moore MFA Acting '09; and songwriter Sufjan Steven, MFA Creative Writing '00.