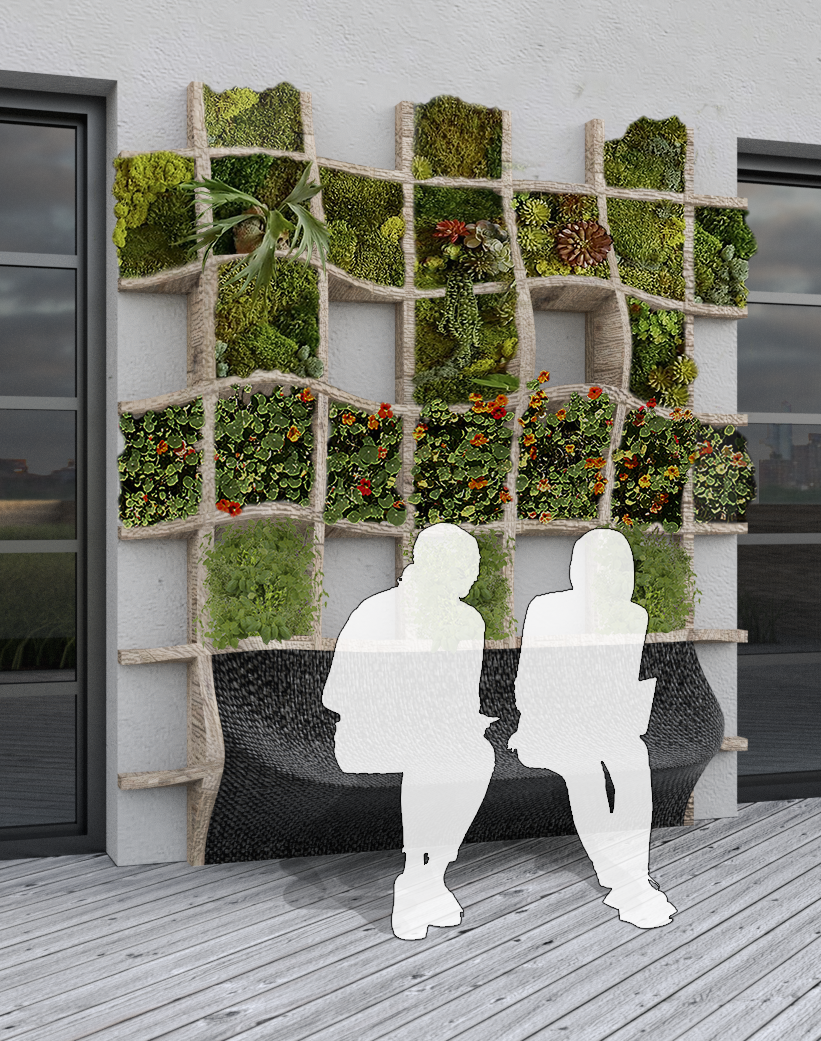 Green Roof Ecology Students Design Projects for NYC Urban Rooftops
For the last three years. Timon McPhearson, associate professor of urban ecology and director of the Urban Systems Lab, has been teaching a Green Roof Ecology class in which students collaborate to create civic engagement projects and conduct design and ecology research.
To conduct that research the class has partnered with Brooklyn Grange, the operator of the world's two largest rooftop soil farms-and Vice Media headquarters in New York City. The class-which includes students from and Parsons School of Design and Eugene Lang College and is supported by Lang Civic Liberal Arts program — integrates design and urban ecology to innovate green roofs as spaces for improved social and environmental benefits. This course reflects The New School's dedication to cross-disciplinary learning, design for social good, and real-world experiences. Among other benefits green roofs have vegetation that absorb storm water, provide insulation of buildings from heat, reduce noise and improve air quality.
The fall 2018 Green Roof class projects were especially wide ranging and ambitious-and included two different green wall design proposals, a soil stormwater absorption experiment, a printed guide to common plants found on New York City green roofs, climate data analysis of microsensors installed on green roofs at both Brooklyn Grange and The New School, and a go-to all-purpose website about green roofs in the city.
Architecture students Ross Myren and Antoine Antoine Vedel created one of those green wall design proposals as a site-specific design intervention for Vice headquarters in the Williamsburg section of Brooklyn.
The duo dubbed their design the "gwaffle," (Green Waffle) a waffle-shaped structure that they created after visiting the Vice rooftop, discussing with Brooklyn Grange, and studying the essential architecture and ecology issues necessary to build a design model.
"There was a big gap between the artificial controlled environment and the green roof and we wanted to blur the boundaries between those two spaces," Vedel said. "We wanted to create social interaction in that space while providing environmental benefits and adding more vertical space. Its fluid and organic design brings continuity to the space, also while benefiting the environment."
Vedel praised Vice as a great space because they already have green roof infrastructure. Although the Gwaffle was developed for Vice, he stressed that it is "a system whose dimensions and modules are adjustable to the customer's wishes."
www.greenroofsnyc.com, the website created by several Green Roof Ecology students, details the myriad benefits that green roofs have for city inhabits. The website also provides resources needed for an individual or organization planning to create its own green roof, including types of roof structure, labor commitments, and accessibility and FAQs on how to secure financing by the city.
"When we started the class the website, it was geared to the Vice rooftop and then we expanded it to all of New York City as a resource guide," said Stephanie Kale, a student involved in the site's creation. "It can benefit anybody who wants to improve air quality, increase energy efficiency and increase property value."
McPhearson says that he envisions the website as a broader resource that is now being expanded as a media outlet of the NYC Green Roof Research Alliance.
Another class project was a design for an indirect green wall that would be made of stainless steel and created for the new Brooklyn Grange rooftop farm opening this summer in the Sunset Park section of Brooklyn. Students created a modular bench made of pinewood for the roof's seating area.
"It was a great assignment," said New School junior Jasmine Yee, one of the students who designed the indirect green wall. "I would love it if we could implement it."
McPhearson says that every semester final class project output includes booklets, physical built prototypes, media materials and research reports and analyses.
"It's exciting to see how this class continues to evolve as unique learning space that continues to expand beyond the university as a resource for design and ecological innovation the larger community of New York," McPhearson said.