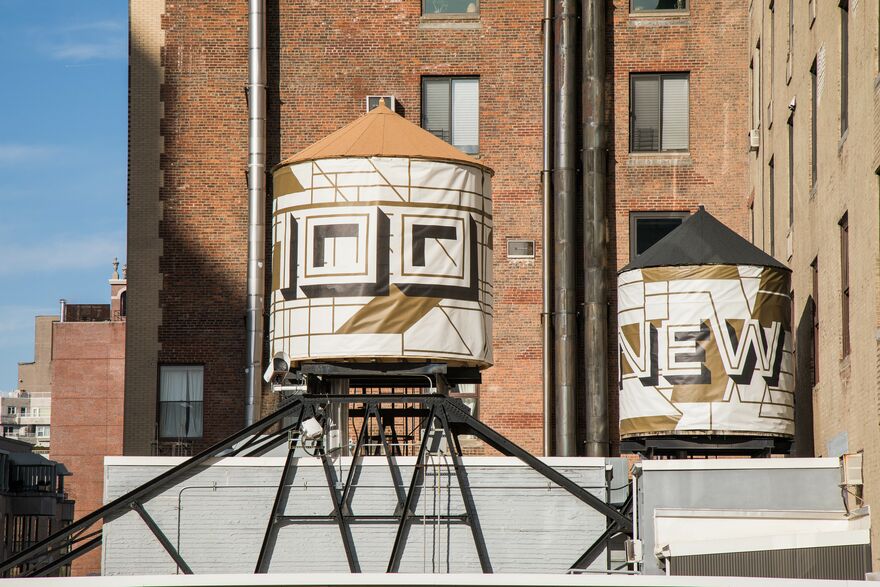 New School Centennial Events Continue
Throughout 2019, The New School is inviting the public to join in commemorating the university's Centennial through a compelling array of programs, exhibitions, and musical performances. Showcasing the rich academic and cultural offerings of the university, events will discuss the pressing issues of our time and look to the next 100 years of The New School. A regularly updated schedule of events can be found at newschool.edu/100.
March 7, 7 – 9 pm
Raoul Peck, the School of Media Studies' 2019 Hirshon Director-in-Residence, will present his films and discuss his work in conversation with Michelle Materre, Associate Professor of Media Studies & Film and Director of the Bachelor's Program for Adults and Transfer Students.
Raoul Peck is one of the most significant and prolific filmmakers of our time. He has been richly rewarded for his historical, political, and artistic work. His work includes such films as The Man by the Shore (Competition, Cannes 1993); Lumumba (Director's Fortnight, Cannes 2000, HBO); Sometimes in April, on the genocide in Rwanda, which he produced and directed for HBO; (Competition, Berlinale 2005); Moloch Tropical (Toronto and Berlin); and The Young Karl Marx (Berlinale 2017). His documentary films include Lumumba, Death of a Prophet, and Fatal Assistance (Berlinale and Hot Docs 2013).
His latest documentary film, I Am Not Your Negro, on the life of James Baldwin, was nominated for Best Documentary Feature at the 89th Academy Awards and won the Audience Award at both the Toronto and Berlin International Film Festivals, LA Film Critics' Best Documentary Award, the Best Documentary Award at the British Academy of Film and Television Arts (BAFTA) (U.K.) and the French national film award, the César, among many others.
March 7, 6 – 8 pm
The Transregional Center for Democratic Studies of the New School for Social Research is pleased to extend this invitation to the presentation of this year's Courage in Public Scholarship Award to the distinguished historian and author, Jan T. Gross, Professor of History Emeritus, Princeton University.
Introductory address
Ira Katznelson, Ruggles Professor of Political Science and History, Columbia University
Making History: My Intellectual Journey into the Hidden Polish Past
Jan T. Gross, Professor of History Emeritus, Princeton University
March 13, 6 – 9 pm
Vera List Professor of Philosophy, Richard J. Bernstein, will present his new book on Hannah Arendt, Why Read Hannah Arendt Now (2018, Polity Press), followed by a screening of the documentary film Vita Activa: The Spirit of Hannah Arendt.
April 12, 9 am – 5 pm
This conference, which marks the 30th anniversary of the publication of Aristide Zolberg's Escape from Violence: Conflict and the Refugee Crisis in the Developing World, will consider new approaches–conceptual and field-based–for responding to forced migration today.
April 16, 7:30 – 9 pm
Lisa Bielawa conducts the Mannes String Orchestra in this special presentation of the Philip Glass Institute
Program:
Philip Glass: Symphony No. 3
David T. Little: 1986
Jon Gibson: Choralesfrom Relative Calm
Lisa Bielawa: The Trojan Women
Lisa Bielawa: Two arias from Vireo
Established in 2019, the Phillip Glass Institute is a dynamic center for learning, performance, and creation, housed within The New School's College of Performing Arts. The institute honors and celebrates the work and ethos of Philip Glass, using his approach to artistry and entrepreneurship as a model for today's young artists. Lisa Bielawa is the inaugural composer-in-residence and chief curator.
Festival of the NEW
This fall, Centennial celebrations will culminate in The Festival of NEW running from October 1-6 and open to all. We hope to see you on campus for the many talks, exhibitions, performances, and workshops that will together address the question "What is the New?"