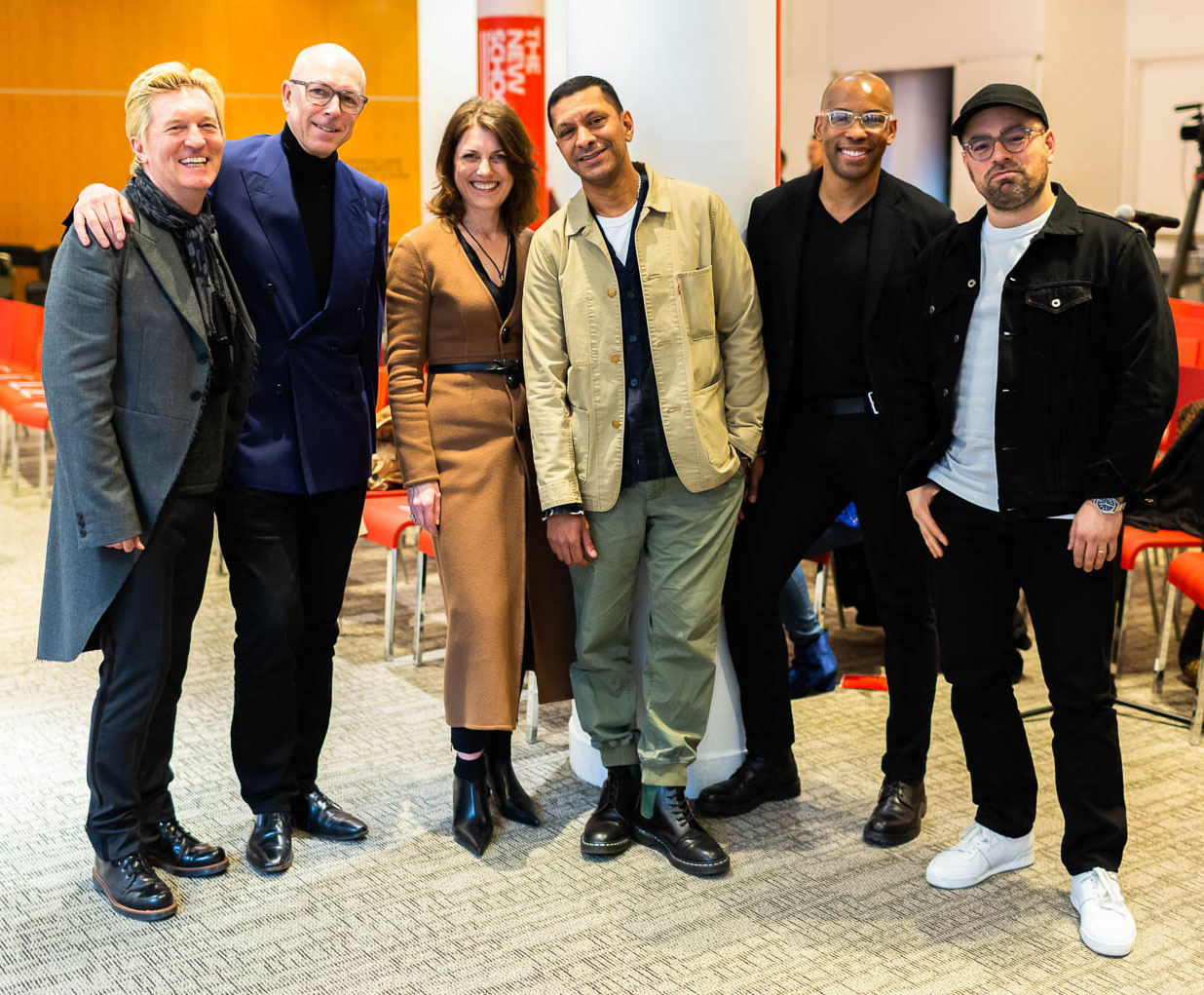 Parsons' New MPS Fashion Management Program Brings Industry Leaders to Campus
Fashion is an industry built on swiftly changing trends: Magazines and stores are constantly on the lookout for new styles that will shift the conversation, while brands are eager to discover the next visionary designer. But a different view of the speed of the industry was expressed by Claudia Cividino, CEO of Loro Piana North America. During a well-attended panel discussion of industry leaders organized by Keanan Duffty, director of Parsons' new MPS Fashion Management program, Cividino spoke about what she believes is important for a long and successful career.
"Internships are critical, so I really emphasize the experience of giving your time to younger people," she said, adding that students need to "work in various departments in order to understand what they're passionate about. That takes time and space, and you can't rush that."
Cividino was joined by Dylan Jones, editor in chief of British GQ; Raoul Shah, founder and CEO of Exposure; Christopher Lacy, most recently director of Customer Experience, Strategy and Learning at Barney's; and Jeff Carvalho, managing director of HighSnobiety, who moderated the discussion.
The leadership panel discussed a wide range of relevant topics, touching on everything from what students can do to stand out in a crowded field to the value of the internship experience and the importance of mentors.
Shah expanded on Cividino's remarks about the importance of internships, noting, "It's important to know what you don't want to do. You should be able to do that by experiencing a variety of different areas."
Lacy highlighted the need to remain flexible in your career. "You spend your school years at being really good at something, and then you go out into the world and you have to be OK with changing your mind."
As the editor in chief of British GQ, Jones has been a leader in a rapidly evolving media landscape that changes almost daily. He commented that students just beginning their careers should "have the ability to handle disruption. You have to be able to think and move very quickly."
The second panel of the day focused on sustainability in the fashion industry and featured Rebecca Van Bergen, founder of the nonprofit Nest; Simone Cipriani, founder and head of Ethical Fashion Initiative; Danielle Azoulay, head of Corporate Social Responsibility and Sustainability at L'Oreal USA; and Patrick Duffy, founder of Global Fashion Exchange, who moderated the discussion.
The panel discussed everything from the ethics of working with artisans and makers to innovations in supply chain management.
Van Bergen, who created Nest more than ten years ago, spoke about how brands need to change with the times, echoing similar points made during the leadership panel discussion.
"We like strategic plans, but we have to be willing to adapt," she said. "You have to be willing to shift your approach in order to accomplish a mission."
Azoulay spoke about how the supply chain affects communities and how people can create positive change.
"Interest in artisans in the USA has increased, and being an entrepreneur is a way to make positive change," she said. "At L'Oreal, we are learning from our new small brands and applying their practices to our larger brands."
After each session, audience members mingled with the panelists and other industry leaders to continue the conversation begun in the panel discussions, which offered a preview of what students can expect from the MPS Fashion Management program when it launches in the fall.