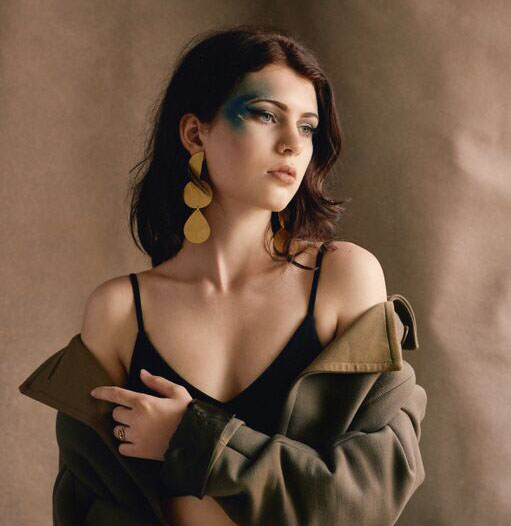 Sasha Berliner, Jazz and Contemporary Music '20, is Promoting Gender Equality in the Jazz Community
On September 21, 2017, Sasha Berliner, Jazz and Contemporary Music '20, published "An Open Letter to Ethan Iverson (and the Rest of the Jazz Patriarchy)," which described the sexism she had experienced in her short career as a vibraphonist, percussionist, and composer. At the same time, she was named one of San Francisco Jazz's 10 Rising Female Instrumentalists and received other accolades while headlining concerts at the Atlanta Jazz Festival and NYC Winter Jazz Festival.
Since then, Berliner has continued to study at the School of Jazz and Contemporary Music at The New School, regularly performing in clubs throughout the city and at jazz festivals both domestic and international. She also continues to advocate for gender equality in the jazz community. Her musicianship and activism have earned her significant press coverage and given her a national platform through which to create positive change.
"A lot of the implicit sexism that was formed in the 1920s about female jazz performers still exists and is stood by today — not to mention immense whitewashing, homophobia, transphobia," she says. "All of those are intersectional to feminism, so that in and of itself makes them relevant to sexism. It matters particularly in jazz because it's one of the fields of music, and the world in general, along with scientific and engineering fields, recording and engineering work, and some others, in which female representation is especially behind compared to other fields today."
At The New School, Berliner has learned from some of the biggest names in jazz, including Stefon Harris, Andrew Cyrille, Jane Ira Bloom, Chris Dingman, and Matt Wilson.
"They all have a very progressive way of thinking about music in their own right while having a solid grounding, and actual practice and discography, in traditional jazz," says Berliner. "Their agendas have always been about making the music better — no prejudice to it. That's reflected in the way they offer feedback. It's always communicative of productive criticism, not criticism aimed at something like personal character or scrutinizing demographics."
The School of Jazz and Contemporary Music has also been working to address gender inequality. Last year, it launched a series of events titled Jazz and Gender Equity. Six events and a screening of the documentary In Her Hands: Key Changes in Jazz are scheduled for this year. In addition, the school will offer two new courses to help students learn how to teach and support future generations of women musicians: Jazz and Gender, taught by Sarah Elizabeth Charles, which will be part of the core curriculum, and, starting in the fall, Chica Power..
"Sasha is an incredible force for music and activism," says Keller Coker, dean of the School of Jazz and Contemporary Music. "I am so proud to know her and am grateful to her for all the work she does to effect positive change in the music community and beyond."
Hard at work on her second album, Azalea, Berliner is also planning on touring internationally with her group this summer.
"My goal as a musician is to create music that speaks to both me and my audience but installed in a different way and having a different kind of influence or takeaway for each person that hears it," she says. "As an activist, I want to be as inclusive and receptive to improvement and ways to be a better activist as possible. Activism isn't perfect, just like anything else. As with music, there's always more to learn, more work to be done."