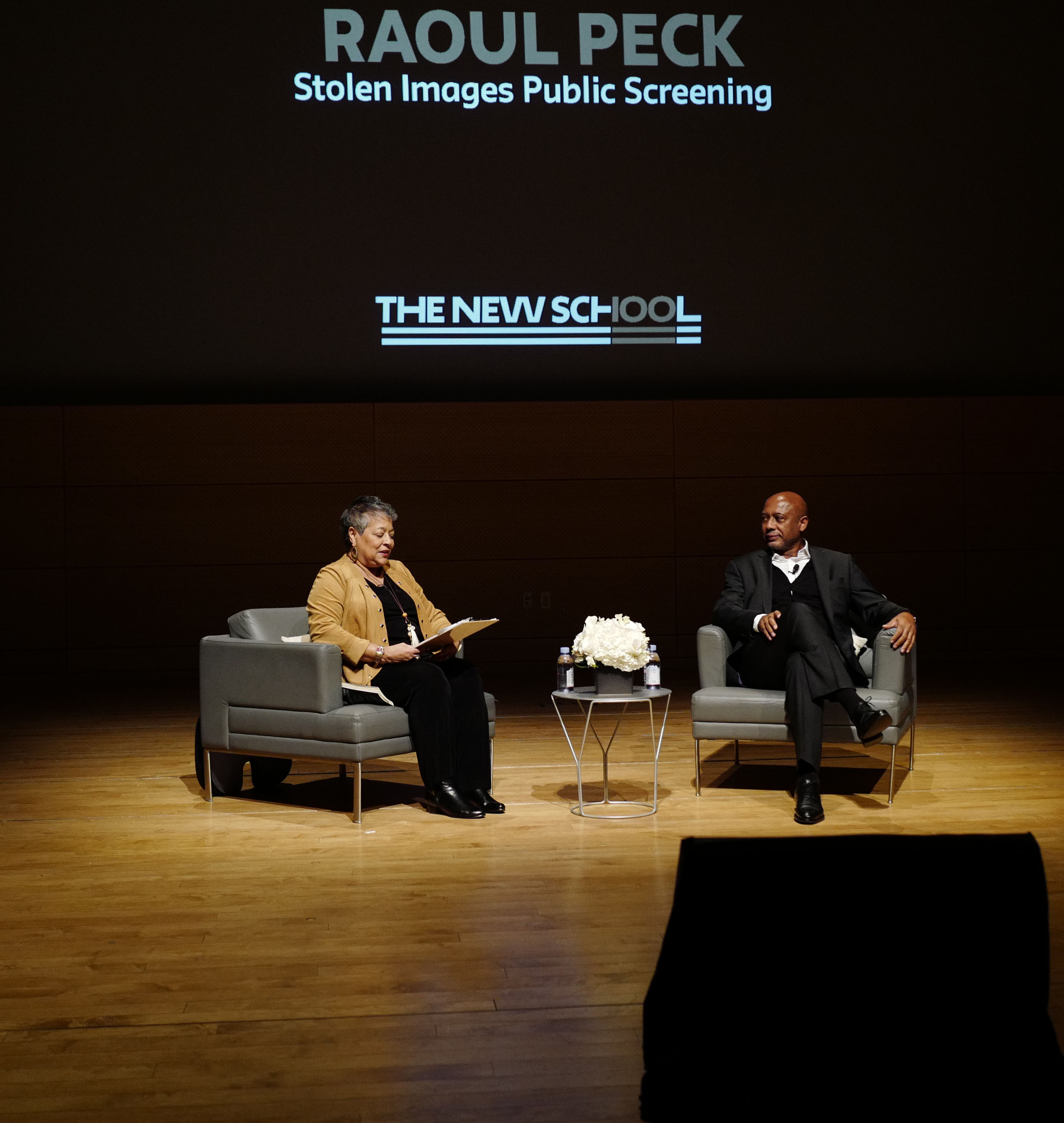 'I Am Not Your Negro' Director and 2019 Hirshon Director-in-Residence Raoul Peck Inspires Students to Create Truth Through Film
Filmmaker Raoul Peck has no interest in fiction. He's drawn to reality and he's compelled by stories that tell the truth, even when the truth is uncomfortable. Peck, director of the 2017 award-winning documentary I Am Not Your Negro, about the life of James Baldwin, uses his documentaries and narrative films as a mode of expression to create change and challenges his viewers to see the world through a new lens.

In March 2019, Peck served as the School of Media Studies' Dorothy H. Hirshon Director-in-Residence. His four-day residency, which spanned March 4 through 7, included two master classes, a private reception, and a public screening and discussion of his work. Through these interactions, Peck was able to share his extensive knowledge of filmmaking with The New School community.

"The main thing for me is always the reality; I'm triggered by the reality, and the absurdity of that reality," Peck said to a room full of Media Studies students after airing a clip from his 2005 narrative film Sometimes in April, about the 1994 genocide in Rwanda. "Ever since I started making film, I could never be moved by fiction. In this film, every minute of it is drawn by a real story or a real location. When it's about reality, the question is always: What do I use in order to make you feel the same emotion that I have as a human being faced with this reality? How do I transcribe a reality and make people understand not only the world they're living in, but their own reality?"

Peck offered Media Studies students the opportunity for a first-hand learning experience through the two master classes, one that focused on documentary making, and the other on creating narrative films.

For Maria Mayo, a student in the Documentary Media Studies Graduate Certificate Program, Peck's advice on creating impactful films, reminded her of her own experience as a documentarian.

"[Peck] is a true demonstration of an artist who is unapologetic with his message, regardless of how inconvenient or uncomfortable it is for some people to hear, and that is truly refreshing," Mayo said. "I take that very seriously. There are so many racial stereotypes across media, and it is extremely important that my work brings dignity to the communities I collaborate with, even if it's not what audiences want to see."

As the daughter of Mexican immigrants, Mayo said the time she spent learning from Peck gave her a greater feeling of responsibility as a documentarian.

An award-winning filmmaker, Peck has been richly rewarded for his historical, political, and artistic work. I Am Not Your Negro, was nominated for Best Documentary Feature at the 89th Academy Awards and won the Audience Award at both the Toronto and Berlin International Film Festivals, LA Film Critics' Best Documentary Award, the Best Documentary Award at the British Academy of Film and Television Arts (BAFTA) (U.K.) and the French national film award, the César, among many others. His other work includes, The Man by the Shore (Competition, Cannes 1993); Lumumba (Director's Fortnight, Cannes 2000, HBO); Sometimes in April (Competition, Berlinale 2005); Moloch Tropical (Toronto and Berlin); and The Young Karl Marx (Berlinale 2017). His documentary films include Lumumba, Death of a Prophet, and Fatal Assistance (Berlinale and Hot Docs 2013).

"Film was not about telling stories for me," Peck said to a full Tishman Auditorium during his public talk. "Film, for me, was always a tool. It was a mode of expression that could change something… I knew the impact, I knew it was important for people from my country or from the third world. It was important to see their stories; it was important to know their stories.

"That was the angle for me to go into film, not because I wanted to make big films or work with actors, but because film can have an impact and is a way to make truth of ideas," he added.

Michelle Materre, associate professor of media studies and film and director of the Bachelor's Program for Adults and Transfer students, summed up the importance of Peck's residency to the New School community in her closing remarks at the public program, thanking Peck for providing students with "an amazing history lesson, as well as a glimpse into your career that I don't think we would have gotten otherwise."

The New School has a long history in film as it offered the first college course to investigate the motion picture in 1926. In 1975 John Culkin brought his Center for Understanding Media to The New School, and the university began offering a Master of Arts degree in Media Studies, one of the first graduate programs of its kind. Since then, the School of Media Studies has focused on the technical skills of media production alongside and enhanced by deep investigations of media theory. Peck's time as the 2019 Dorothy H. Hirshon Director-in-Residence was an important continuation of that tradition.

"In our cynical age, the important adage 'the personal is political' has almost disappeared, especially for artists and filmmakers," said Vladan Nikolic, Dean of the School of Media Studies. It's drowned out by the overabundance of commercial media distractions. But Raoul Peck showed us again how to remain engaged as an artist and stay true to oneself, while creating extraordinarily relevant and important work."

The Hirshon Artist-in-Residence program was established by the late New School trustee Dorothy H. Hirshon to honor and promote excellence and education of the filmmaking arts at The New School. Previous Hirshon Artists-in-Residence include Sean Baker, Laurie Anderson, James Cameron Mitchell, Haile Gerima, D.A. Pennebake, Chris Hegedus, Benh Zeitlin, Ramin Bahrani, and John Waters. To learn more about past Hirson Artists-in-Residence, visit the School of Media Studies blog.