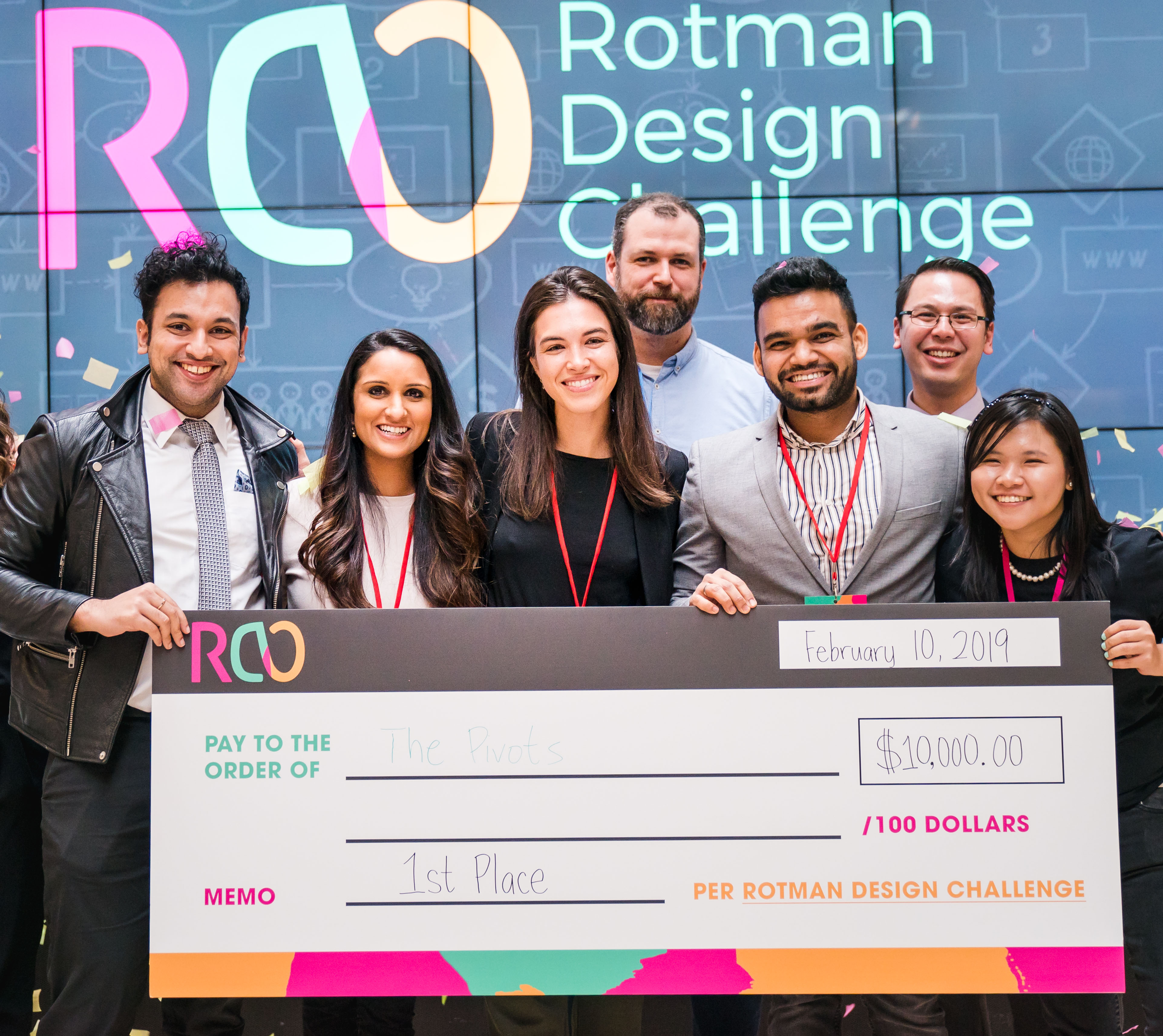 Parsons Team Wins $10,000 Rotman Design Challenge in Toronto
A Parsons team calling itself The Pivots, won the 2019 Rotman Design Challenge (RDC), at the University of Toronto taking home the $10,000 cash prize. The team members were second
year Strategic Design Management (SDM) students Silky Kadakia, Vinay Kumar Mysore, Shishir Raut, Maria Di Paolo, Sundar Subramanian, and Victor Michud and were the first team from Parsons to ever participate in the international competition. The challenge took place in February and was hosted by the Rotman School of Management and featured 31 teams from 16 schools.

Every year, the goal of the competition is to bring together top masters level talent in business and design thinking to tackle a complex business challenge proposed by a sponsor. The 2019 sponsor was Kingspan, and this year's challenge posed the following question: "Within the next 5-10 years, how can Kingspan, the global leader in high-performance insulation and building envelope solutions, and a company committed to sustainability, disrupt its own business model to be the leader in the future of digital construction?"

"As a team, we each brought a unique strength to the table," said Silky Kadakia, about the victory. "This helped us move the design process along effectively and efficiently. Approaching an industry that we knew very little about, we rooted a lot of our initial weeks in heavy research and talking to as many stakeholders as possible. When we overplayed these insights with the global trends impacting the world in the present and future, it was clear to us that we needed to focus on an idea that addressed climate change and resiliency."

The Pivots proposed STRUCT, an impact assessment platform that measures resiliency of buildings across environmental, economic, and social measures, to better prepare the industry for future-proofing against climate change.

"The Rotman Design Challenge gave us the best reason to explore a new industry, practice our learnings from school, and feel comfortable with failure," the team wrote in a collective statement. "Construction is not an industry any of us were familiar with, so to be able to employ the design process to uncover pain points and big picture trends was immensely valuable. It resulted in an excellent example of teamwork, continued learning, and, true to our name, a series of new ideas and pivots."